Miss no moment of the EFL Cup semi final between Man United and Hull City in our live blog.
EFL Cup

MUN

Man United

2
0

HUL

Hull City
FT | Man United have set a huge step towards reaching the EFL Cup final! They still face a return game against Hull City, but after winning 2-0 at home that shouldn't be a difficult task.
'89 | A third goal would make the return game in Kingston-Upon-Hull absolutely useless, but Jakupovic is doing his utmost best to prevent that. With a nice save he keeps a Martial volley out of the net.
'87 | GOAL! | Man United - Hull City 2-0. Fellaini! A very precious goal for Manchester United! They've got their second goal right before the end as Matteo Darmian's cross from the left-hand side is converted by Marouane Fellaini with a neat looping header. 
'84 | What a result it would be for Hull if they'd find a late equalizer. Robert Snodgrass goes past Darmian easily and crosses the ball to the far post, where Sam Clucas loses his aerial battle with Chris Smalling.
'81 | Anthony Martial skips past Meyler and sends a ball into space for Rashford, who has to use all his pace to keep the ball into play. He succeeds in doing that and drives in a cross which is almost met by Herrera, but Jakupovic is able to collect in time.
'79 | Juan Mata receives a loud ovation as he's the last one to be taken off. Coming on is Marouane Fellaini, who has to be the extra lock on the door in these final minutes in order to see out this 1-0 lead.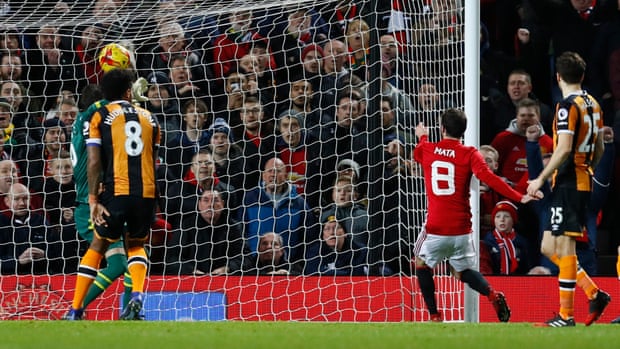 '75 | That could've been the all-important away goal for Hull City! Shaun Maloney has just been subbed on but all of a sudden the ball drops in his feet perfectly on 20 metres from goal. He mishits the shot completely and steers it wide.
'73 | POST! | Very unlucky for Paul Pogba! The free kick he unleashed was a thing of sheer beauty, but unfortunately for him the ball smashes against the inside of the post and stays out.
'71 | Another substitute used by José Mourinho. Henrikh Mkhitaryan is rested in advance to Sunday's big clash against Liverpool, Jesse Lingard is on to prove his worth in the final phase of the match.
'68 | Ander Herrera pings a very dangerous cross into the box. Anthony Martial is waiting to slam his head to the ball, but in al ultimate attempt to prevent him from doing so Maguire is able to head the ball away.
'65 | Diomande is gunning for the goal of the tournament! He executes a thrilling overhead kick, but can't hit the ball sweet enough to keep it on target.
'63 | Hull City are behind but it's certainly not the end of the world for them. They've still got a return game at the KC Stadium coming up and if they can nick an away goal here things will look very different.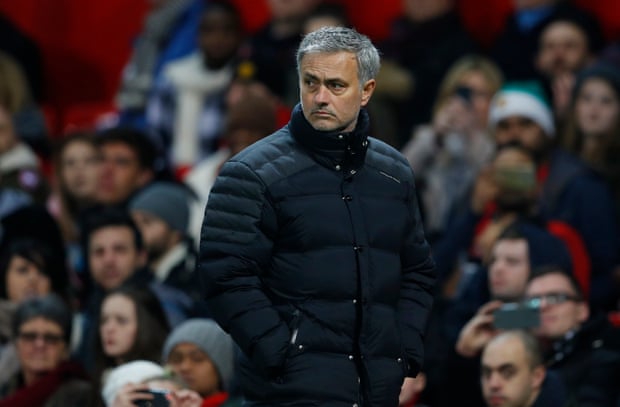 '59 | Still no record for Wayne Rooney. He's taken off by José Mourinho and replaced by Anthony Martial. Will he score his record-breaking goal in a very special game against Liverpool this Sunday?
'56 | GOAL! | Man United - Hull City 1-0. Mata! Manchester United have finally broken the deadlock here! Antonio Valencia crosses the ball to Henrikh Mkhitaryan, who trumps Meyler in the air and heads the ball through. At the backpost it's Mata who slams home and makes it 1-0 to The Red Devils.
'54 | It's a miracle United still havened opened up the scoring. Paul Pogba has another attempt from just outside the area, but finds Maguire's heeld in the way of it.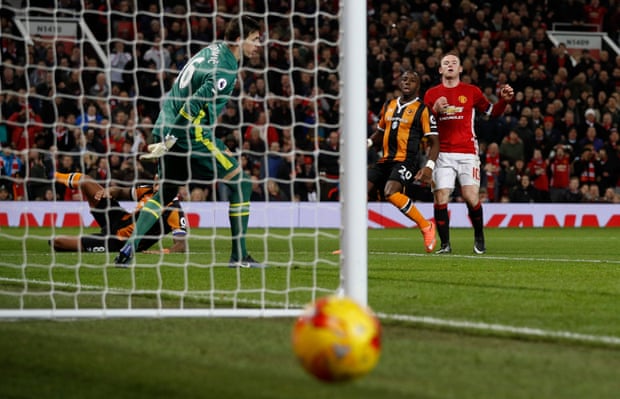 '51 | Rooney should've broken Charlton's record there! Paul Pogba sets him clear on goal with an absolutely magnificent pass, but the midfielder slots the ball just wide and is still on 249 goals.
'47 | United start this second half as dangerous as they concluded the first. Henrikh Mkhitaryan gets a free path onto goal as Rashford cheekily blocks Meyler's run, but the Armenian isn't quick enough to reach the ball before it's gathered by Jakupovic.
HT | Time for a short break! Man United have not managed to break down Hull City's tight defense in this first half: 0-0!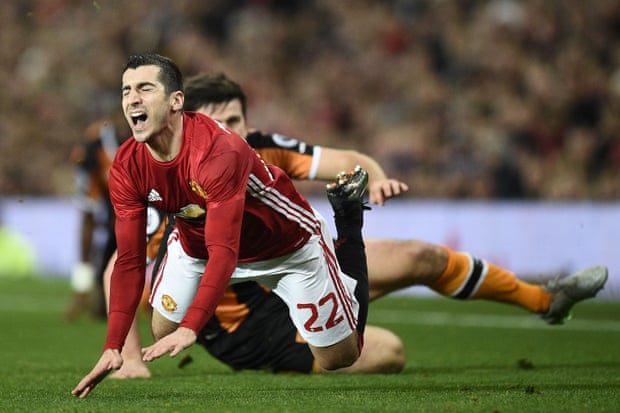 '43 | Paul Pogba has been a real threat with his long shots and it's the second time in this game he launches one onto Eldin Jakupovic. There are a lot of players who trouble his sight, but eventually he's able to collect the ball.
'41 | Another shot on goal from Hull! After a quick counter attack the ball ends up with Abel Hernández, whose low attempt is gathered by David De Gea.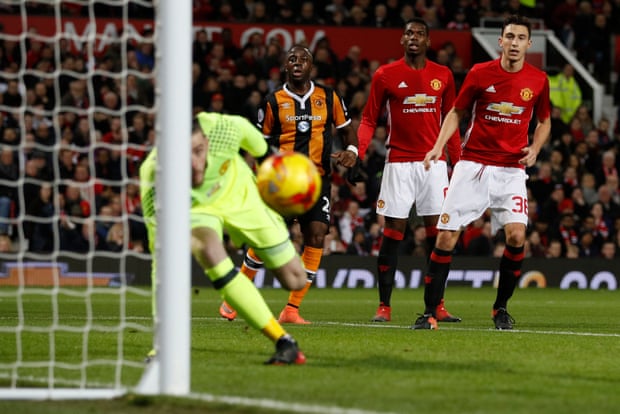 '40 | We're getting close to the end of this first half and the most remarkable thing in this first half is that we still haven't seen a goal in this game. Both sides have had their opportunities, but neither of them has managed to convert one of them.
'36 | Don't rule Hull City out of this one! They keep on producing their small opportunities and they're getting closer and closer. Robert Snodgrass cuts into the box from the right-hand side and fires a low shot right at De Gea.
'33 | Juan Mata is delivering passes like it's his day job. This time he finds Ander Herrera, who cuts past Abel Hernández and has a go from distance, but the shot flies well over the target.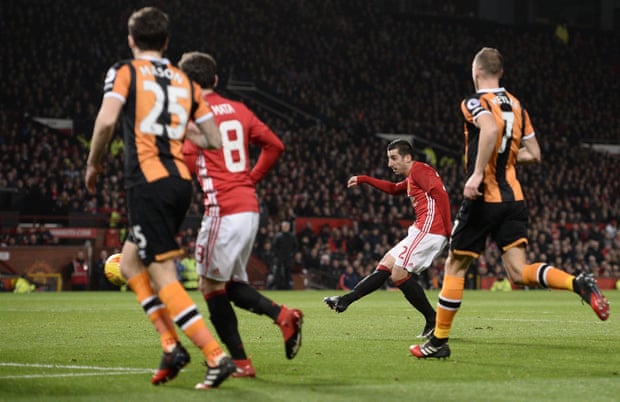 '31 | The offside flag had already gone up, so it wouldn't have mattered anyway, but United suffer a big scare. Diomande heads in a free kick and De Gea was rooted, but the ball ricocheted off the post.
'28 | Paul Pogba forces Jakupovic into another save. The French midfielder has clearly watched the FIFA gala as he launches a shot with a Subri-esque curve, but the Hull goalie is able to tap it over the bar.
'26 | The pressure from Man United keep on mounting. Mkhitaryan swings in a cross from the left-hand side and finds Rooney, who heads it through to Valencia. The right back has gone forward and launches a one-time dropkick, placing it over the goal.
'23 | Mkhitaryan again! It's almost a carbon copy of his first chance. Mata sticks it back for the Armenian, who is positioned just outside the box and curls the ball over the top corner narrowly.
'22 | Hull City are still defending for their lives as Man United go on with creating big chances. This time it's Mata who gets a hold of the ball inside the box, but his attempt is blocked by Andrew Robertson.
'19 | The third chance that could've gone in for Manchester United! Juan Mata goes past Josh Tymon as if he isn't there and pulls the ball back perfectly for Mkhitaryan, who places just wide.
'17 | An injury for Hull midfielder Marcus Henriksen. It seems like he's broken his collar bone. He comes off the pitch in a whole lot of pain and is replaced by Abel Hernández.
'14 | Hull have a new manager on the bench. Mike Phelan got sacked and replace by Portuguese coach Marco Silva. It's his second game tonight and he got off to a bright start last weekend when he guided them to a 2-0 win over Swansea in the FA Cup last week-end.
'10 | Hull City have registered their first attempt on target and what a goal it would've been if it had gone in... Centre back Harry Maguire steals the ball from Mata and crosses half of the pitch, skipping past three players and launching a low shot straight into De Gea's hands.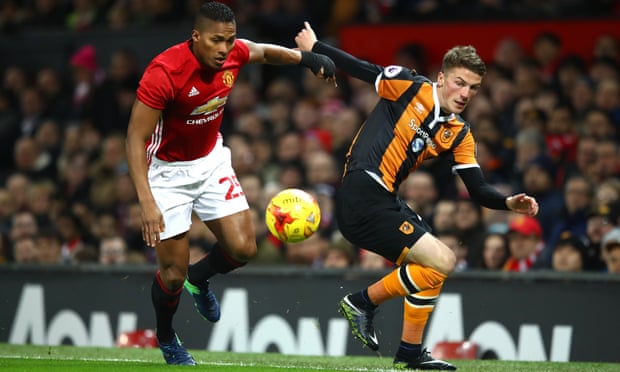 '6 | More danger from Man United! Wayne Rooney almost breaks Charlton's goal scoring record as he's almost the first to react to a deflected Rashford attempt, but right on time Robertson is able to clear.
'2 | Eldin Jakupovic pulls off a brilliant save to deny Juan Mata! The Spaniard launches a low shot onto goal and it seemed like the ball would've gone straight into the bottom corner, but somehow the Hull goalie manages to save it.
KICK-OFF | Manchester United can still win four trophies this season. The first one is the EFL Cup, in which they've made it to the semi finals. Can they get an advantage in the first leg at home against Hull City?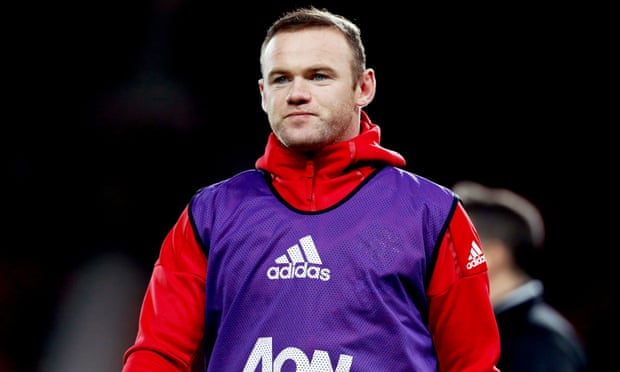 XI Man United | De Gea; Valencia, Jones, Smalling, Darmian; Herrera, Pogba, Mata, Rooney, Mkhitaryan; Rashford.
XI Hull City | Jakupovic; Huddlestone, Maguire, Robertson; Meyler, Mason, Clucas, Tymon, Snograss, Henriksen; Diomande.