Miss no moment of the La Liga game between Barcelona and Valencia in our live blog.
La Liga

BAR

Barcelona

4
2

VAL

Valencia
Video source: Streamable.com
FT | Barcelona have decresaed the gap with Real Madrid to two points again. They beat Valencia 4-2 in an absolute showpiece.
'89 | GOAL! | Barcelona - Valencia 4-2. Gomes! Barça have made it four! Neymar starts another class run annd keeps his composure as he passes the ball off to André Gomes. The Portuguese midfielder taps hoem and it's 4-2.
'86 | In two weeks, Barcelona take on Granada. After that game, Barça face difficult games against Sevilla, Málaga, Sociedad and Real Madrid. And so Lionel Messi picks up a yellow card against Granada, which gets him suspended for next game.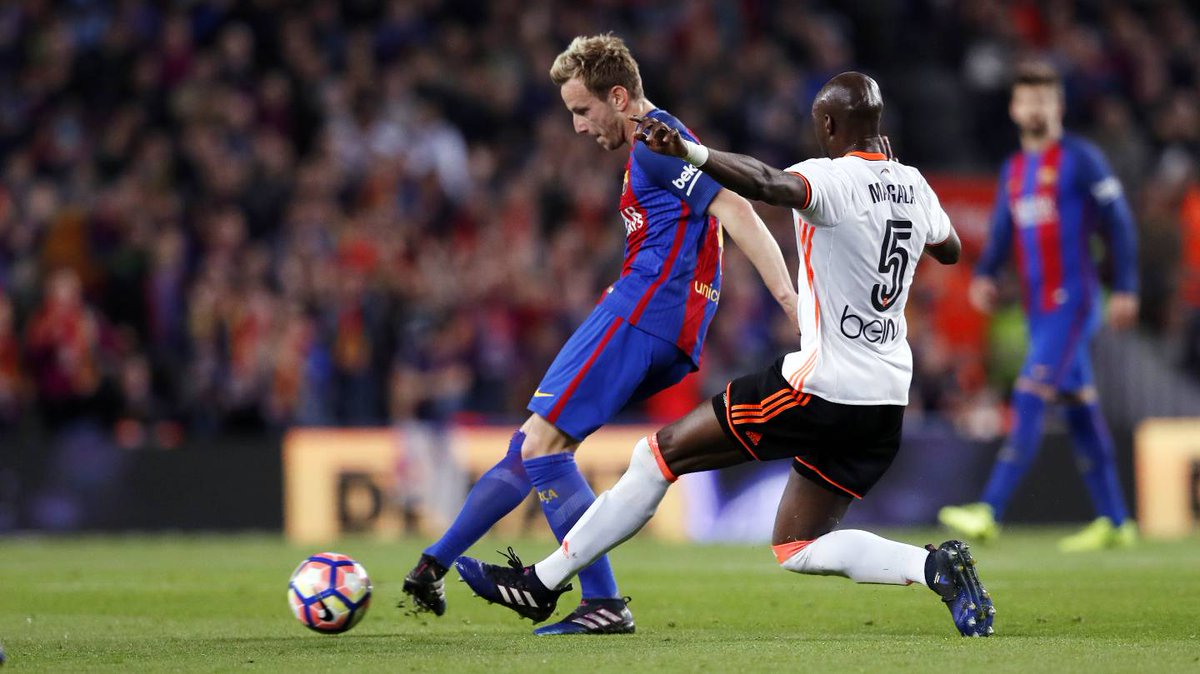 '82 | Messi had a go, Neymar tried his luck and this time Suárez gets the opportunity to take place behind a free kick right from the edge of the penalty box, firing it straight into the Valencian wall.
'79 | Barcelona just can't get the fourth goal into the back of the net. Neymar takes aim from inside the box, but his curved attempt is gathered by Diego Alves.
'76 | POST! | Neymar almost scores a free kick identical to the one he converted against PSG! The ball flies over the wall and Diego Alves had no chance, but luckily for him the ball hits the post.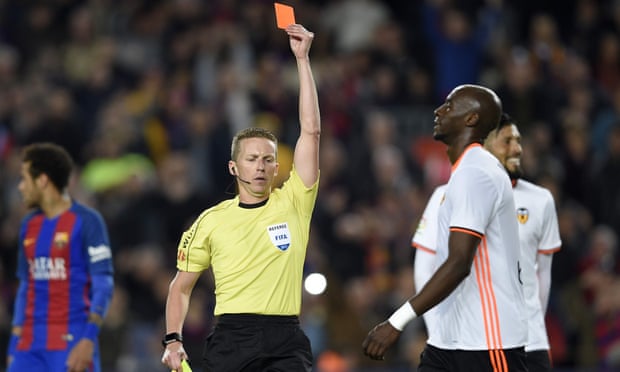 '72 | Diego Alves is one of the major reasons Barcelona have only got three goals up to this point. Lionel Messi goes past three defenders and fires a shot onto the exquisitely saving goalkeeper, as Suárez drags the rebound wide.
'69 | Valencia can thank Barça's inaccuracy in attack for the fact that they're still in this game. Luis Suárez is at the end of a long attack, but blasts his attempt over the crossbar.
'66 | Rafinha should've sealed the victory for Barcelona on the counter attack! Barça break away in full speed as Lionel Messi picks out Rafinha, who places the shot from the edge of the box straight into Alves' hands.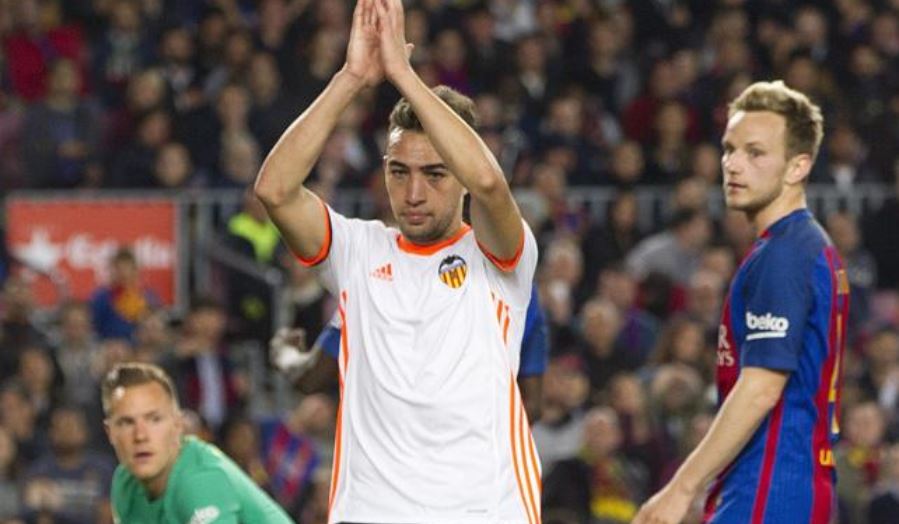 '63 | Lionel Messi has been giving unbelievable passes for fun tonight. He splits aside the entire Valencia defense to serve Luis Suárez, but his attempt hits the side netting. Barça step up the pressure.
'61 | Andrés Iniesta receives some space to curl in a shot from the edge of the box, but he places the shot straight into the safe hands of Diego Alves.
'57 | That could've been another penalty for Barcelona! Neymar dinks the ball over the Valencia defense and reaches Rakitic, who lays it off to Lionel Messi. He is floored by Gayá, but Alejandro Hernández doesn't put the ball on the spot again.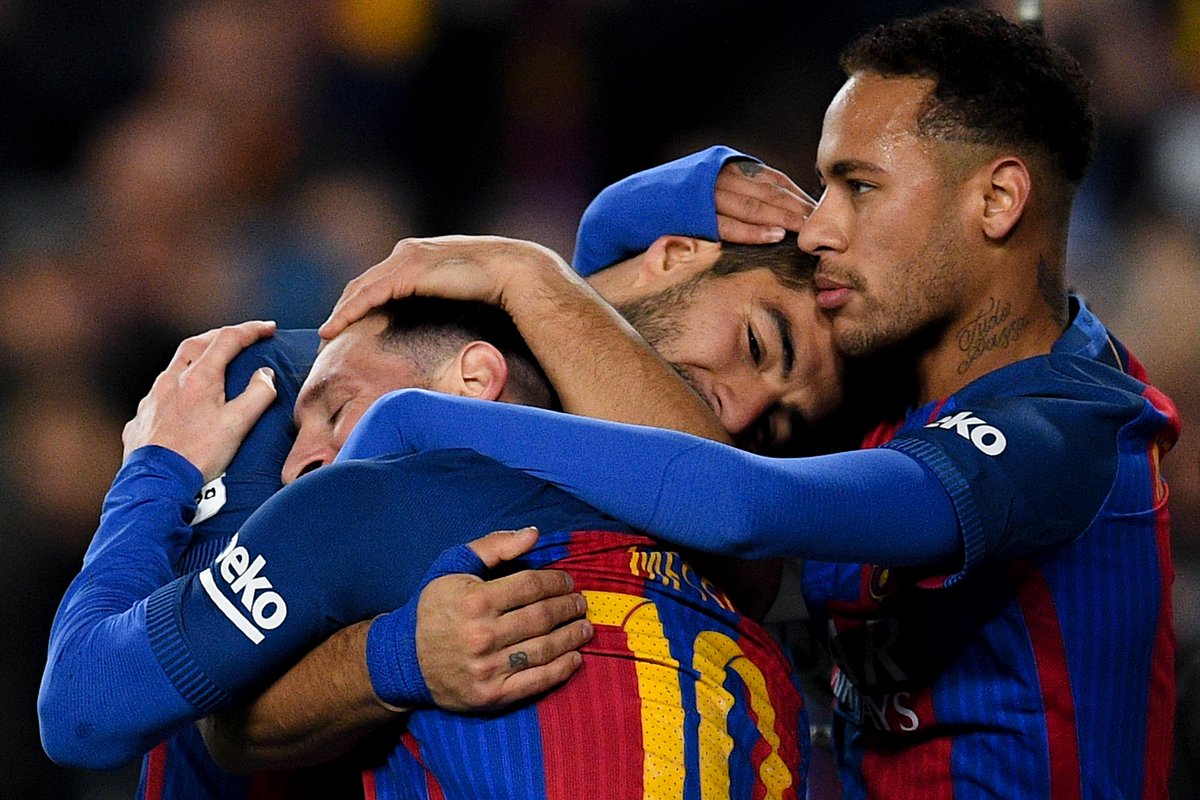 '56 | Luis Suárez receives the ball inside the box again. He wants to ditch Abdennour, but this time the Tunesian centre-back is able to get a foot to the ball and block it out.
'53 | GOAL! | Barcelona - Valencia 3-2. Messi! There it is for Barcelona! Lionel Messi completes his brace as he skips past Almen Abdennour and fires the ball behind Alves at the near post. Brilliantly done by the small magician once again.
'52 | Neymar should've put Barcelona back in front there! With an absolutely beautiful pass Lionel Messi sends the Brazilian through on goal, but he drills his shot onto Diego Alves' leg.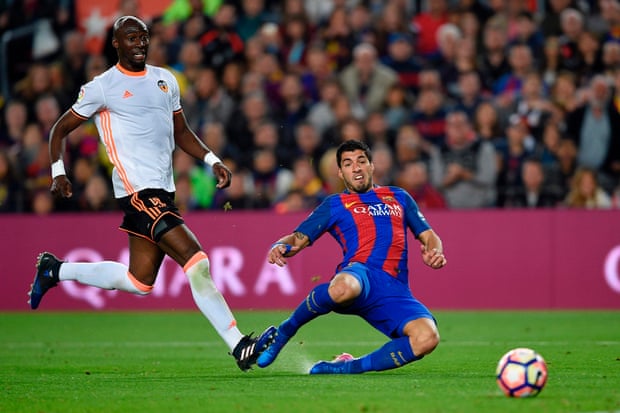 '48 | We're back underway for some minutes now in Catalunya and Barcelona look hungry to put a few goals past this reduced Valencia side.
HT | Time for everyone at the Camp Nou to breathe! Barça and Valencia have made this a first half to remember as both teams have scored twice. It's 2-2, but Valencia are down to ten.
'45+1 | GOAL! | Barcelona - Valencia 2-2. Munir! Ten-man Valencia have scored right from the kick-off! Munir El Haddadi punishes his former love as he pokes a fine José Gayá pass behind Marc-André Ter Stegen. 2-2!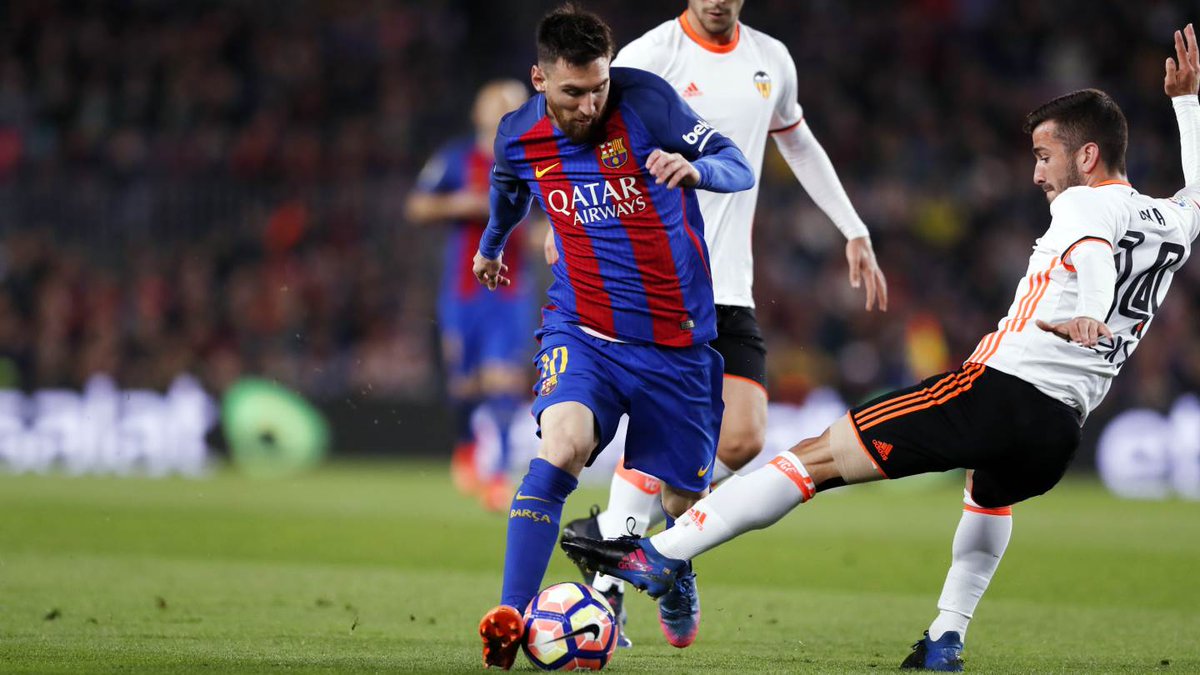 '45 | GOAL! | Barcelona - Valencia 2-1. Messi! Straight through the middle, but it's good enough to do the job for Lionel Messi! He converts the penalty and gives Barça the lead i n the dying seconds of the first half.
'44 | PENALTY + RED CARD! | A double blow for Valencia! Luis Suárez subtly takes the ball past Mangala and goes through on goal, as the goal scorer pulls the Uruguayan down at the cost of a red card and a penalty.
'42 | A spectacular rush from Luis Suárez, who goes past Garay and then needs all his pace to keep the ball in play. It looked as if he managed to do that, but according to Hernández the ball crossed the backline.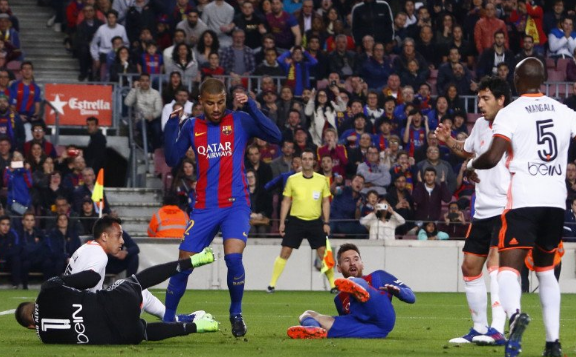 '39 | Barcelona get a free kick in Suárez- or Neymar-territory, but for this time it's Lionel Messi who takes place behind it. He tries to surprise Diego Alves in "his" corner, but fires wide.
'35 | GOAL! | Barcelona - Valencia 1-1. Suárez! Barcelona are back level! Neymar assists the goal with his hand and this time it's actually legal! From a throw-in he exposes the entire Valencia defense, reaching Luis Suárez, who sends a fine finish past Alves.
'33 | Barça know how to do a remontada and they're looking for a rapid equalizer. They lock Valencia up in their own box as Rafinha wants to finish the long attack off, but his shot is blocked out.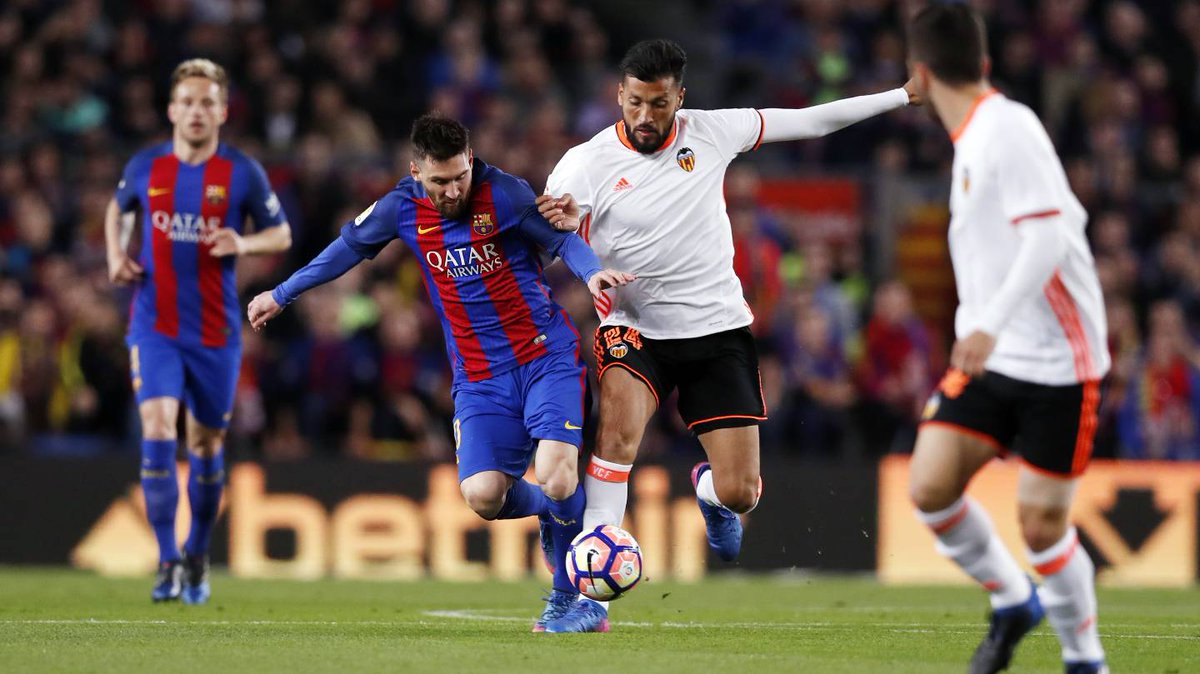 '29 | GOAL! | Barcelona - Valencia 0-1. Mangala! Barcelona trail again! Eliaquim Mangala jumps higher than Ivan Rakitic and heads the ball into the bottom corner. Ter Stegen is beaten and Barça had no player at the post that could clear it off the line. 0-1!
'28 | Munir El Haddadi should've scored against his former side there! The rapid striker breaks through on goal after a long ball from Diego Alves, but with his first touch he plays the ball too far in front of him, giving Ter Stegen the chance to react.
'26 | For a moment it seemed as if Hernández was going to give a penalty, but he's pointing for a goal kick! Neymar goes down after being pressed in the back, but it's no spot kick.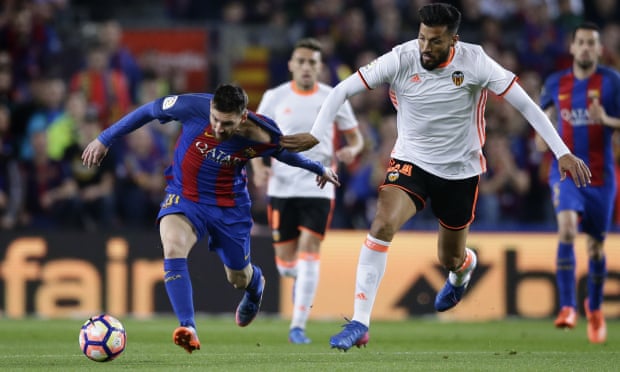 '24 | Referee Alejandro Hernández tosses out his first yellow card of the game as Neymar skips past Enzo Pérez, who is frustrated with it and kicks the Brazilian down.
'22 | The final pass has been quite right for Barcelona a few times, but they've not done anything with it. This time Lionel Messi sends a long pass towards Andrés Iniesta, but his first touch gives Alves the chance to gather the ball.
'19 | Marc-André Ter Stegen pulls off a remarkable save to keep the game scoreless! Gerrard Piqué clears the ball out of the box but straight into the feet of Carlos Soler, whose volley is parried nicely.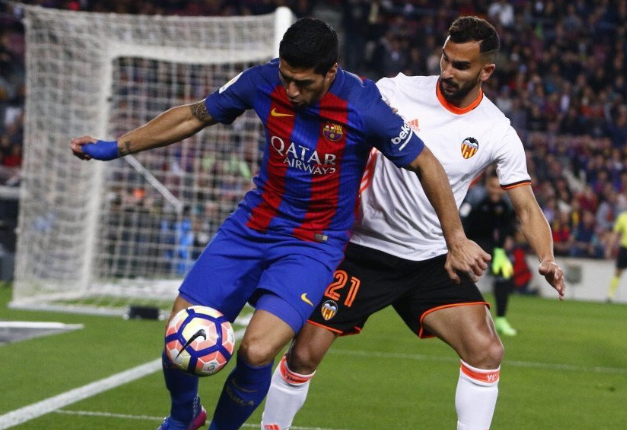 '17 | Lionel Messi seems in for a show tonight. He dribbles past José Gayà like he isn't there and curls a shot onto goal, placing it only centimeres over the top corner. Barça are absolutely swinging.
'15 | Valencia get unbelievably lucky! Somehow they manage to keep the ball out of the net. Suárez sends Montoya for a hotdog and lays the ball off to Messi, whose shot is cleared off the line by Orellana. Rakitic is hoping to pounce on the follow-up, but Diego Alves throws himself on the ball right in time.
'13 | Barça have been the dominant force in these opening minutes. They force Valencia to go back and they've managed to create quite a few opportunities, but they haven't taken any of them so far.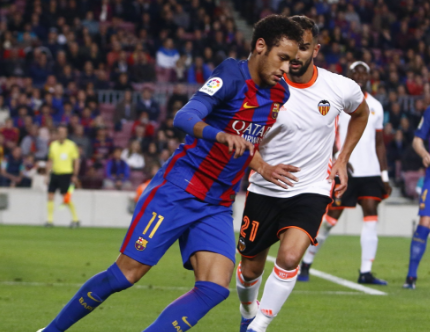 '8 | Barcelona enjoy a long spell of possession in front of goal. The ball is looped over the Valencia defense towards Luis Suárez, who shakes off Eliaquim Mangala and directs a shot straight onto goalie Diego Alves.
'5 | Valencia with an opportunity to take a shock lead! João Cancelo bursts into space and Fabian Orellana is waiting for a pass in front of goal, but right in time Mascherano is able to interfere.
'3 | That's almost filthy from Andrés Iniesta, who rips the Valencia defense apart and finds Luis Suárez. He's looking for Messi with a cross, but the ball is cleared away by Ezequiel Garay.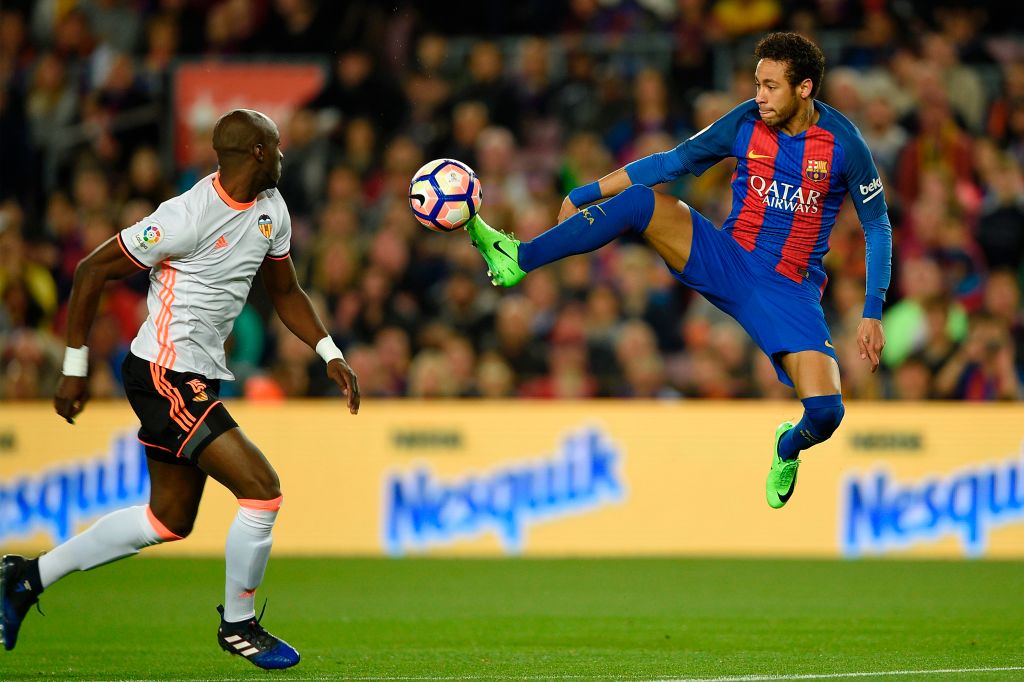 KICK-OFF | We're off at the Camp Nou! Barcelona suffered a grievous defeat away at Deportivo last week, but today they're hoping to bounce back to keep their La Liga title hopes alive. Will they beat Valencia?
XI Barcelona | Ter Stegen; Rafinha, Mascherano, Piqué, Umtiti; Busquets, Rakitic, Iniesta; Messi, Suárez, Neymar.
XI Valencia | Alves; Montoya, Garay, Mangala, Gayá; Soler, Pérez, Parejo; Cancelo, Munir, Orellana.