Miss no moment of the Premier League cracker between Manchester City and Liverpool in our live blog.
Premier League

MCI

Man City

1
1

LIV

Liverpool
Video source: Streamable.com
FT | Game over! It finishes all square at the Etihad Stadium, which actually makes Chelsea the big winner of Man City - Liverpool. 1-1 is the final score after a captivating contest.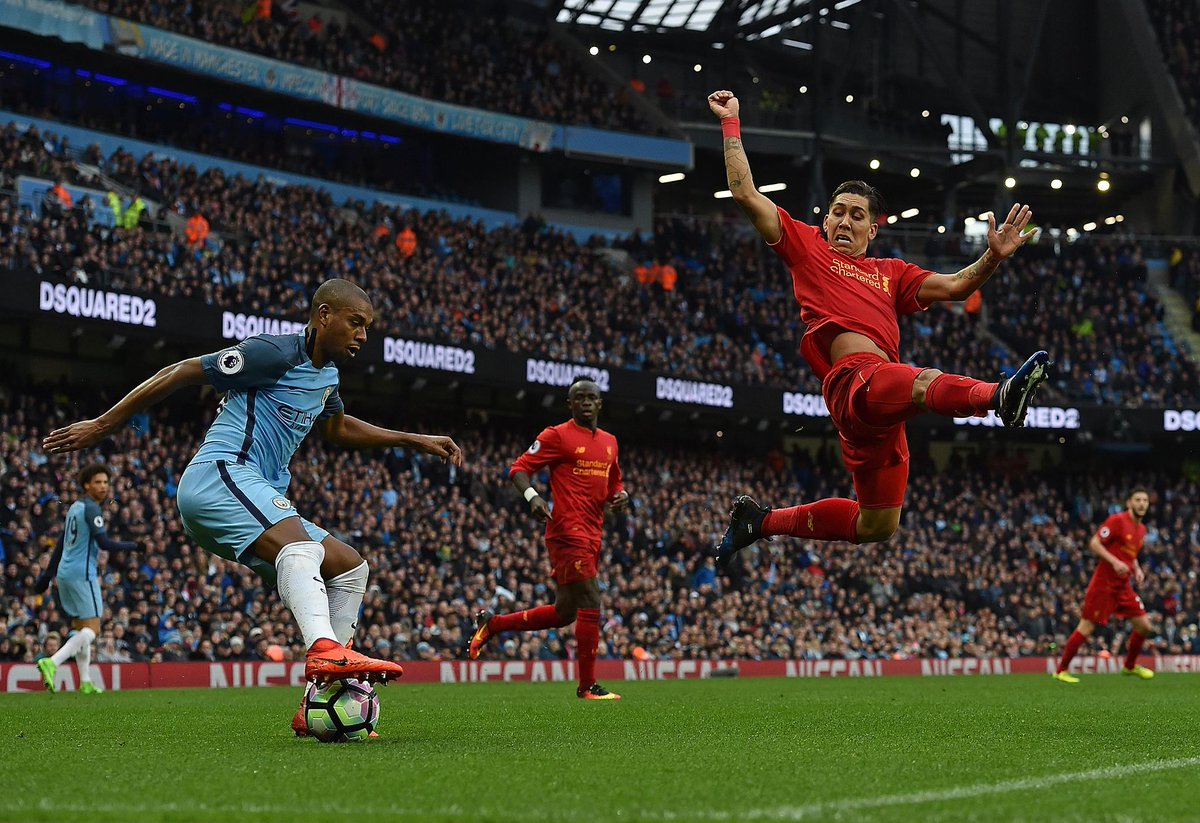 '90+1 | The opportunity for Sergio Agüero to do the trick for Manchester City! Kevin De Bruyne with another exquisite pass to find Sergio Agüero, who volleys the ball way over the crossbar.
'87 | David Silva overlaps Kevin De Bruyne and gets the ball as his cross reaches Sergio Agüero, who sneaks away from Joël Matip's back and fires the ball narrowly wide.
'82 | Another penalty shout from Man City! David Silva subtly dinks the ball over the Liverpool backline to pick out Raheem Sterling, who's taken down Simon Mignolet. The ball goes just wide and Oliver doesn't award another penalty.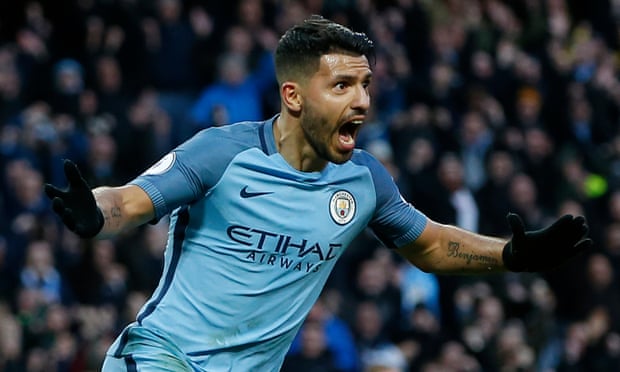 '80 | Oh my word, Adam Lallana! After an absolutely brilliant Liverpool team move Roberto Firmino tees up Lallana. It looks like a certain goal as the midfielder only has to swing his foot to the ball, but he completely mishits his shot.
'78 | We're getting nearer to the end of the game and to be honest both teams can still see out the victory in this game. Man City have been the most dangerous team, but Liverpool are in with a shout as well.
'76 | POST! | Manchester City are trying to win this game and they get unbelievably close! Gaël Clichy bursts into the box and loses his footing, but De Bruyne is there to execute the move, slamming the post.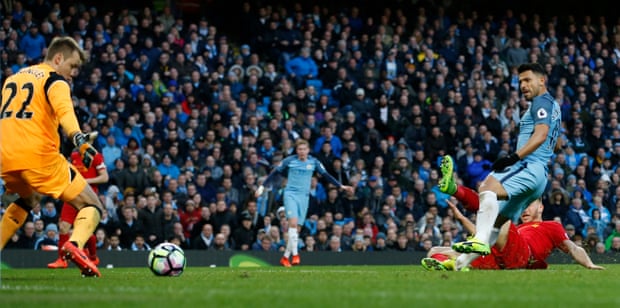 '72 | Liverpool are trying to renew their lead. Roberto Firmino finds some space to fire the ball onto goal between Bacary Sagna's legs, but his projectile ends in the side netting.
'69 | GOAL! | Man City - Liverpool 1-1. Agüero! Manchester City are back on level terms finally! Kevin De Bruyne exposes Ragnar Klavan with a world-class pass thats prodded behind Simon Mignolet by Sergio Agüero.
'67 | David Silva loads the box with a dangerous corner kick and almost manages to pick out Sergio Agüero, but he's marked well by Ragnar Klavan.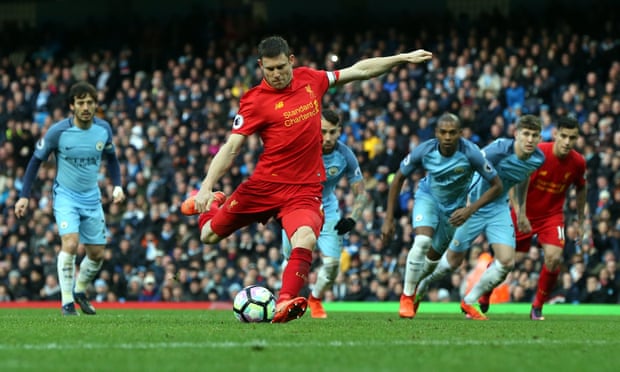 '62 | Willy Caballero with a big save! Philippe Coutinho tears through the Man City defense with a top-notch pass towards Roberto Firmino, but the Brazilian is denied by the Man City gloveman.
'60 | The audience is getting a bit annoyed by their own team, you feel. Manchester City look uninspired in the second half and if it stays like this Liverpool will win without getting tested.
'54 | Man City had the better of the play up to this point, but now they're trailing. Do they have the bounce back-ability to turn this game around?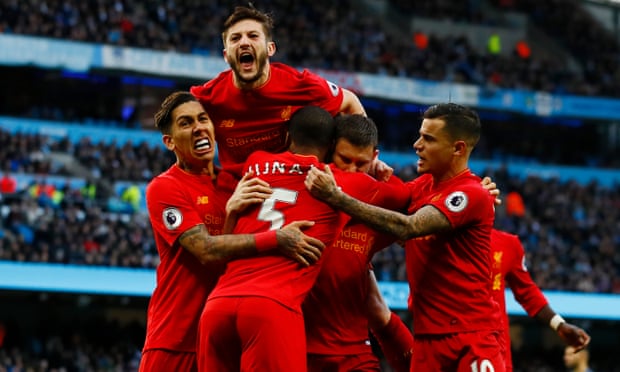 '51 | GOAL! | Man City - Liverpool 0-1. Milner! James Milner simply doesn't miss penalty kicks! He's waiting for Willy Caballero to move and then puts the ball into the other corner. Liverpool lead at the Etihad!
'50 | PENALTY! | Michael Oliver has awarded a penalty to Liverpool! Gaël Clichy kicks down Roberto Firmino inside the box and this time Oliver couldn't do anything else than to point down to the spot.
'48 | Liverpool have come out of the dressing room with a lot of confidence. Adam Lallana's cross is missed by Otamendi and breaks nicely for Sadio Mané, but his attempt is blocked by Stones.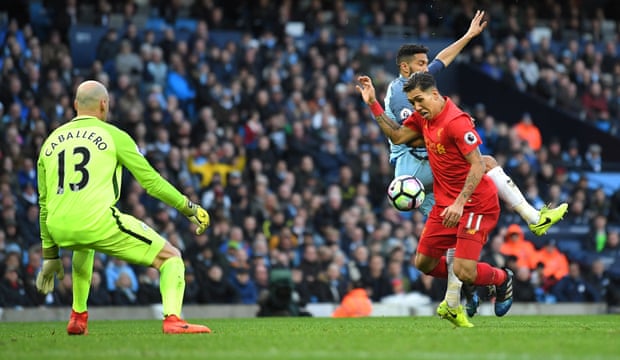 HT | The first half is over at the Etihad. It's been a pure joy to watch these two teams so far and it's an absolute miracle that we haven't seen a goal.
'43 | Now Liverpool miss what looked like a sure goal! Joel Matip seems to tap the ball home from five metres out, but with an incredible last-ditch block John Stones throws himself in the way of it.
'41 | What a save from Willy Caballero! He manages to palm away a corner kick but pushes it straight into the path of Adam Lallana, who gets in a thunderous volley that's saved as well.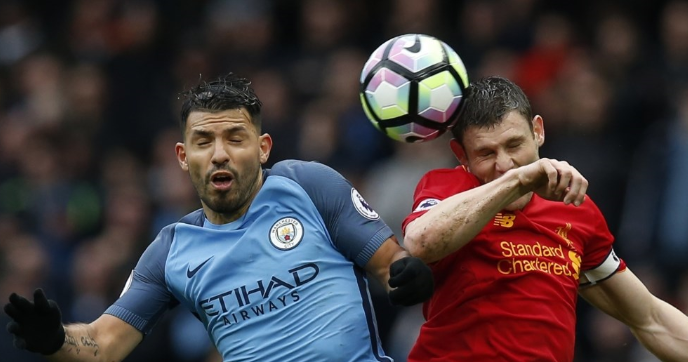 '40 | So close! David Silva puts the ball in front the face of goal and it seems a certain goal for Raheem Sterling, who's tackled by James Milner. It seemed like a penalty, but the play went on for Fernandinho who fired the ball into the side netting on the follow-up.
'37 | Liverpool captain james Milner bends in a dangerous free kick for Joel Matip. He's impeded by Fernandinho just enough to make him come to a  header that could trouble Willy.
'35 | Philippe Coutinho gains possession on the left-hand side and decides to cut inside and unleash a shot that skims over the crossbar. It's still too close to call at the Etihad Stadium.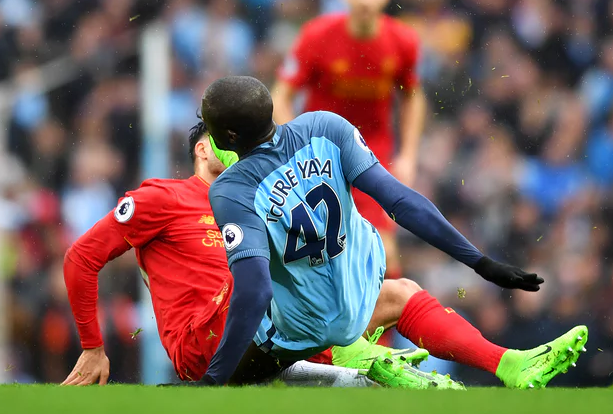 '33 | All of a sudden it has stopped raining and the sun has come out in Manchester, but from that point, the pace of the game has significantly dropped. Liverpool allow Man City to have the ball, but they're not doing much with it at the moment.
'28 | Another penalty appeal from Liverpool! Georginio Wijnaldum enters the box and nutmegs Nicolas Otamendi before going down after he's attacked by Yaya Touré. Again, Oliver doesn't award a spot kick.
'26 | Liverpool's defense have been under pressure for the entire game, but they simply refuse to crack. Leroy Sané swings in a sharp cross and Agüero is eager to meet it, but with a vital move of the foot James Milner changes the course of the pass.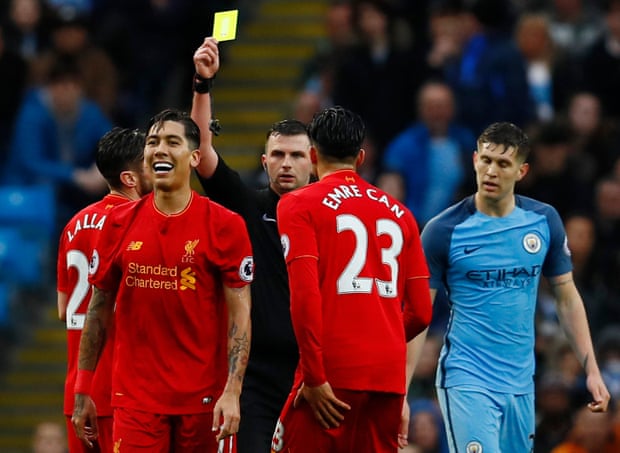 '24 | Sadio Mané should've made more of that! The Senegalese striker completely outpaces Nicolas Otamendi and creates a one on one situation with Willy. Before he's able to shoot he goes down, claiming he's touched by Otamendi. Oliver refuses to honour his appeals.
'22 | An unintended but nasty foul from Yaya Touré. The Ivorian comes sliding in over the wet pitch and plants his studs right into Emre Can's chest. He's booked for the offense.
'20 | The biggest chance so far! Sergio Agüero tears through the Liverpool defense with a pass towards Leroy Sané. His cross is blocked straight into Silva's path by Mignolet, but his one-time effort flies just wide.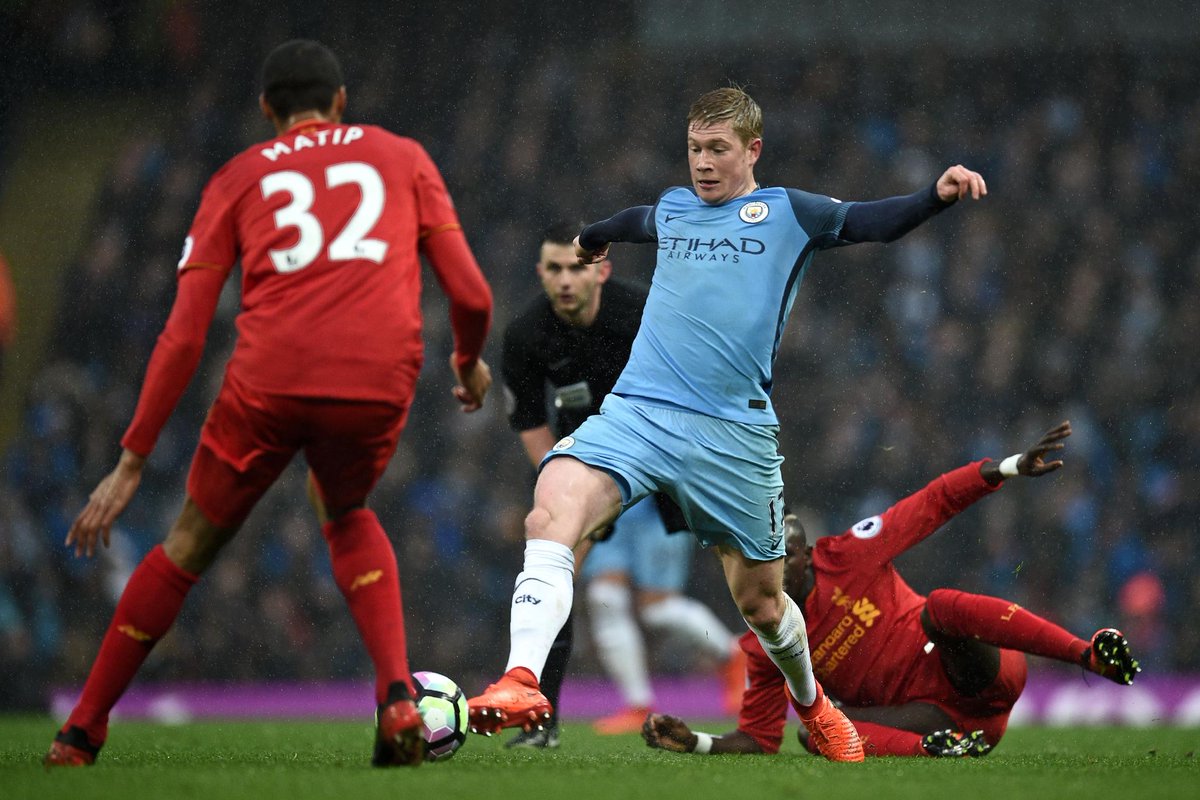 '19 | Autumn is moving closer and closer, but it doesn't look like it at all at the Etihad Stadium. It's raining like crazy, but it should have a positive effect on the speed of both side's passing moves.
'15 | Man City's sloppiness in attack has been one of their biggest flaws this season and they're not really accurate in front of goal once again today. Fernandinho crosses the ball into the box, but Agüero misses it by a narrow margin.
'12 | Simon Mignolet is forced into a save in this game for the first time! Kevin De Bruyne pings in a sharp cross from the left and almost exposes Simon Mignolet, but the goalie is paying attention and stops the ball.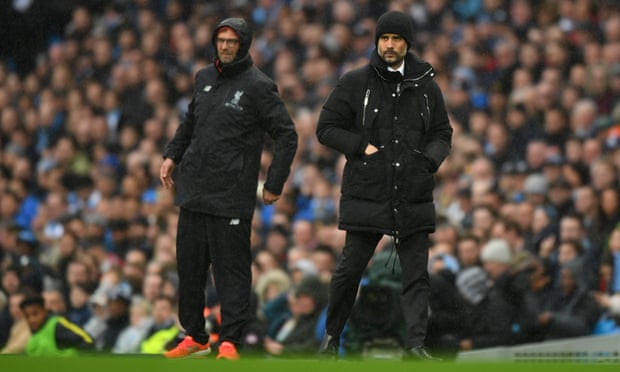 '10 | Liverpool are clearly using the offside trap on Man City and it's more than effective. In the first ten minutes of this clash, referee Michael Oliver has caught a City player offside four times.
'8 | Manchester City attempt to put Liverpool under a lot of pressure right from the start. Kevin De Bruyne crosses the ball into the box, but Joel Matip keeps Sergio Agüero from connecting with it.
'5 | This game should be good. Both Pep Guardiola and Jürgen Klopp have chosen for a very attacking line up and at the first sight you'd say that this game simply can't disappoint.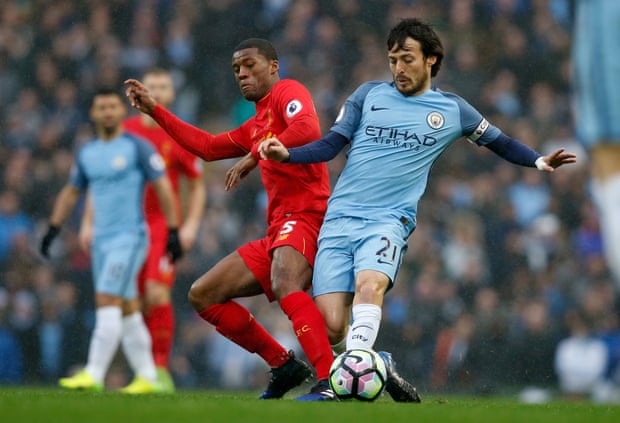 KICK-OFF | After this week's disappointing exit from the Champions League, it's up to Manchester City to react. Can they show they're still wanting to make something of their season at home against Liverpool?
XI Man City | Willy; Fernandinho, Otamendi, Stones, Clichy; Touré, Sterling, De Bruyne, Silva, Sané; Agüero.
XI Liverpool | Mignolet; Clyne, Matip, Klavan, Milner; Wijnaldum, Can, Lallana; Mané, Firmino, Coutinho.