Miss no moment of the Premier League game between Tottenham and Southampton in our live blog.
Premier League

TOT

Tottenham

2
1

SOU

Southampton
Video source: Streamable.com
FT | Tottenham keep winning. They didn't play their best game at home against Southampton, but they pick up a 2-1 victory to remain second in the league table.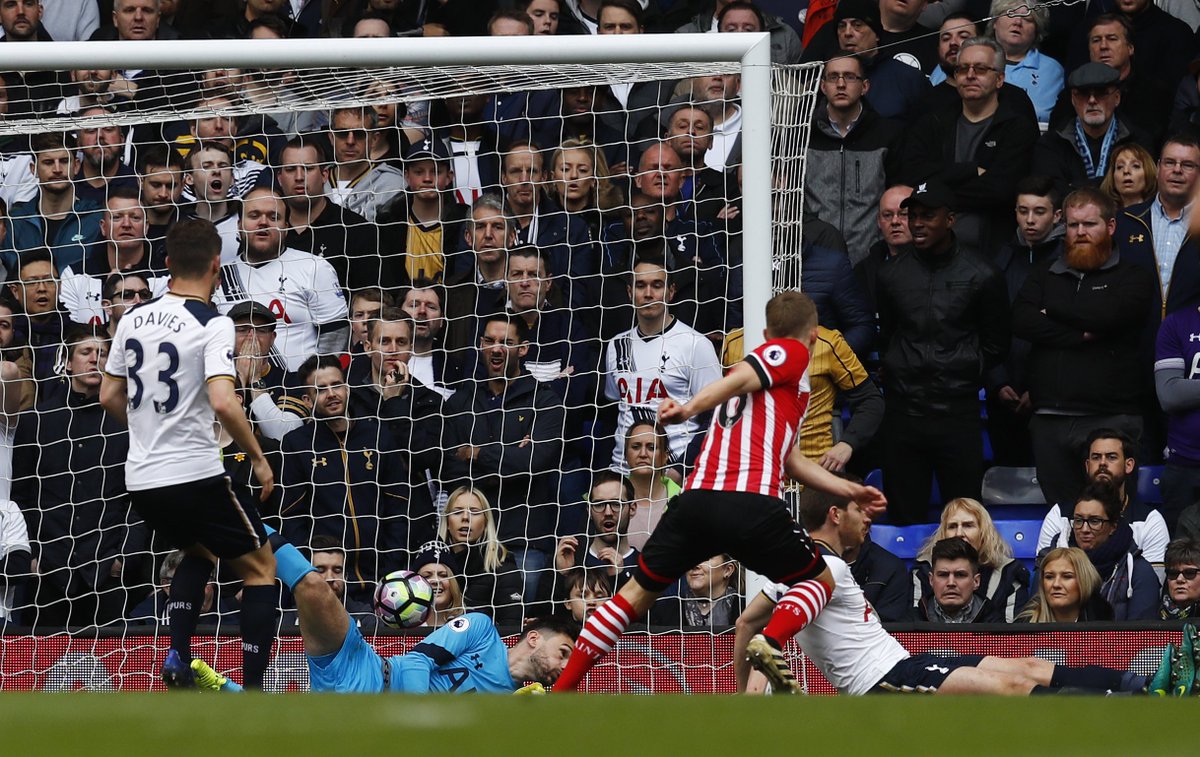 '89 | Vincent Janssen almost gets his first league goal from open play! He subtly takes the ball past Cédric Soares and denies Dele Alli, trying his own luck. His powerful shot is parried by Forster.
'86 | Pochettino gives the crowd what they deserve: goal machine Vincent Janssen is on to replace Christian Eriksen in the dying minutes of this awful second half.
'83 | The Tottenham fans certainly want to leave White Hart Lane after seeing f*ck all in the second half, so they decide to cheer up their team once again. 'Come On You Spurs' rings around the stadium.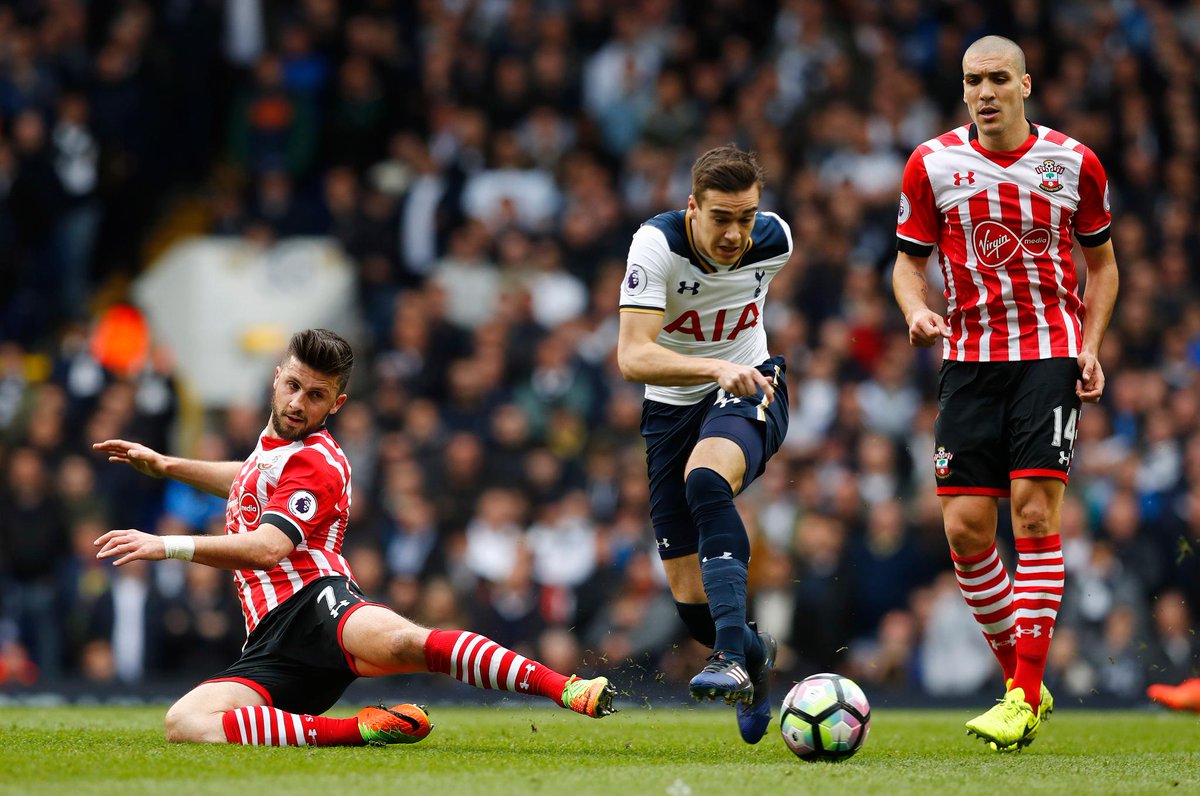 '79 | As we can't tell you anything new about the game, we've still got some other news involving Tottenham: they've just lost 10-0 against Arsenal. The Tottenham Ladies, of course.
'76 | We're almost falling asleep here, but Pochettino has got the weapons to hand us something to enjoy. The lethal striker Vincent Janssen, who scored his first goal from open play last week, is still on the bench.
'72 | Mauricio Pochettino is hoping for a substitution to spark some mopre excitement in the closing stages of this game. Harry Winks comes on and replaces Heung-Min Son.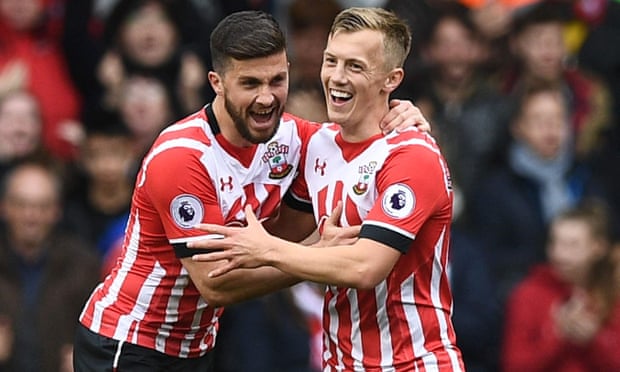 '68 | White Hart Lane was quite atmospheric in the first half, but the second half we've been witnessing a snoozefest. Spurs lack the hunger to keep attacking and it's reflecting on the fans' will to support.
'61 | Tottenham have lost their surpemacy and this game might still doesn't end well for them. Southampton get more and more dangerous and they're hunting for an equalizer and probably even a winner.
'57 | Lloris escapes from a mistake! Steven Davis slides the ball into the path of Shane Long, who has a go. His attempt is released by Lloris and almost ricochets in, but right in time he's there to recover it.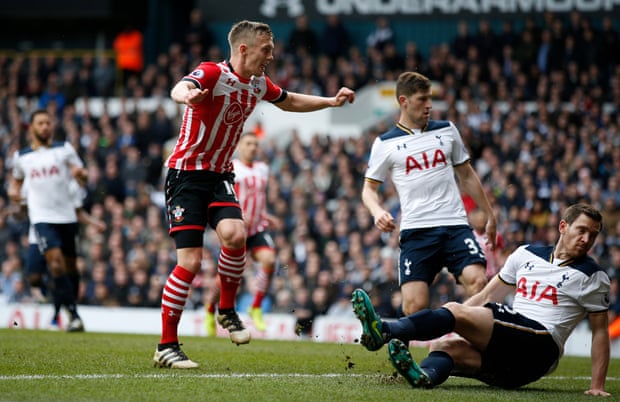 '53 | Tottenham almost recover their two-goal lead right away! After a silky attack Heung-Min Son has the chance to score, but under pressure from Stephens he places his shot wide.
'52 | GOAL! | Tottenham - Southampton 2-1. Ward-Prowse! It's game on again! Ryan Bertrand crosses the ball into the box from the left-hand wing and Alderweireld can only deflect it straight into the path of James Ward-Prowse, who brings the hope back in the Saints' hearts.
'49 | Spurs cut through the Saints defense easily once again. Dele Alli pulls the ball back for Christian Eriksen, but the Dane places the ball just over the crossbar on this occasion.
'47 | We're up and running in this second half and the ball is at Southampton's end. Can they get themselves together and get a goal back, to bring the tension back at White Hart Lane?
HT | Tottenham are looking bright once again. They've had quite an easy first half against Southampton and lead 2-0 thanks to goals from Christian Eriksen and Dele Alli.
'45+1 | Southampton almost find a way to get back into the game! A corner kick is headed out of the box by Tottenham, but then it's picked up by James Ward-Prowse. From long range he tries his luck, but Lloris palms it away.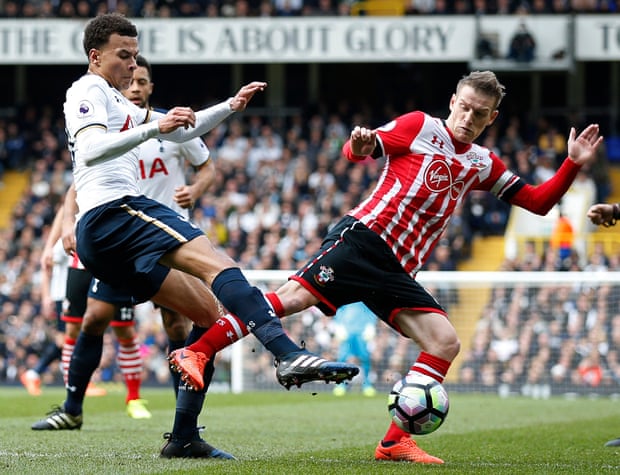 '41 | Christian Eriksen has been absolutely brilliant this afternoon. He's got six Southampton players in front of him, but still manages to find space for a pass that tears up the entire backline. Son does all he can to reach the ball, but he slightly mistimes his run.
'38 | Right before the penalty, Southampton seemed to get stronger. After Dele Alli's goal, Tottenham are in full charge. They enjoy possession as Soton can only watch and follow.
'33 | GOAL! | Tottenham - Southampton 2-0. Alli! Cool as you like from Dele Alli! The Tottenham midfielder sends Forster into the wrong corner and easily converts the penalty kick to double his side's advantage.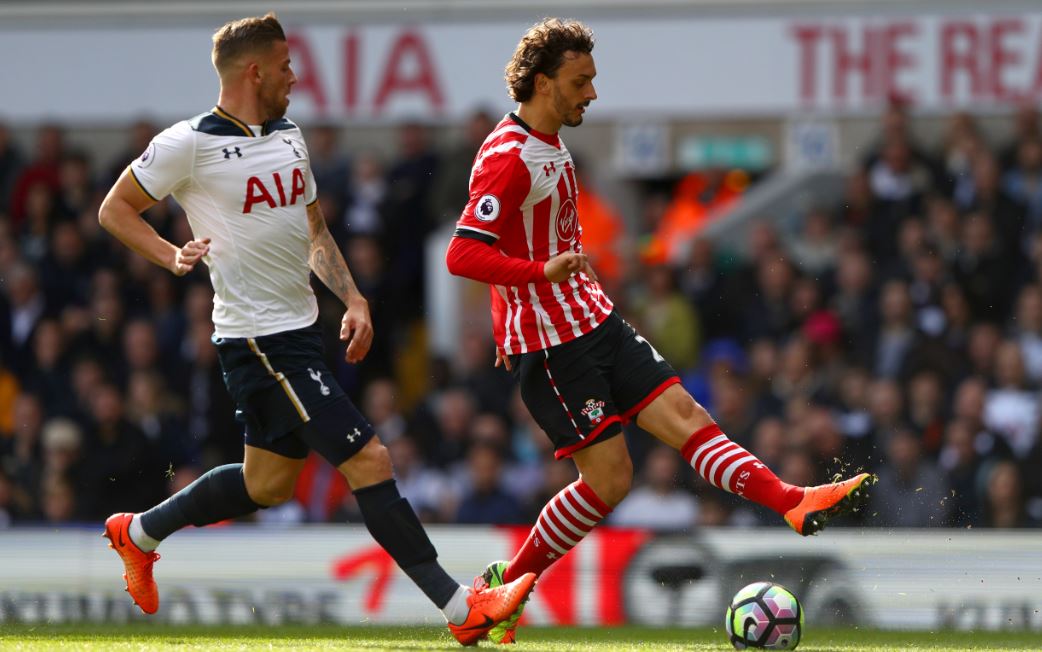 '32 | PENALTY! | A penalty for Tottenham! Steven Davies trips Dele Alli and referee Andre Marriner couldn't take any other decision than to put the ball down to the spot.
'31 | A big letdown for Southampton. Manolo Gabbiadini is feeling his groin and he can't carry on. He's taken off and replaced by Shane Long.
'28 | Manolo Gabbiadini goes agonisingly close to getting The Saints back on level terms! Dusan Tadic cuts the ball back for the Italian forward, who fires a dangerous shot into the side netting.
'24 | Another big save by the biggest man on the pitch, Fraser Forster! Toby Alderweireld smashes his head to a corner kick and seems in to make it 2-0, but Forster is able to hit the attempt away.
'21 | Fraser Forster hoofs the ball forward and almost finds Nathan Redmond, but the ball doesn't bounce well for him, which gives Eric Dier the chance to show up and head the ball back to Lloris.
'18 | Not a bad attempt from Oriol Romeu! The midfielder all of a sudden finds the ball in front of his feet and drills in a powerful volley that surprises Lloris, but luckily for the goalie the missile ends up just wide.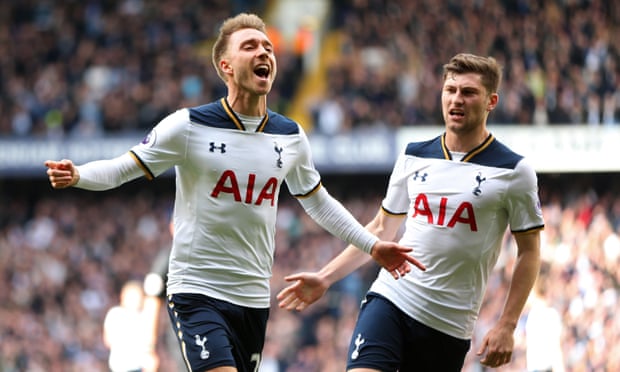 '15 | Tottenham are trying to get the job done quickly. Dele Alli enjoys a lot of freedom to turn around in the middle of three Southampton defenders and get in a shot that's collected by Fraser Forster.
'14 | GOAL! | Tottenham - Southampton 1-0. Eriksen! There it is for Tottenham! Once again Southampton allow Christian Eriksen a lot of space, as the midfielder places a neat shot right into the bottom corner from just outside the box. A class goal.
'13 | Kyle Walker reaches the backline and tries to pull the ball back for Heung-Min Son, but before the Korean can swing his foot ot it the ball is cleared away by Maya Yoshida.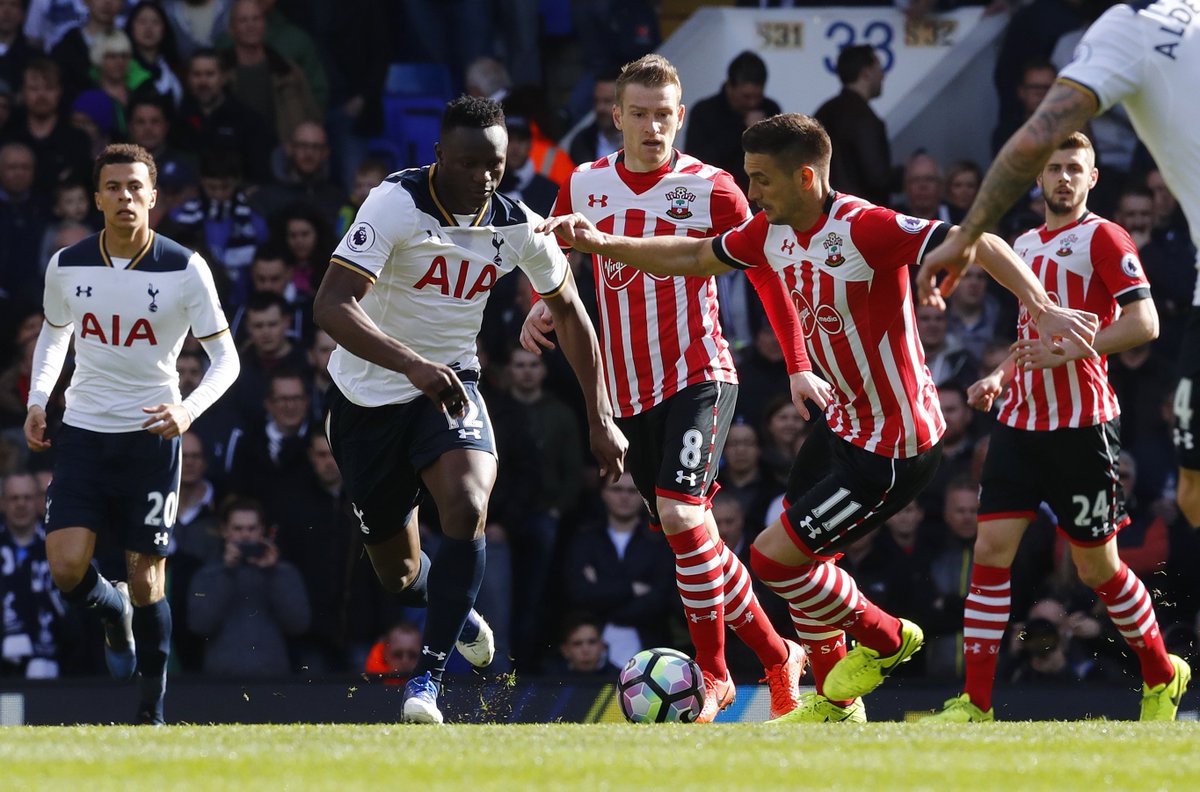 '10 | A sinister foul from Eric Dier. The midfielder has lost Nathan Redmond, who seemed on his way to an opportunity. He realises the last thing he can do is kick him down at the cost of a yellow card.
'7 | Last season Southampton were the team to drag Tottenham into their end-of-the-season collapse. They beat them 1-2 at White Hart Lane, which was the signal for Tottenham to eventually finish in third place, lower than Arsenal.
'3 | Fraser Forster with a terrific save to deny Heung-Min Son! The striker escapes from Maya Yoshida's back to connect with a through ball from Christian Eriksen, firing it onto the Soton goalie.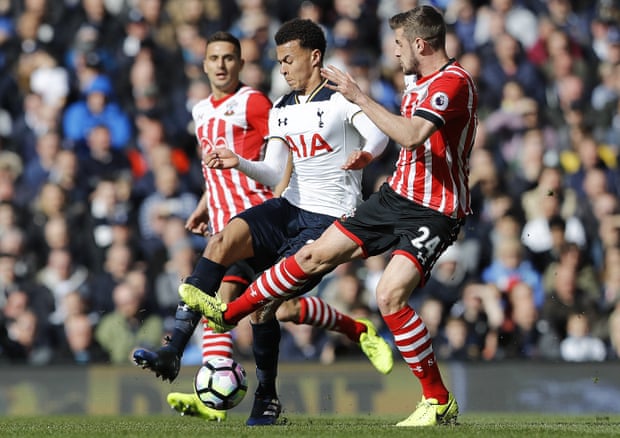 KICK-OFF | We're off at White Hart Lane! Tottenham are without their star striker Harry Kane, who will be out for some weeks due to injury. Will the current team still be able to beat Southampton?
XI Tottenham | Lloris; Dier, Alderweireld, Vertonghen; Walker, Wanyama, Dembélé, Davies, Eriksen, Alli; Son.
XI Southampton | Forster; Cédric, Stephens, Yoshida, Bertrand; Davis, Romeu, Ward-Prowse, Tadic, Redmond; Gabbiadini.