Miss no moment of the Champions League clash between Barcelona and Juventus in our live blog.
Champions League

BAR

Barcelona

0
0

JUV

Juventus
Video source: Streamable.com
FT | Juve are into the Champions League semi-final! Overturning their 3-0 win from the first leg ultimately proved to be a miracle too far for Barcelona after their PSG heroics.
'87 | Lemina is involved almost straight away. He runs at Iniesta and beats him just inside the area, before winning a corner despite his eventual shot being scuffed a little.
'83 | Cuadrado is found on the right as the visitors break and he slips a pass into the penalty area towards Khedira. He controls it when he should have let it run for Mandzukic, then gets a tame shot away which is easily denied by Ter Stegen.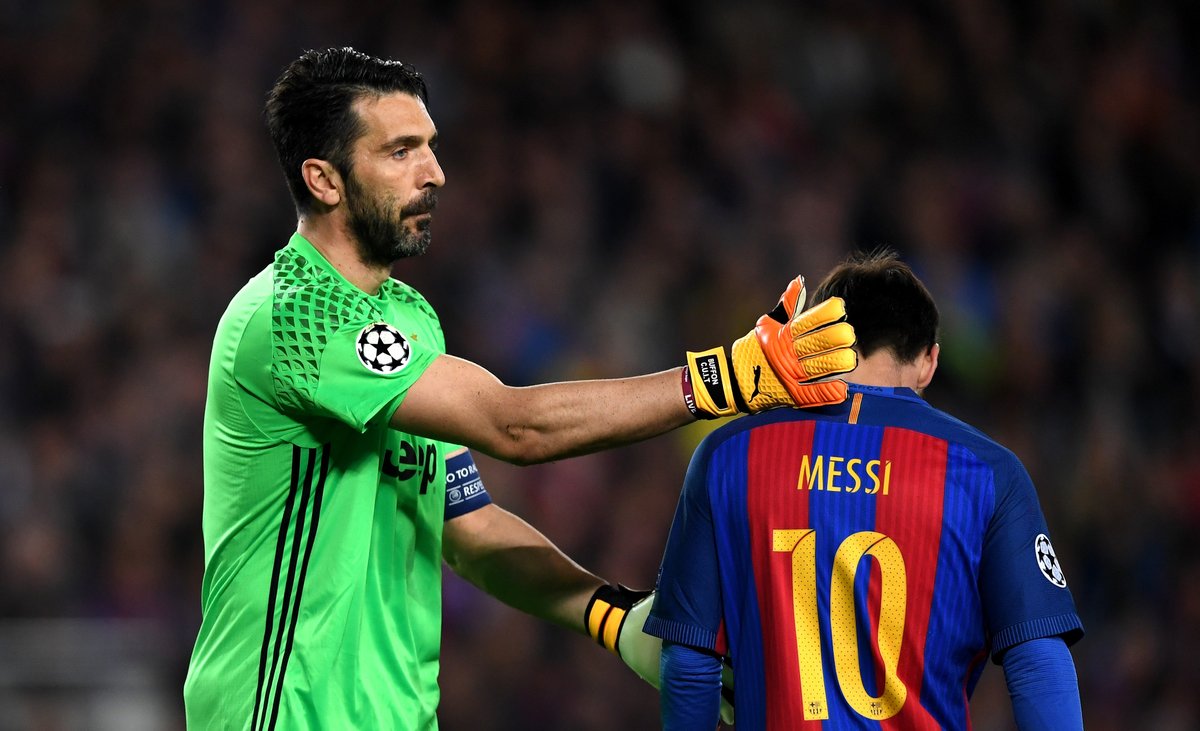 '81 | Neymar crosses in from the left and Mascherano gets a touch to it, but Buffon is there to make the save.
'77 | Barca win a corner down the left and Pique's first to it, turning a shot goalwards at the near post. But Chiellini gets a something on it, and the next corner is cleared.
'73 | Neymar, who's had a quiet few minutes, whips in a cross that Chiellini gets up to first, his flick enough to take it away from Alcacer. The corner comes to nothing, and Pique, who came up for it, is now knocking about up front.
'70 | Messi does beautifully at the right corner of the box to move away from the goal before slipping a pass inside to Sergi Roberto. He ducks further inside, move slightly away fro goal to set his angle, and then drives a low one past the far post.
'67 | Barca are back on top. Iniesta sees a wicked volley well blocked and then Suarez's cross is deflected behind for a corner.
'64 | Barca are made to worry this time. Higuain's low cross doesn't quite find a team-mate, but Pjanic robs Busquets on the edge of the box again and sees a shot deflected over.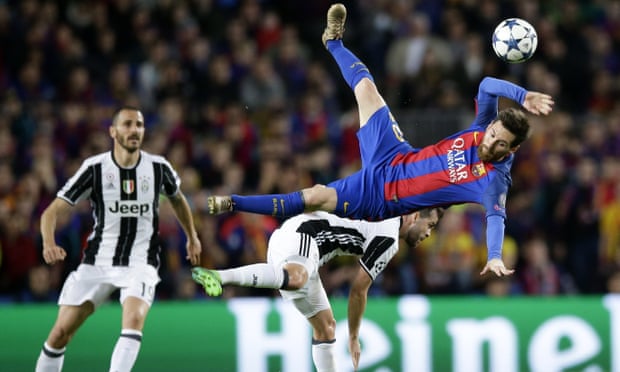 '62 | Poor from Neymar. He is lucky to evade the tackle o Pjanic, but he then smashes a 25-yard effort harmlessly over the crossbar.
'57 | Messi just can't find the target today! Rakitic is the one who finds him this time and the Argentine then makes enough space to get a shot away. Chiellini gets a slight touch on it and the ball goes agonisingly past the bottom-left corner.
'55 | Cuadrado latches on to a clever pass in behind Alba and then turns him inside out before seeing a shot deflected wide by the foot of Ter Stegen.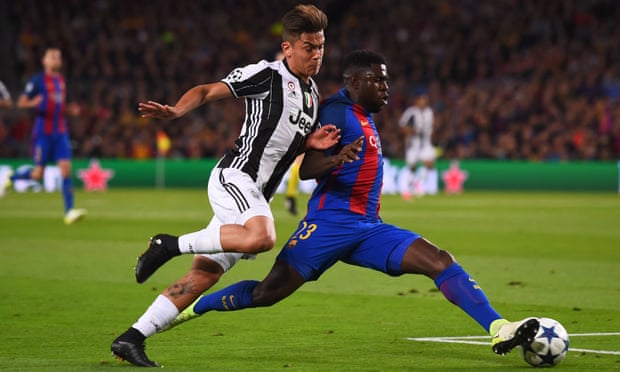 '54 | Brilliant from Messi. He picks the ball up deep, exchanges a one-two with Iniesta and then blasts agonisingly over on the edge of the area.
'50 | Barca get themselves a corner as Rakitic's cross is blocked by Alex Sandro. But Juve clear with ease and cause problems up the other end. Roberto is robbed by Dybala and then Higuain finds Cuadrado, but he rifles just wide of the left-hand post.
'47 | That could've been a great start to the second half for Barcelona with Neymar brilliantly going past five men, but in the end his path is blocked and the ball goes out for a goal kick.
HT | It's half-time and it's still goalles. If Barcelona are looking for another miracle, they have 45 minutes left. 
'43 | Suarez goes for the spectacular scissor-kick after Neymar cut inside and crossed, but the striker's effort goes well wide.
'41 | Vital touch from Bonucci, as Messi rips Juve apart on the right and releases Suarez. He crosses deep and Neymar looks set to knock it in, but the Italian defender gets in the way.
'39 | A rare Juve attack eventually produces a chance, as Pjanic plays a deft lofted pass into the box and Higuain can only get a slight touch on it, sending it into the hands of Ter Stegen.
'36 | For all of Barca's dominance and time on the ball, Juve haven't actually been worried that often. Buffon has only really been tested once.
'29 | Messi exchanges a couple of passes well with Busquets and gets a shot on goal. Buffon pushes it away and then the Argentinian smashes the rebound into the side-netting from a tight angle.
'23 | Busquets lofts a curve over the defensive line for Alba, who bumps back for Neymar, and his snap-volley whizzes past the near post.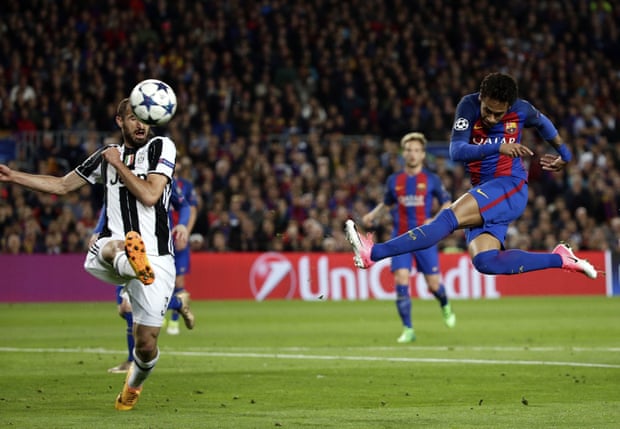 '20 | Messi spreads wide to Alba, makes his way into the box, and when the ball does too, Suarez tees him up ... except, arriving onto it, he drags wide from cose-range!
'19 | For the first time, Messi finds himself in space outside the box and lifts a pass into it for Jordi Alba. On the slide, he can't quite arrive in time, shinning over the bar.
'17 | Juve come forward again, and Cuadrado finds himself in the box, taking possession on his thigh before looping a shot over his head and over the bar.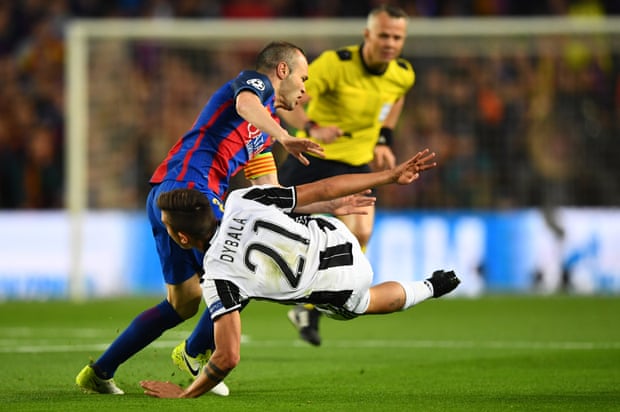 '16 | Lovely ball from Pjanic setting Cuadrado away down the right and Dybala's in the middle, but Pique slides in to block superbly.
'14 | Higuain tries to flick a pass inside and Busquets intercepts, inadvertently completing the one-two. And the ball bounces beautiful, just outside the box and shin-high; Higuain welts a shot wide.
'12 | Neymar lifting the ball over Bonucci and into the box for Suarez, who can neither control nor flick-on.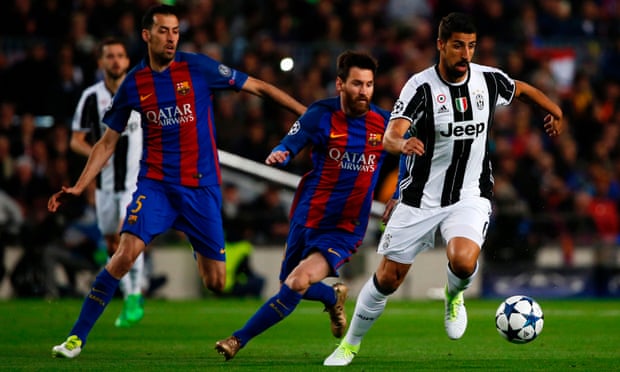 '10 | Barca win a corner and take it short. When the ball eventually comes in, from Messi, Bonucci misses it, but behind him, Pique can't control.
'9 | Neymar finds Iniesta and he tries wiggling into the box but is easily knocked over by Chiellini.
'4 | Good free-kick, clipped into the box at an oblique angle, and Higuain has lost his marker, but can't a decent connection on his shot.
XI Barcelona | Ter Stegen; S. Roberto, Piqué, Umtiti, Alba, Busquets, Rakitic, Iniesta; Messi, Neymar, Luis Suárez.
XI Juventus | Buffon; Dani Alves, Bonucci, Chiellini, Alex Sandro; Khedira, Pjanic; Cuadrado, Dybala, Mandzukic; Higuain.
TEAM NEWS | Although Neymar will return for the clash, Barcelona are likely to be without Javier Mascherano, who did not train on Monday due to a calf injury, as well as long-term absentees Aleix Vidal and Rafinha.
Juventus forward Paulo Dybala, who scored twice in the first leg, was taken off with an ankle injury as they won 2-0 at Pescara on Saturday, but is expected to be fit to play.