Miss no moment of the Europa League game between Man United and Anderlecht in our live blog.
Europa League

MUN

Man United

2
1

AND

Anderlecht
Video source: Streamable.com
FT | So United are in the semis, and what a performance they produced to get there! Anderlecht played really well, but United absolutely tore into them for the last hour of the tie, created a silly number of chances, and eventually saw them away with the work of a genius.
'118 | Anderlecht have a puncher's chance and they've started swinging! Kara heads into the box, Valencia heads away; Kara heads into the box, Bailly lets it go, and Acheampong is in! But he can't finish! Was that their moment?!
'115 | Long ball from Spajic, and a testing length, arriving just on the edge of Romero's box ... he makes a really positive decision to come and punch clear, doing so very well.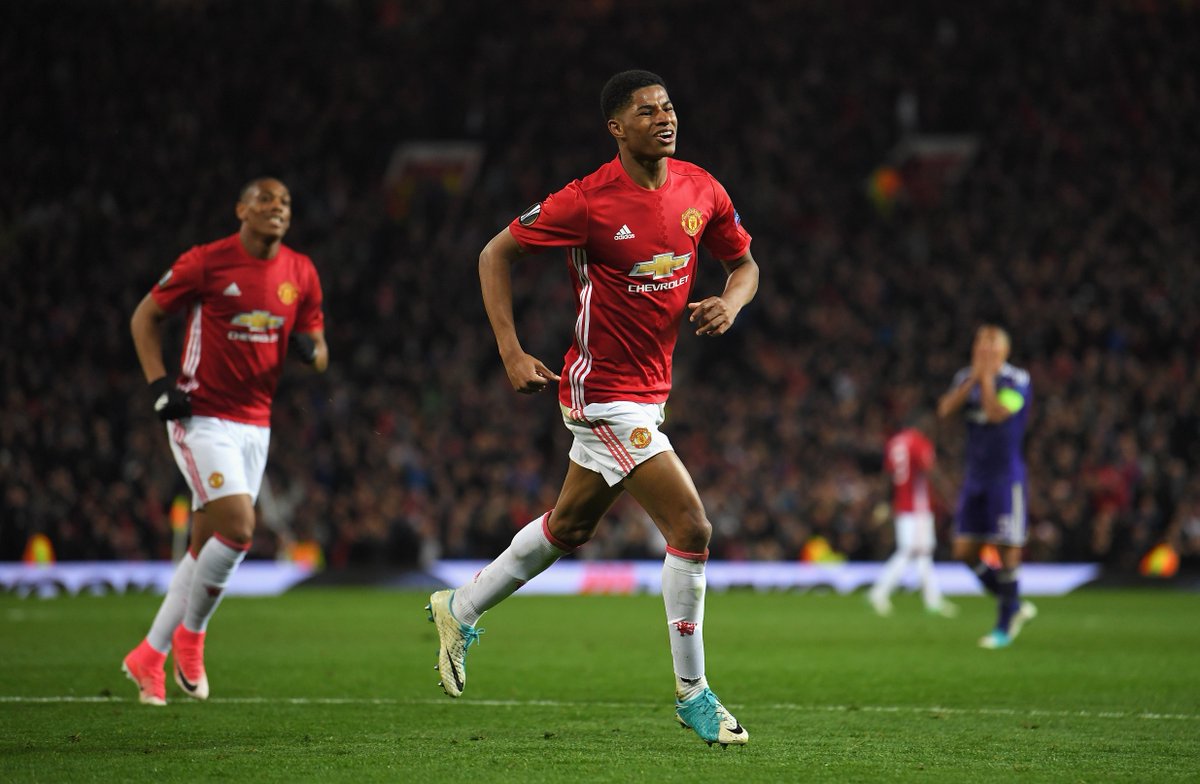 '110 | Do United stick or twist? They twist! Martial glides forward, then perseveres through two challenges and feeds Pogba, on the right of the box! He shoot punish it but instead coaxes it, allowing Reuben to save, yet again. His finishing is rudimentary, to say the least.
'107 | GOAL! | Man United – Anderlecht 2-1. Rashford! What a player this boy is going to be! What a player this boy already is! Shaw hits a diagonal at Fellaini, who knocks down ... but how much work is left to do! He controls beautifully on his laces, steadies, Cruyff turns his man, and smacks a low left-footer past Reuben! Brilliantly done!
'106 | We go again! 
'105 | Half-time in extra-time: Manchester United 1-1 Anderlecht. 
'101 | Fantastic ball in from Martial to Fellaini at the far post, and he's up with the lark. This sends him over the top of Spajic, so it looks like a foul when he knows down for Pogba to finish. Perhaps it was a foul, too - it's hard to discern even on replay, so not surprising that it looked one to the ref.
'97 | Rashford diddles Kara, who pulls him down right on the junction between by-line and box; he's booked. And Rashford's free-kick is perfect, picking out Fellaini's brown only for Spajic to jump alongside and block. He has played astoundingly well tonight.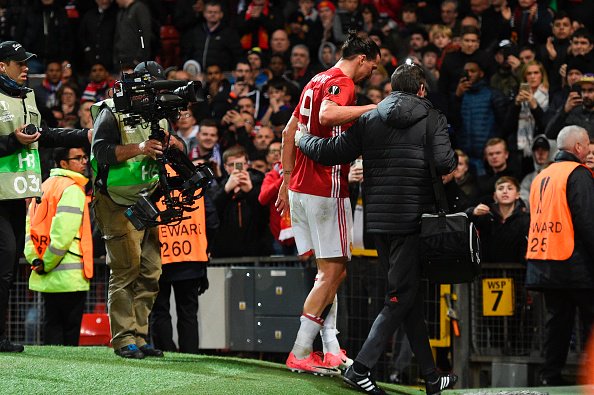 '94 | Anderlecht break with purpose - for the first time in a while - and Obradovic canes a cross-shot that clips off Teodorczyk; corner says the ref. And what a corner Anderlecht craft, Stanciu dropping back as everyone else moves towards goal; Tielemans finds him, but he can only blaze over.
'93 | Brilliant, yet again from Rashford, pulling right, caning Stanciu, and picking up Pogba with a rabona! I know! And yerma catches the overhead lovely, except Spajic blocks, yet again!
'91 | Off we go again. 30 minutes for someone to score, else it's penalties. Zlatan is off - he doesn't look in a good way. Martial replaces him.
FT | Extra-time it is!
'89 | More lovely approach-play from United, class and perseverance from Mkhitaryan and Pogba taking the ball from right to left, where Zlatan scoops a fine pass to give Rashford another sight of goal. But, leaning away from goal, he can't get his body around the ball, rifling into the near side-netting.
'83 | But here's Carrick now, striding forward and slotting a perfect pass in for Zlatan! And a lovely first touch sets him for the shot, opening up his body for the punch into the far corner. But because the ball's bouncing a little, he strikes across it to send it wide! Another profoundly presentable chance, gone!
'79 | What a chance! Mkhitaryan's corner arrives perfectly on Pogba's foot, but, six yards out, the attentions of Obradovic are enough to have him spoon over!
'77 | Brilliant from Rashford, throwing a stepover at Appiah before skipping outside him and smacking over a cross for Pogba ... but Spajic is up strongly to head clear.
'71 | United miss another one! Fellaini has made a big difference, and he's instrumental in getting the ball to Zlatan, left of the box. He could put his considerable foot through it, but instead opts to be dead deliberate, allowing Reuben to block. That was quite some oversight.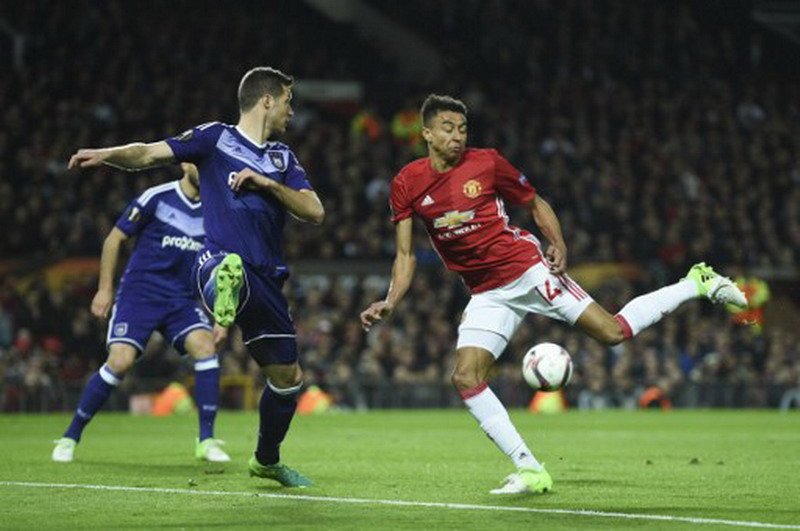 '69 | What a chance! Valencia makes a mess of a clearance following an Anderlecht corner, but is lucky to find Mkhitaryan, who humps long. Appiah then dawdles, Rashford runs him down, nicks the ball, and he's in! But Reuben is out quickly, Rashford decides to round him, and a heavy touch forces him wide, by which time Appiah is back in verey well to see the danger away.
'65 | Rashford picks up possession outside the box, left-hand side, and cutting inside onto his right foot, opens up the angle! He drags his shot wide, but the chances are starting to come for United.
'61 | Valencia picks up possession outside the box and with nothing on, lifts into the box for Fellaini. His header is blocked clear, and the crowd hushes as it drops to Rashford on the edge of the box. He connects well, and someone's excellent block takes it behind.
'54 | Back come Anderlecht! First Chipciu drives wide, then Romero has to punch away his cross. This is a really good game, with plenty of pace, invention and goalmouth action.
'47 | United knock it about as Anderlecht sit inside their own half, before Carrick hits a long pass for Shaw, who knocks it around Appiah to win a corner. It comes to nothing and immediately Anderlecht break, Tielemans, who's been very good tonight, hitting Teodorczyk with a long pass. Valencia slips a little, giving him a sight of goal, albeit from 20 yards, before sliding back in to block. Romero then punches the corner clear at the near post.
'46 | We are back underway in the second half!
HT | What an entertaining half that was. Anderlecht have Rubén to thank for keeping them in the tie, but have put it on United since then. By the look of things, it'll take two goals to win this, because it's hard not to see both scoring at least once in the second 45. 
'43 | Brilliant move from United, flowing forward through Lingard before Pogba lifts into Mkhitaryan's path. Inside the box, he has to wait for the ball to come down, and flings a left boot at it when he might've gently fed Shaw. The effort duly flies over the top.
'40 | Lovely from Pogba, taking a short pass from Rashford and lifting over the top for Shaw, who cuts inside and races into the box. But he can't get hold of the shot with his right foot, and Reuben saves easily.
'36 | Mkhitaryan finds Rashford, who suddenly employs the nitros to absolutely paste Appiah before rifling an outswinging shot towards the near post which Reuben parries behind. The corner comes to nothing, but that was the first time United have looked dangerous in a while.
'32 | GOAL! | Man United – Anderlecht 1-1. Hanni! Anderlecht have been excellent since going behind, and have earned this. A switch of play from right to left finds Tielemans, who lets one go from 20 yards. It flicks off Valencia, slams the bar, and lands at the feed of Teodorczyk. Blind does brilliantly to rob him, facing his own net, but the ball nudges across to Hanni, who smashes home from five yards.
'26 | Anderlecht probe around the box, and Acheampong, who's giving Valencia gyp here, gets his body in front of the ball and wins the free-kick. The ball then goes square, and eventually Appiah ceoms infield, feeding Dendoncker, who shoots low and hard ... and just wide. The ref gives a corner - incorrectly - which Zlatan heads clear.
'21 | Valencia inadvertently backheads and suddenly Acheampong is in! He's away from Bailly - my days he's gottabitta pace - and on the left of the box. Romero's out quickly, but even so, this is a great chance, but he goes for the near post, allowing the keeper to block.
'18 | A frantic period has cooled a little, United knocking it about and Anderlecht sitting off until they cross the halfway line.
'13 | As they did so brilliantly on Sunday, Rashford and Lingard link, the former finding the latter who, from 25 yards, wallops a curler towards the far post that Martinez hurls himself at, tipping around the post to keep Anderlecht in the game. United are purring now, and Pogba, is in the mood.
'12 | United win a corner on the right and Pogba leaps for it, in line with the far post and eight yards out. His header is a goodun too, forcing a superb save out of Martinez., who tips it over the top.
'10 | GOAL! | Man United – Anderlecht 1-0. Mkhitaryan! Pogba picks up a loose ball outside his own box, eludes Hanni, and drives a gorgeous pass out to Rashford at inside-right. He immediately crosses low for Zlatan, and when Kara intercepts excellently, he slides square for Mkhitaryan, who smashes his laces through a low shot that, though close to the keeper, is unsaveable.
'3 | Acheampong, who was dangeorus last week, crosses low, looking for Teodorczyk, but Rojo is first to it. Anderlecht quickly regain possession, though, and what an effort this is, Dendoncker slamming his foot across one, which sails just over the far angle.
KICK-OFF | We're off!
XI Man United | Romero; Valencia, Rojo, Bailly, Shaw; Carrick, Pogba; Lingard, Mkhitaryan, Rashford; Ibrahimovic. 
XI Anderlecht | Rubén; Appiah, Mbodji, Spajic, Obradovic; Tielemans, Dendoncker, Hanni; Chipciu, Teodorczyk, Acheampong. 
TEAM NEWS | Manchester United manager José Mourinho has confirmed Sergio Romero will start in goal despite David de Gea's return to action on Sunday.
Anderlecht's Lukasz Teodorczyk was only fit enough to start on the bench in the first leg but should be recalled to the starting XI on Thursday.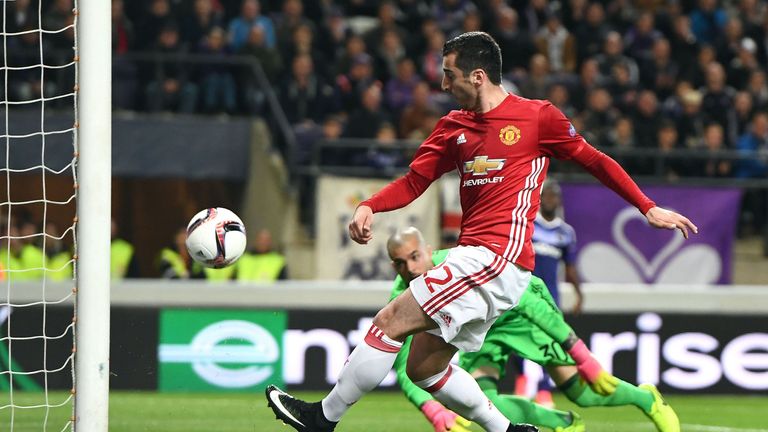 Andy Najar has been missed their last few matches due to a hamstring injury and he remains a doubt here.
Predicted line-up Man United | Romero; Valencia, Rojo, Bailly, Darmian; Herrera, Fellaini; Mkhitaryan, Pogba, Rashford; Ibrahimovic.
Predicted line-up Anderlecht | Martínez; Appiah, Kara, Nuytinck, Obradovic; Dendoncker, Tielemans; Bruno, Stanciu, Acheampong; Teodorczyk