Miss no moment of the La Liga game between Celta de Vigo and Real Madrid in our live blog.
La Liga

CDV

Celta de Vigo

1
4

REA

Real Madrid
Video source: Streamable.com
FT | That's it! Real Madrid take a giant step towards the La Liga title, beating Celta de Vigo 1-4. They only need one more point away at Málaga this Sunday to lift the trophy.
'88 | GOAL! | Celta de Vigo - Real Madrid 1-4. Kroos! That's four! Real Madrid seem determined to stress their dominance in this game as they keep attacking. Benzema lays it off to Kroos, who shakes off a defender and places it home.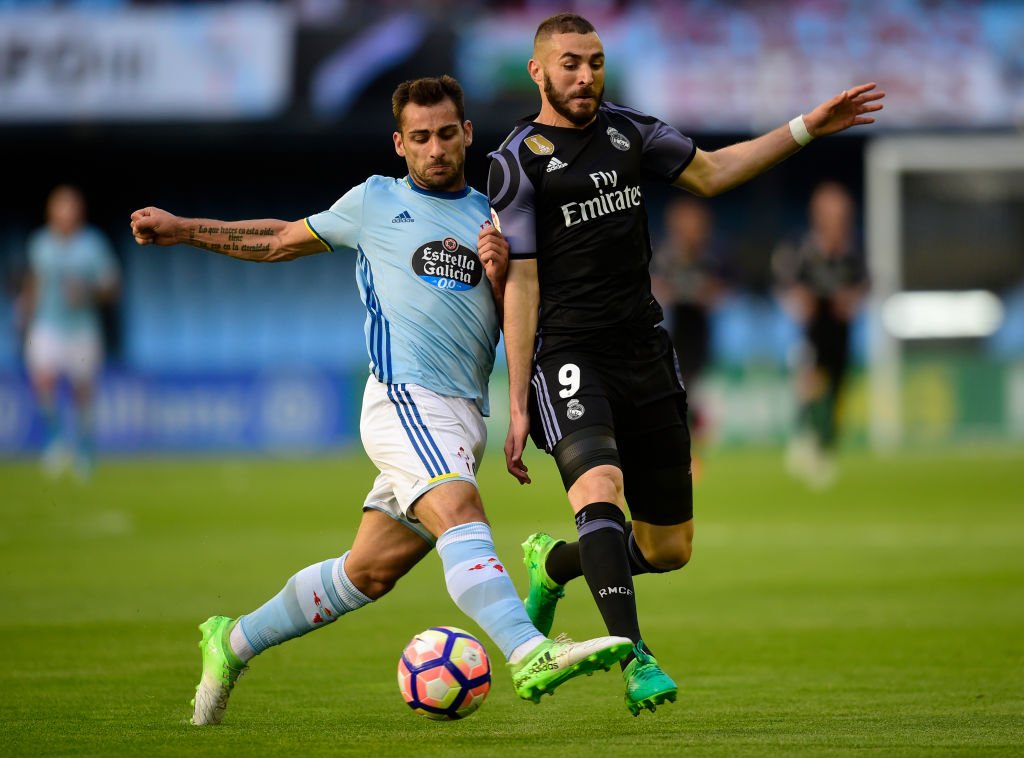 '84 | That's another job done for Cristiano Ronaldo, who's taken off by Zidane together with Isco. They make place for the two top talents, Lucas Vázquez and Marco Asensio. Can they make an impact late on?
'79 | The final whistle is around the corner and Celta are starting to get tired. They're giving away more and more space and if Real are enjoying themselves they might get a few more goals in the final minutes.
'74 | Cristiano Ronaldo, is that you!? It's a rare miss from the Portuguese. Real Madrid break away in numbers as they've got three players in front of goal. Ronaldo has got all time and space to slot the ball home, but somehow he's able to put it wide.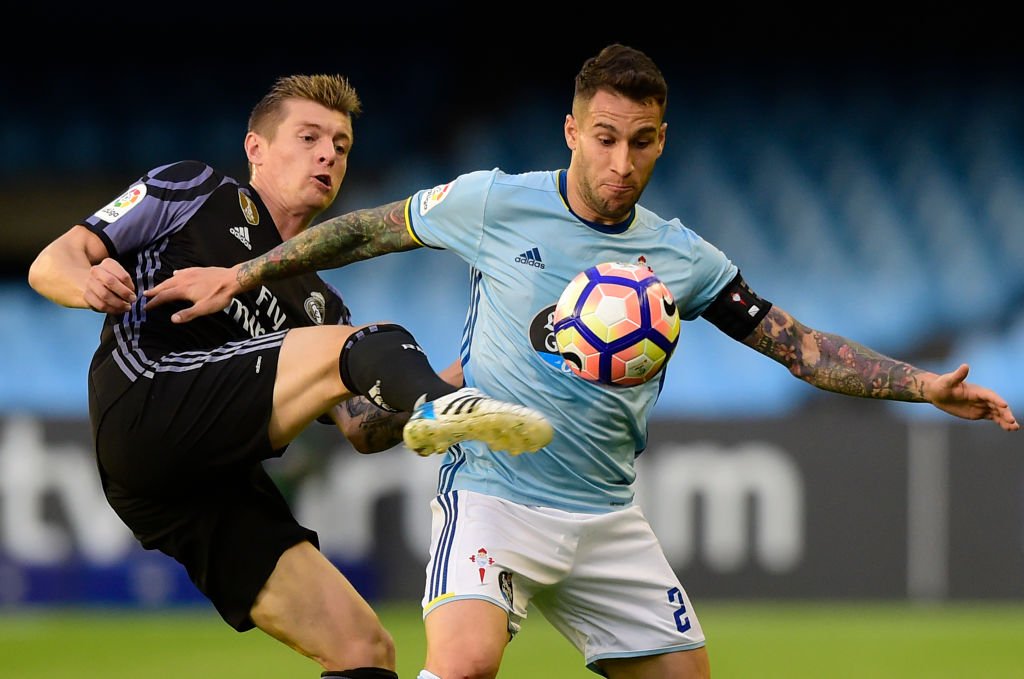 '70 | GOAL! | Celta de Vigo - Real Madrid 1-3. Benzema! Well, that didn't take long! Real Madrid step on the gas right after conceding and they've got a goal to show for it. Marcelo bamboozles Mallo and feeds Benzema with a perfect cross as Real's lead is lifted to two again.
'69 | GOAL! | Celta de Vigo - Real Madrid 1-2. Guidetti! The worst man on the pitch has helped Celta de Vigo to get back into the game! John Guidetti gets some help from Sergio Ramos, as he strongly deflects the Swede's shot to leave Navas no chance of saving. 1-2.
'68 | The red card seems to get Celta even more motivated. The ball breaks perfectly for Daniel Wass, but the Dane's low shot is kept out exquisitely by Keylor Navas, who's putting on a world-class performance.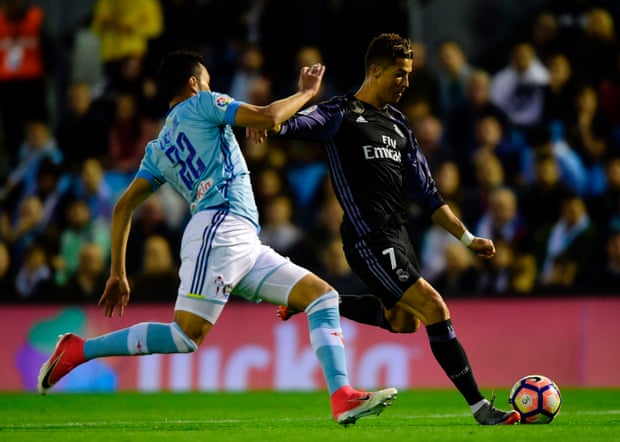 '67 | Two attempts in a row from ten-man Celta de Vigo. First a Daniel Wass free kick is palmed away by Keylor Navas as Hugo Mallo gets in another drive from distance, firing it straight onto Navas.
'65 | This ref is an absolute joke. Cristiano Ronaldo produces a dive that's almost identical to Iago Aspas' one a few minutes ago, but this time Martínez decides to keep the cards in his pocket.
'62 | RED CARD! | This should've put the nail in Celta's coffin. Iago Aspas produces an Oscar-worthy dive after a challenge with Ramos inside the box and it's enough for Juan Martínez to pull out a second yellow card for the Celta attacker.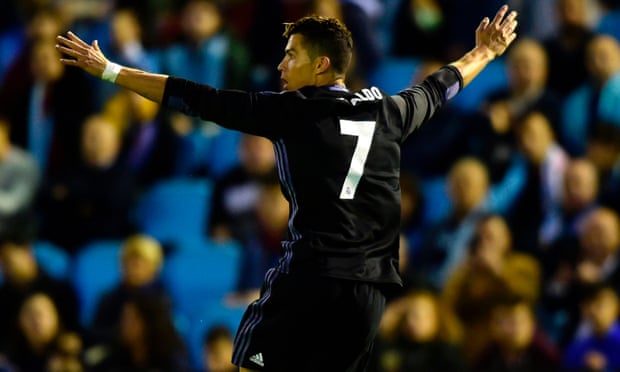 '57 | Somewhere over in Catalunya a lot of Barcelona fans will be clustered to their television, but they've had a night to forget without seeing their club in action: the title is getting out of sight quickly.
'53 | You've got to admire Celta de Vigo's work rate, but their bite up front is lacking tonight. John Guidetti has been an absolute liability: everything the guy has tried has ended up with a mistake.
'48 | GOAL! | Celta de Vigo - Real Madrid 0-2. Ronaldo! That's two! The La Liga title is moving ever closer for Real Madrid as Isco walks past two players and covers half of the pitch before putting Cristiano Ronaldo one on one with Álvarez. The Portuguese keeps his cool and places home.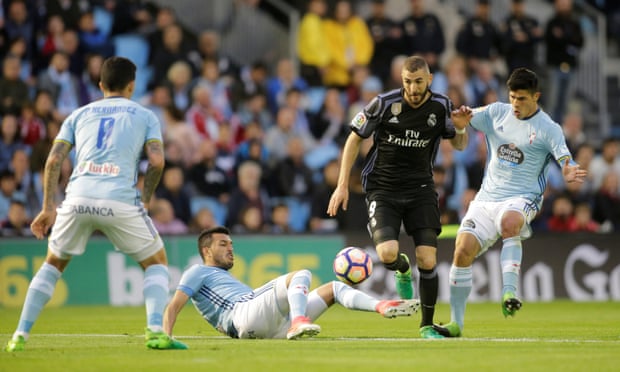 HT | The La Liga title is moving closer and closer for Real Madrid. They're 0-1 up away at Celta de Vigo against the run of play thanks to Cristiano Ronaldo's magnificent thunderbolt.
'43 | Attacks from Real Madrid have been rare in this first half, but right before the final whistle blows they manage to unfold another one as Modric and Benzema combine at the edge of the box, but they can't turn it into a chance.
'38 | Everyone at the Estadio Ballaídos jumps up to scream it out and ask for a penalty as Raphaël Varane handles a Johnny Castro cross, but referee Juan Martínez refuses to award a spot kick.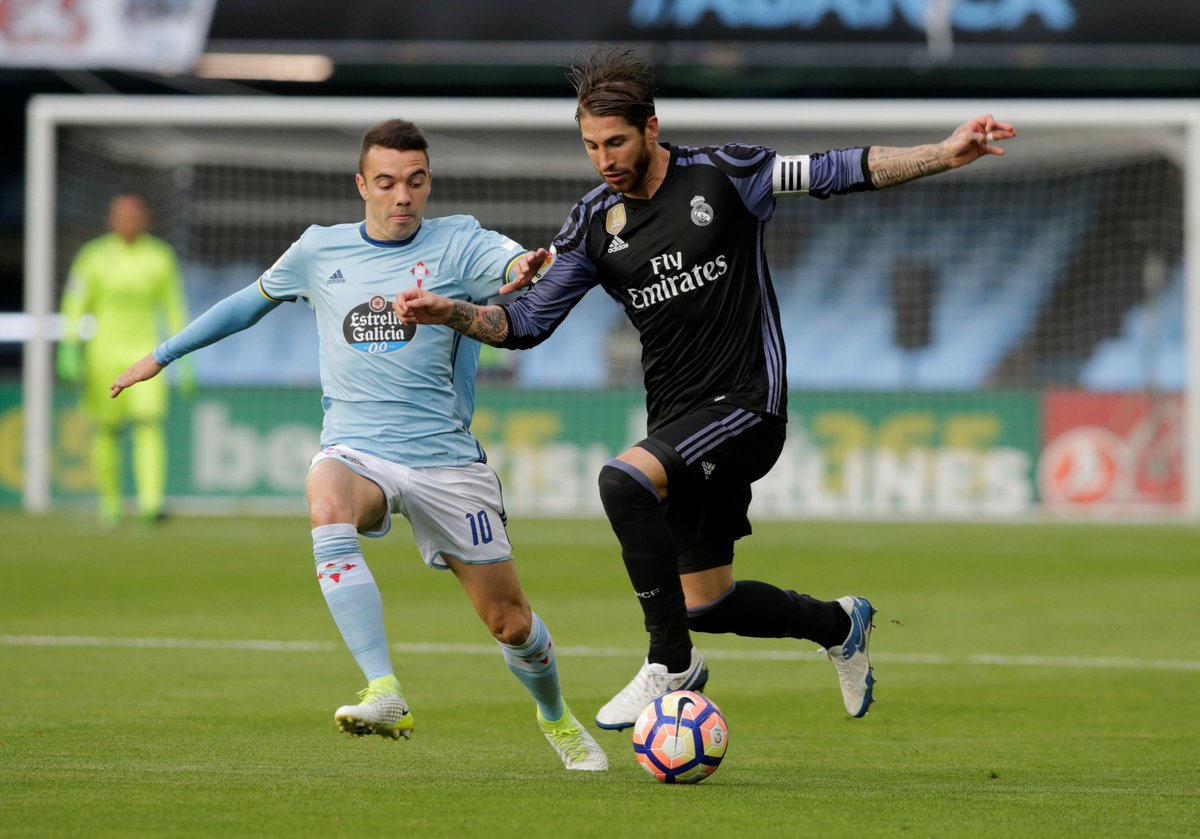 '36 | Iago Aspas sets up an unintended one-two with Danilo before drilling a low shot in at the near post, hitting the side netting. Celta de Vigo are really knocking on the Madrid door now.
'35 | Celta de Vigo are getting stronger, but they're unbelievably sloppy in the final third. Iago Aspas seems to launch John Guidetti onto goal, but the striker needs to much time to control the ball and hands Varane the chance to interfere.
'31 | Keylor Navas with a quality save! Daniel Wass manages to get a treacherous free kick past the wall. It was straight through the middle, but the power that ball had still made it difficult to digest for the Madrid goalie.
'26 | Real Madrid go agonisingly close to making it two! Luka Modric tees up Karim Benzema on the counter attack as the French striker's cross seems perfect for Ronaldo to tap home, but Roncaglia is able to launch a block tackle in time.
'25 | Finally Celta manage to break through the Real Madrid defense. Pione Sisto is surrounded by three defenders but he still finds the space for a shot that flies just over the crossbar.
'23 | Real Madrid don't want to spend too much blood, sweat and tears on this game. After the goal they've given the ball to Celta, but the home team seem uninspired and unable to create anything.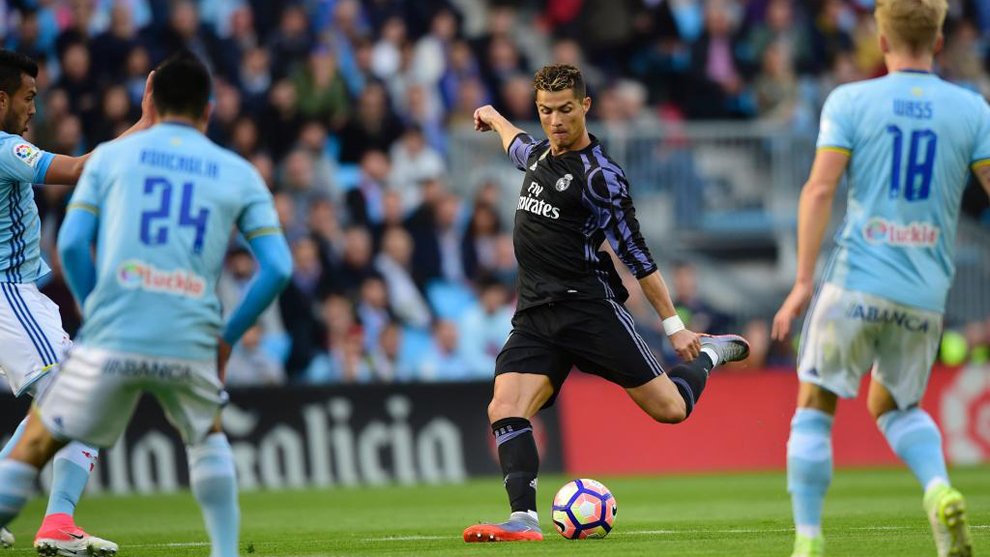 '18 | A clumsy moment from Keylor Navas. The Costa Rican sprints out of his net to collect a weak Pione Sisto shot, but as soon as he's nearing the ball he loses his footing, conceding a corner kick.
'14 | This lead virtually takes Real Madrid into a three-point lead over Barcelona. This week-end they still face the away game against Málaga, but both Málaga's owner and coach are known Real Madrid fans, which takes the tension away from that game.
'10 | GOAL! | Celta de Vigo - Real Madrid 0-1. Ronaldo! Que golazoooooooo! Cristiano Ronaldo is at it again! The ball ricochets nicely for him after an Isco shot is blocked as he picks it up and hammers a delicious strike into the back of the net. Pure quality!
'6 | Benzema gets in quite a similar position to the one he got himself out of in the semi finals of Atlético and this time he's almost able to do it again, but with an ultimate move Hugo Mallo is able to block the ball.
'4 | John Guidetti made the headlines for an awful miss in the final minutes against Man United in the Europa League semi final, but he's back to make up for it tonight. He almost meets a Hugo Mallo cross, but Varane is able to clear it in time.
KICK-OFF | We're off at Estadio Ballaídos for the possible title decider in La Liga! Real Madrid need a victory and then they're 99% percent sure of winning the league title away at Celta de Vigo.
OFFICIAL LINE-UPS | 
XI Celta | Alvárez; Hugo Mallo, Cabra, Roncaglia, Jonny; Tucu Hernández, Wass, Jozabed; Iago Aspas, Guidetti, Sisto.
XI Real Madrid | Navas; Danilo, Ramos, Varane, Marcelo; Kroos, Casemiro, Modric; Isco, Benzema, Ronaldo. 
With only two matches remaining in Spain's Primera Division, both Real Madrid and FC Barcelona are fighting until the very end in hopes to lift the infamous La Liga trophy.
Both the Catalan and Madrid side sit atop of the table with 87 points each, but it's Real Madrid who has a game in hand over Barcelona. Obviously, if Madrid wins both of their matches, or win and draw their next two, they will be crowned champions. Nevertheless, in order to raise the trophy, Zinedine Zidane's side must first take on Celta de Vigo.
Predicted line-up Celta de Vigo | Álvarez, Mallo, Roncaglia, Cabral, Jonny; Sisto, Wass, Radoja, Hernández; Aspas, Guidetti.
Predicted line-up Real Madrid | Navas; Danilo, Ramos, Varane, Marcelo; Casemiro, Modric, Kroos; Isco, Benzema, Ronaldo.