Miss no moment of the friendly between LA Galaxy and Manchester United in our live blog.
Friendly

LAG

LA Galaxy

2
5

MUN

Man United
Video source: Streamable.com
FT | And that's it. Manchester United put on a strong performance but concede two goals right before the final whistle as they edge past LA Galaxy with a 2-5 victory.
'88 | GOAL! | LA Galaxy - Man United 2-5. Romney! Galaxy have scored again! Romney rises highest to put his head to a corner kick as the Mexican midfielder handles it in to get his second. The ref hasn't seen it and the goal stands.
'85 | Galaxy have sent a lot of players forward and it's resulting into a lot of space for Man United on the counter attack. They cut through the defense again, but Anthony Martial curls a shot just wide.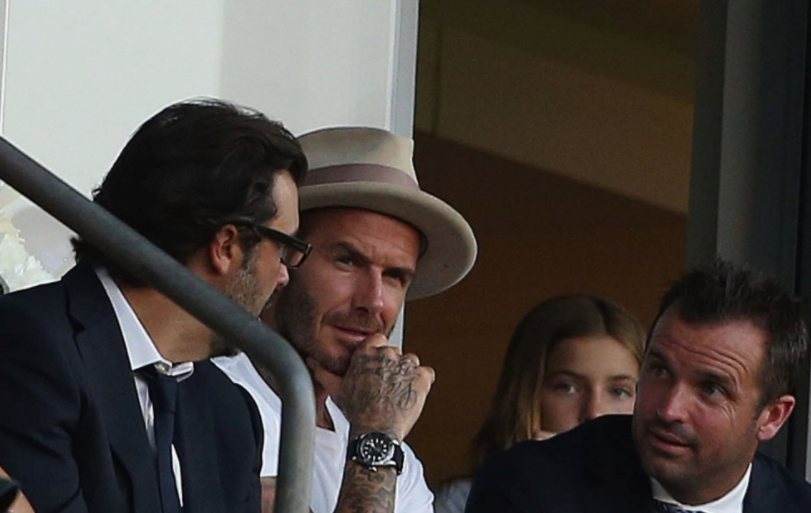 '82 | LA Galaxy are actually trying to force a minor comeback! All of a sudden things are clicking for the MLS outift, but Romain Alessandrini's header from a Ashley Cole cross is saved by Joel Castro.
'80 | GOAL! | LA Galaxy - Man United 1-5. Dos Santos! And that's the consolation goal for LA Galaxy! Giovanni Dos Santos latches onto a Romain Alessandrini pass, shakes off Victor Lindelöf and places the ball into the far corner outside Castro's reach.
'78 | Actually there's a trophy at stake tonight! The winner of this friendly will rise the Chevrolet Trophy and it seems like José Mourinho will pick up where he left off: as a prize winning coach.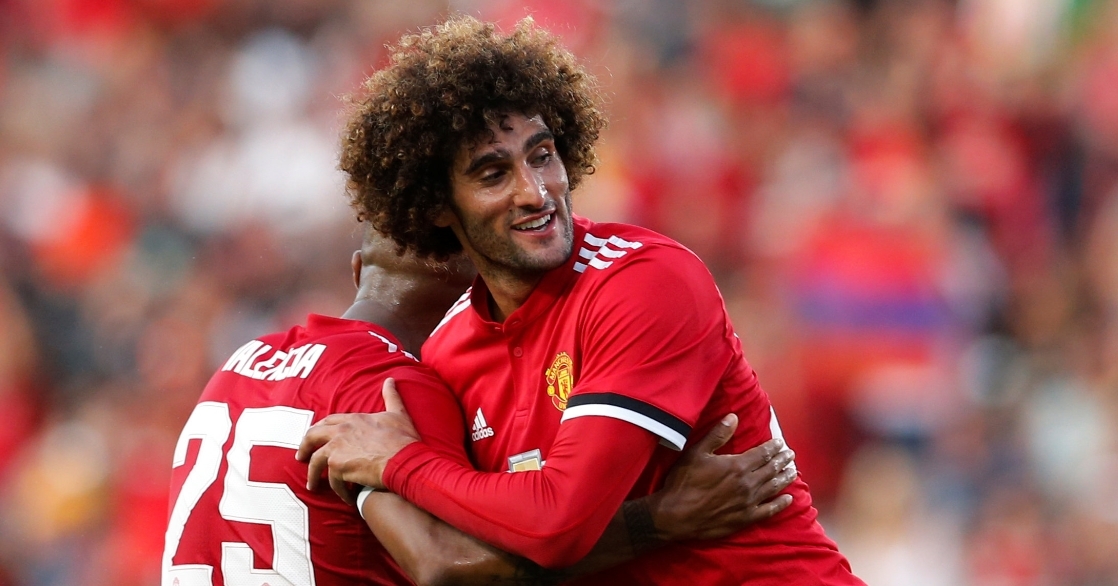 '75 | Romelu Lukaku really wants to join in on the scoring party and you feel that it should be possible against this weak LA Galaxy defense. The striker proves his luck with a bold attempt from long range, but he can't keep the shot down.
'72 | GOAL! | LA Galaxy - Man United 0-5. Martial! Another goal for Manchester United. Paul Pogba tears up the Galaxy defense with a filthy pass towards Timothy Fosu-Mensah, who reaches the backline and keeps his composure. He pulls it back for Anthony Martial, who finishes it off with aplomb. 
'70 | Victor Lindelöf has looked impressive in this second half. The Swedish player steals the ball and bosses forward. He even enters the LA Galaxy box and is asking for the ball, but Timothy Fosu-Mensah puts a shot wide.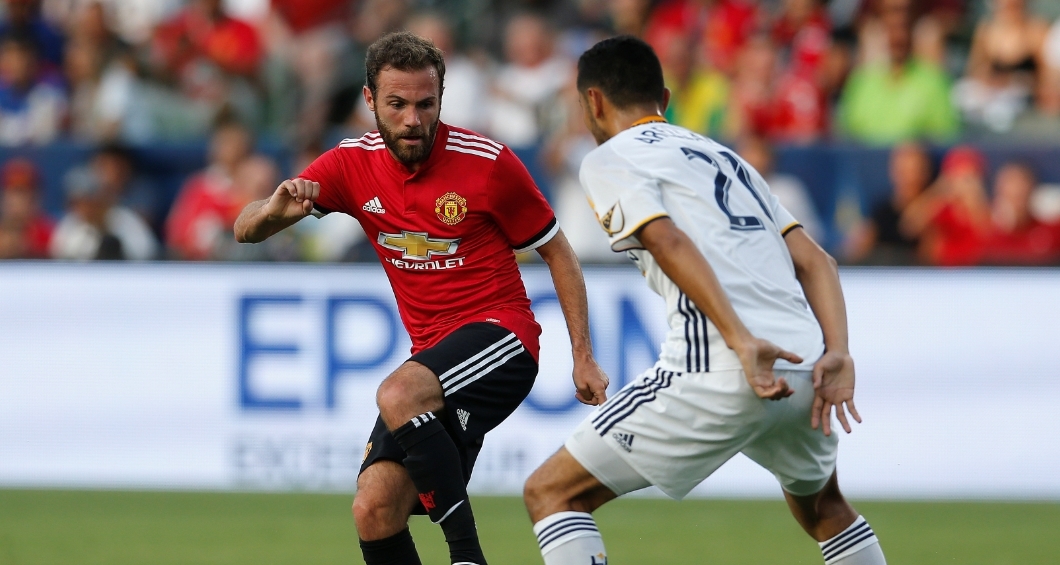 '67 | GOAL! | LA Galaxy - Man United 0-4. Mkhitaryan! Henrikh Mkhitaryan has lifted Man United's lead to four! Man United capitalize on another defensive error from Galaxy as Martial quickly sends Mkhitaryan through on goal. The Armenian stays cool this time and places home.
'64 | We're waiting for Man United to add more goals to their tally. Romelu Lukaku doesn't appear to be selfish as he lays the ball off to Henrikh Mkhitaryan, whose attempt deflects wide via Romney's leg.
'62 | And that's another brilliant save by Brian Rowe! The LA Galaxy goalie executes another stop to deny Anthony Martial, who started a good run in behind the defense and received a neat ball through from Fosu-Mensah.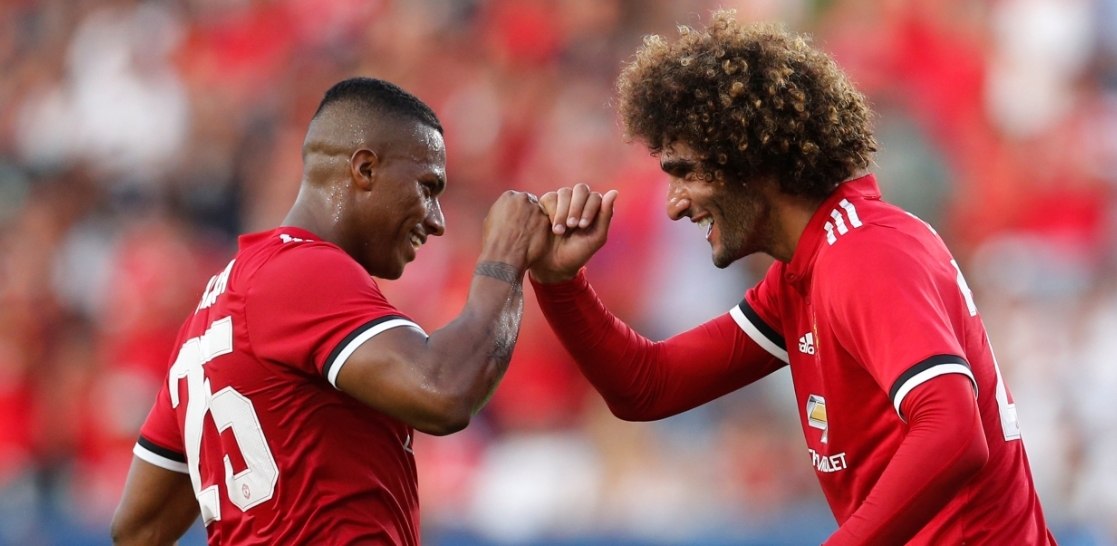 '59 | Some parts of the stadium think the ball has gone in, but it hasn't! Anthony Martial gets in an absolute piledriver from twenty-five metres out, aiming it only a few centimetres over the crossbar.
'57 | That's probably not what Ashley Cole would've expected... The LA Galaxy full back is playing a home game, but the United fans, who have gathered in a large amount, are loudly whistling every time the former Chelsea and Arsenal man gets the ball.
'53 | He's still waiting for his first goal, but Romelu Lukaku has looked a real threat since coming on at half time. The striker breaks into the box again and tries another shot, but this time he steers it wide.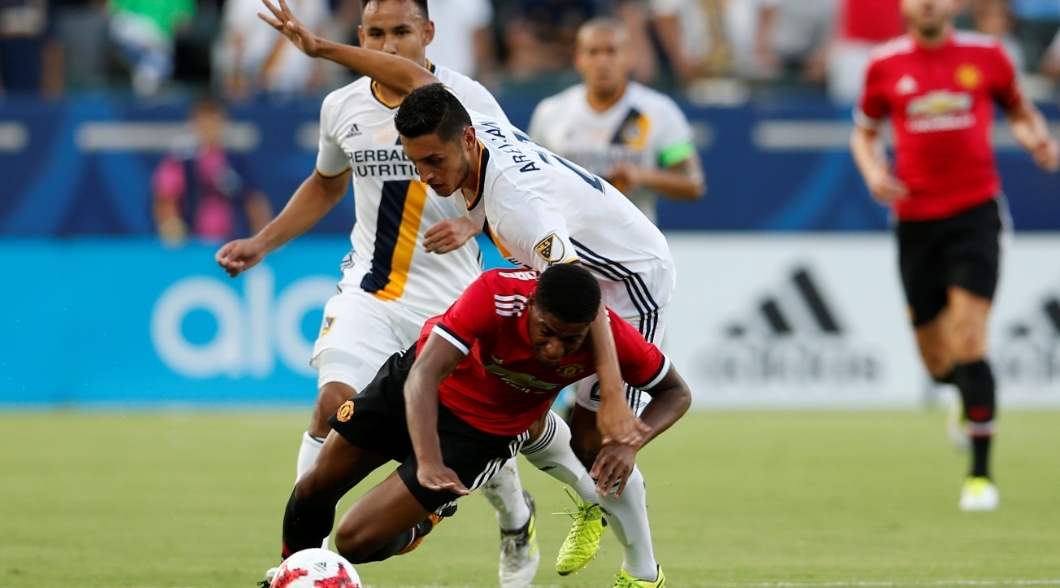 '49 | Romelu Lukaku should've opened his account for Manchester United there! Paul Pogba gains possession after interrupting a Galaxy attack, slotting it through to Lukaku right away. The Belgian has to score, but finds Rowe on his way.
'46 | Second half XI Man United | Pereira; Tuanzebe, Lindelöf, Bailly, Darmian; Fosu-Mensah, Pogba, Pereira, Mkhitaryan, Martial; Lukaku.
HT | Now that's the way to start your American tour. Manchester United have played LA Galaxy apart and they deservedly take a 0-3 lead into the dressing room. More to come in fifteen, when José Mourinho will field eleven new names.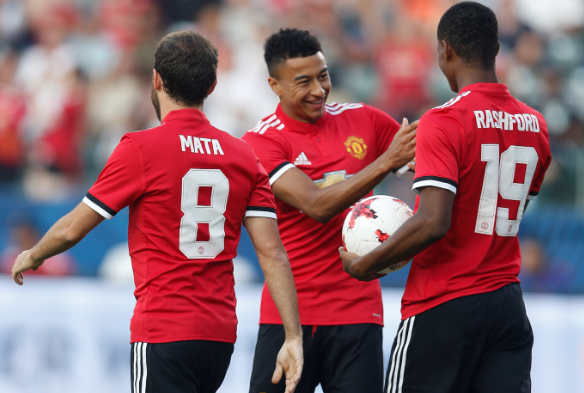 '44 | That should've been the hat-trick goal for Marcus Rashford! The striker squeezes through on goal again after escaping the offside trap, but he probably had too much time there as he plays a weak shot into Kempin's safe arms.
'42 | DISALLOWED! | Manchester United thought they had a fourth goal, but it's disallowed for offside for Chris Smalling, who turned the ball into the net after a Michael Carrick shot was parried by Kempin.
'39 | We're closing in on half time and some of the players picked for this first half still want to get their name on the score sheet. Marcus Rashford flicks the ball through to Juan Mata, but his attempt hits the side netting.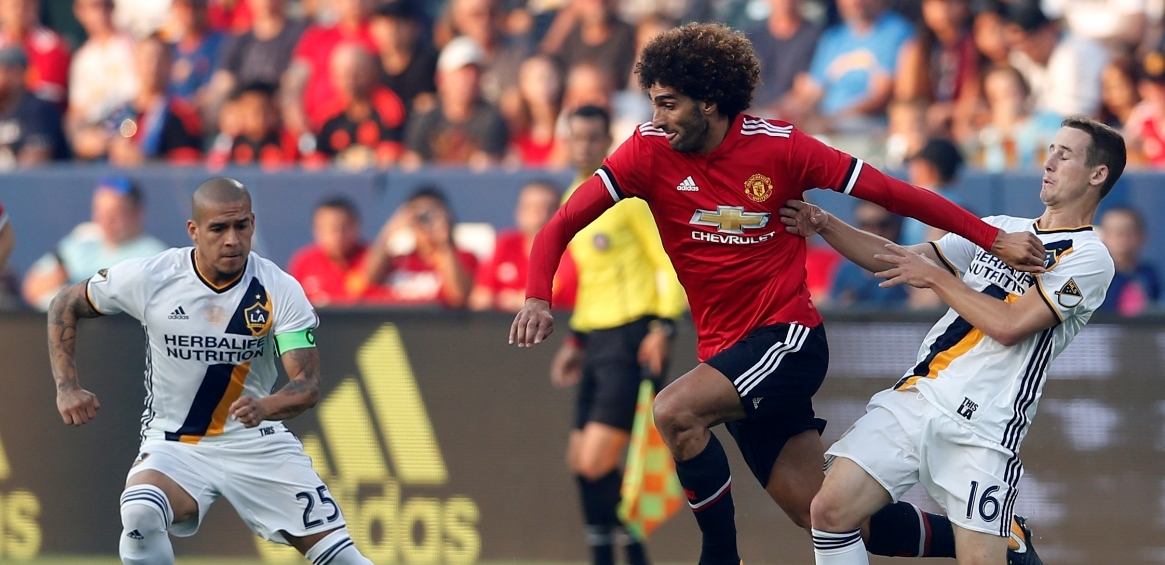 '35 | Marcus Rashford would like to get his hat-trick in this first half and he comes really close to fulfilling that wish. Although there are two defenders trying to close him down he still gets in a shot, but he puts the ball wide.
'32 | David Beckham, a lifetime legend at both Man United and LA Galaxy, is attending the game at the Stubhub Center tonight. As soon as the cameras find him, the crowd in the cosy stadium errupts into loud cheers.
'29 | Another well-worked attacking move from Manchester United, who shred the Galaxy reserves apart. Jesse Lingard takes aim from a difficult angle, but puts his shot high of the goal.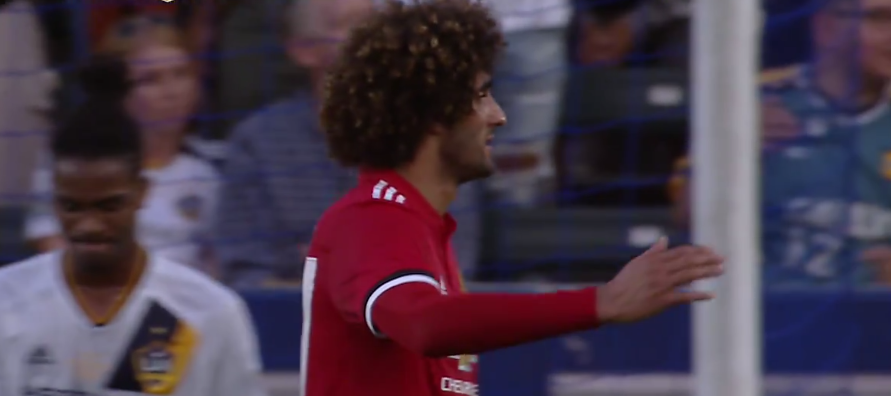 '26 | GOAL! | LA Galaxy - Man United 0-3. Fellaini! It's all going a bit too easy for Manchester United! Herrera and Lingard work out a one-two through the heart of the Galaxy defense as the latter pulls it back for Marouane Fellaini. The Belgian pokes it home to make it 0-3.
'24 | Manchester United aren't the only team who still have some stars to come on in the second half: LA Galaxy have fielded their reserve side in this first half, with names as Gio Dos Santos, Ashley Cole and Romain Alessandrini all on the bench.
'20 | GOAL! | LA Galaxy - Man United 0-2. Rashford! Manchester United are absolutely lethal if it comes to taking their chances! Herrera steals possession and tees up Juan Mata, who plays a perfect pass through to Marcus Rashford. The striker is in again and scores again with a tidy finish. 0-2.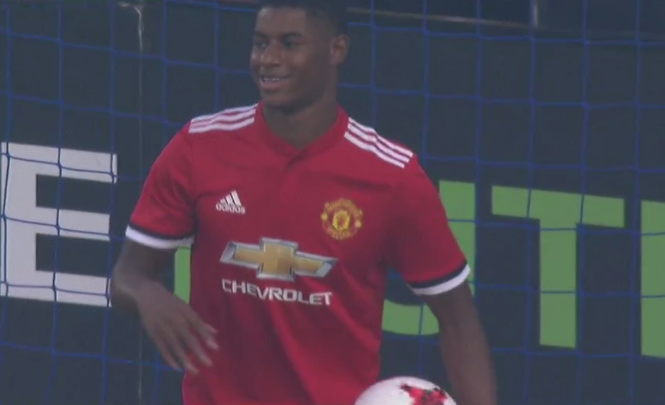 '15 | Juan Mata, who seems to have used the Gonzalo Higuaín diet during his holidays, shows he's still got his technique. He's covered by two defenders but still produces a cheeky chip, but Joe Kempin is able to pull off the save.
'12 | Marcus Rashford starts a good run which takes him past three or four defenders. Probably he's gained a bit too much confidence as he tries a trivela attempt that flies towards the corner flag.
'10 | José Mourinho has already announced he'll sub off his entire team at half time. In the second half we'll see more of the big stars as signings Romelu Lukaku and Victor Lindelöf will come on together with Paul Pogba.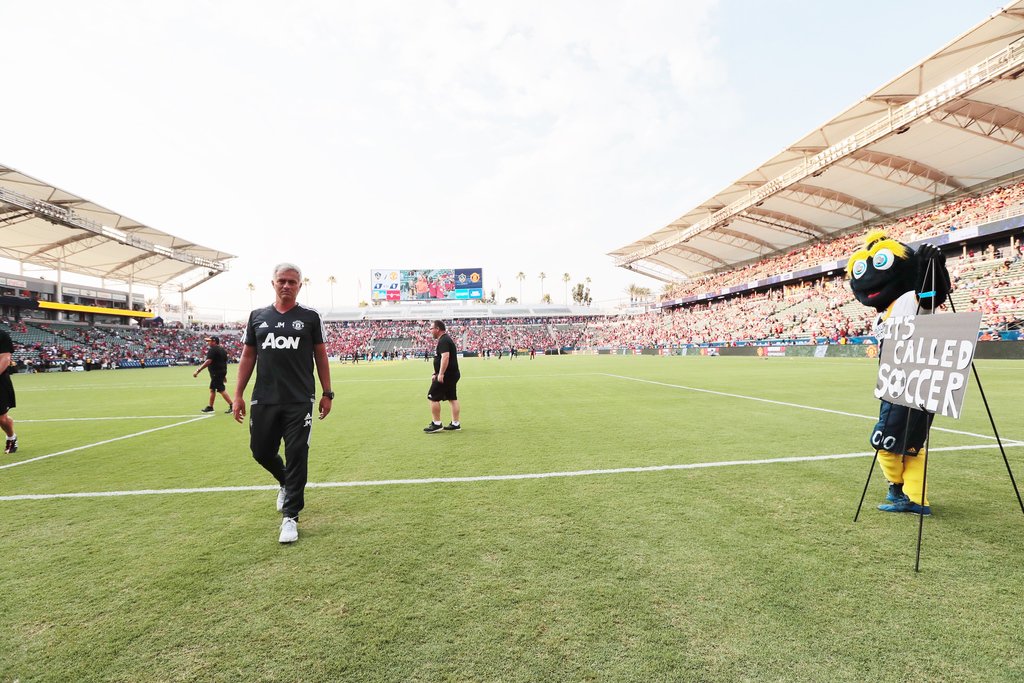 '6 | Three years ago Manchester United kicked off their season with a game against LA Galaxy as well. It was Louis van Gaal's first game in charge of The Red Devils and it turned into a real battering as they ended up winning 0-7. Can they equal that score tonight?
'2 | GOAL! | LA Galaxy - Man United 0-1. Rashford! Well, that didn't take long for Manchester United! Jesse Lingard taps the ball off García's feet to interrupt LA Galaxy's build-up before putting Rashford one-on-one with Kempin. The striker coolly pounces it home and it's 0-1.
KICK-OFF | Manchester United have got their 2017/18 pre-season underway! They start their USA tour with a friendly against LA Galaxy as José Mourinho has fielded eleven familiar names for the first half.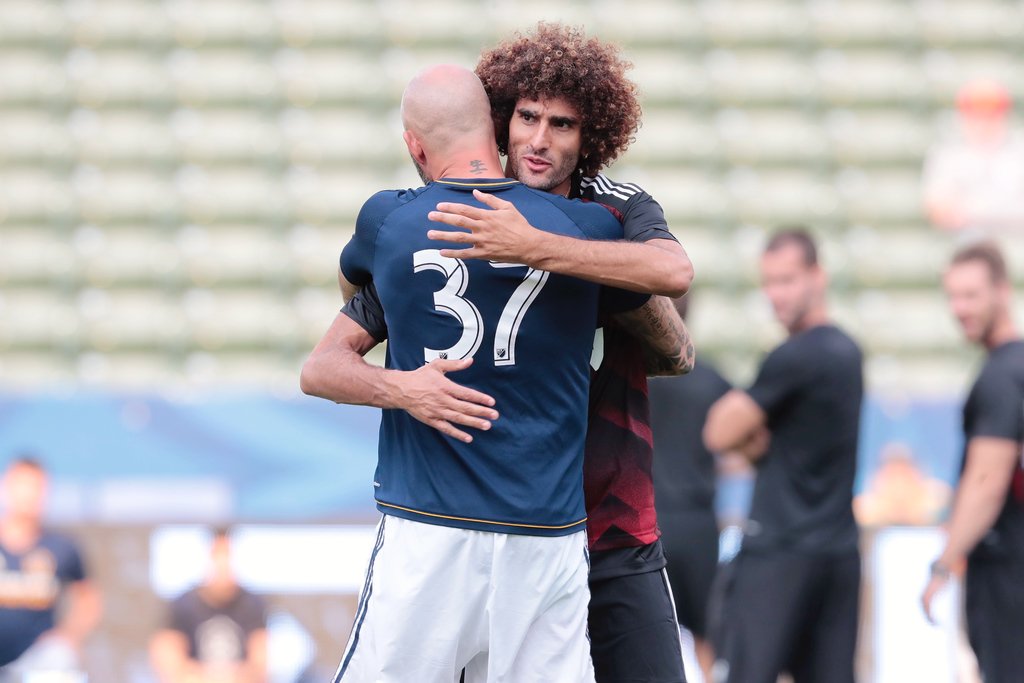 XI LA Galaxy | Kempin; Smith, Steres, Arellano, Diallo, García, Villarreal, Jamieson, Mendiola; Lassiter, McInerney.
XI Man United | De Gea; Valencia, Jones, Smalling, Blind; Carrick, Herrera, Fellaini, Lingard, Mata; Rashford.