Keep up to date on the Premier League game between Chelsea and Burnley in our live blog.
Premier League

CHE

Chelsea

2
3

BUR

Burnley
Video source: Streamable.com
FT | Burnley hang on to win an absolute thriller! They beat Premier League champions Chelsea 2-3!
'90+1 | POST | Vokes is the meat in a Chelsea sandwich and the referee gives a free-kick to Burnley, booking Rudiger. The free-kick is and smacks off the post with Courtois totally beaten!
'89 | GOAL! | Chelsea - Burnley 2-3. Luiz! The ball is played long to Morata, who has spotted Luiz's run into the box as a striker and cleverly heads it on for him. Luiz finishes on the volley.
'83 | Cesc is off! He dives into a slide challenge and catches the player full on the shin. And somehow he's adamant it wasn't even a foul.
'80 | Fabregas is persistent and keeps an attack going as Burnley are forced towards their own goal again. Willian wins a corner.
'75 | OFFSIDE | For a few seconds it looks like it's 3-2 but the linesman says offside. Christensen ghosts in at the back post to turn a cross into a shot but Morata turns it in from an offside position.
'73 | Burnley have everyone behind the ball except Vokes and there's not a lot of space still but Willian switches play to Azpilicueta, who hits a first time volleyed pass back across the area but it's too close to Heaton.
'69 | GOAL! | Chelsea - Burnley 1-3. Morata! The Blues pull one back as Burnley are caught sleeping a bit. Willian floats a cross across the area toward Morata, who sneaks behind his marker and heads it into the goal.
'63 | Another chance for Chelsea, this time by Alonso, whose left-footed shot is blocked. Moments later Ben Mee is given a yellow for an overzealous challenge on Morata.
'61 | Alonso takes a free kick and pounds a left-footet bolt toward the top-right corner. It's saved by a fully extended Heaton, but only just. Corner for Chelsea.
'51 | Chelsea make their second substitution of the match as Alvaro Morata comes on for Michy Batshuayi.
'49 | Rudiger has a go but misses the target. Moments later Fabregas finds Alonso, whose left-footed shot from outside the area is parried away. Surely that was Chelsea's best chance of the match.
'46 | We're off and running again in the second half with no changes for either side.
HT | That's the half-time whistle from the referee with Burnley leading Premier League champions Chelsea 0-3.
'45 | Chelsea finally win their first corner of the match. Nothing comes of it. The fourth official signals for three minutes of injury time.
'43 | GOAL! | Chelsea - Burnley 0-3. Vokes! This one started with Jeff Hendrick winning a free kick on the right flank. Defour took the kick and found Vokes in the center of the area, who made no mistake in heading it past the keeper.
'39 | GOAL! | Chelsea - Burnley 0-2. Ward! Cork picks out Ward on the left side of the area, who carries it toward the goal before uncorking a left-footed shot from a tight angle past the keeper. What a goal!
'36 | Ten minutes from half-time and Chelsea are still looking for their first shot on target.
'33 | A good spell of possession now for the Blues but they aren't able to generate a shot from it before it's given away and Burnley are on the counter.
'24 | GOAL! | Chelsea - Burnley 0-1. Vokes! It's getting worse and worse for Chelsea... Misery is mounting as Matthew Lowton swings in a low cross that's poked behind Thibaut Courtois by Sam Vokes.
'22 | After Cahill's red card this game might turn into a very dull one. Burnley have obviously settled for a point in the east of London, while Chelsea don't want to take too much risks.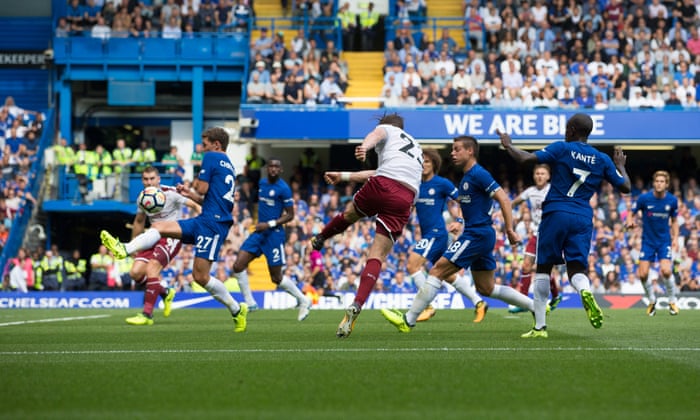 '18 | Antonio Conte saw that Chelsea's defensive organisation had vanished after Cahill's red card and he decides to make a first subtitution. Andreas Christensen comes on to replace Jeremie Boga.
'16 | Chelsea look really frustrated in these opening minutes. Cesc Fàbregas is the next player who ends up in Pawson's little book as he unnecessarily plants his hands into Jack Cork's face.
'13 | RED CARD! | Chelsea are down to ten! Gary Cahill dribbles up front and seems to lose the ball to Steven Defour as he produces a very nasty late challenge. He's sent off by referee Craig Pawson.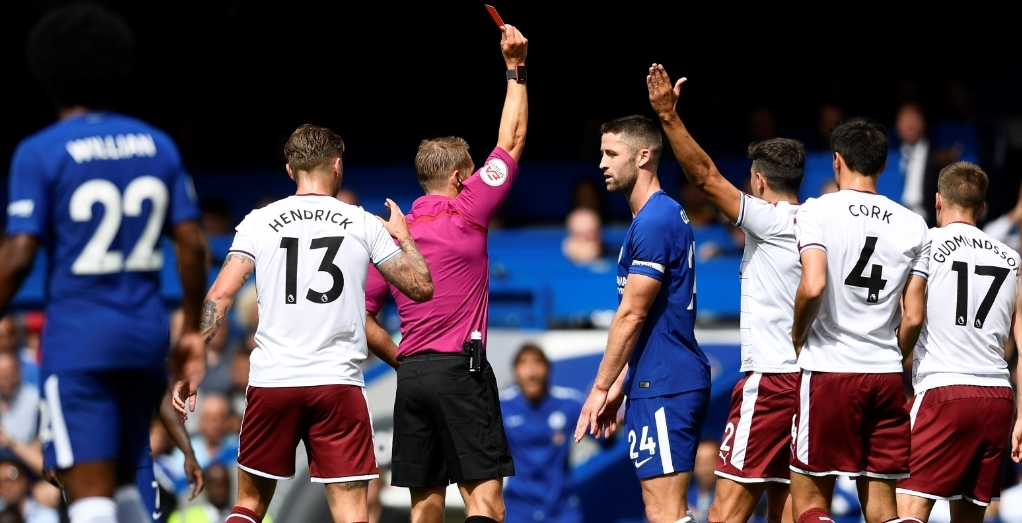 '10 | There's a lot of movement in Chelsea's front three and Burnley don't know how to cope with it so far. Willian chases down the left wing and crosses the ball towards Jeremie Boga, who can't get a clear header way under pressure from Tarkowski.
'7 | A lot of big names are missing in Chelsea's line-ups. Eden Hazard and Pedro are both out with injuries, while Diego Costa is still trying to force his way out of Stamford Bridge.
'3 | Not the best way to start the season for Marcos Alonso. The Chelsea full back takes down Robert Brady with a late challenge and receives a yellow card within three minutes.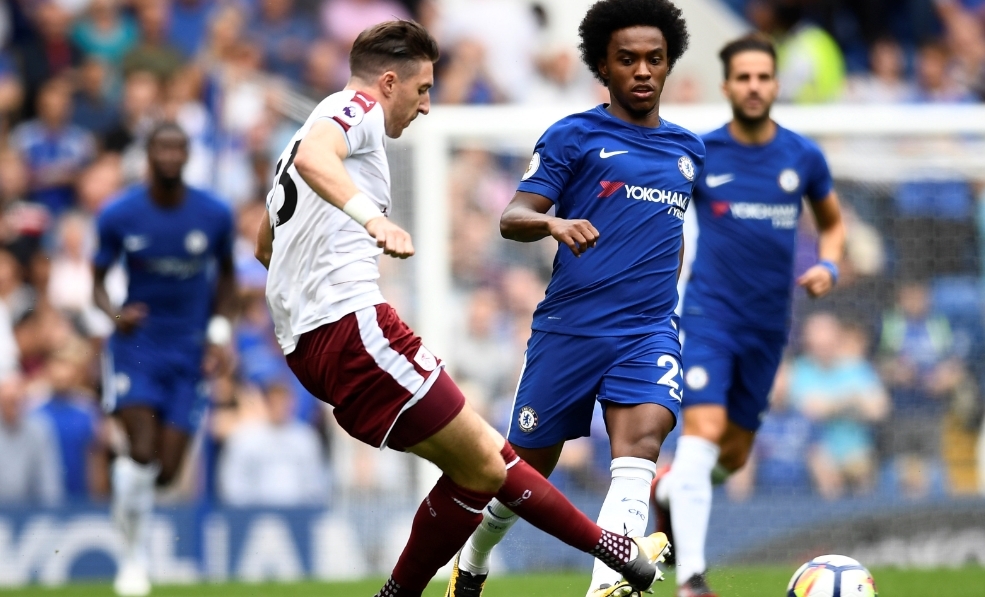 KICK-OFF | The Premier League holders have got their new season underway! Chelsea start their new campaing off with a home game against Burnley as they're expecting to get three points on the board early on.
XI Chelsea | Courtois; Rüdiger, Cahill, Luiz; Azpilicueta, Fàbregas, Kanté, Alonso; Willian, Batshuayi, Boga.
XI Burnley | Heaton; Lowton, Tarkowski, Mee, Ward; Defour, Cork, Brady, Hendrick, Guðmundsson; Vokes.