Keep up to date on the Premier League game between Watford and Liverpool in our live blog.
Premier League

WAT

Watford

3
3

LIV

Liverpool
Video source: Streamable.com
FT | We've missed you so much, dear Premier League! World's best football league is back and it's back with a bang! After a seven-goal spectacle at the Emirates yesterday, Liverpool drop points in a six-goal thriller away at Watford: 3-3.
'90+8 | We're still playing on at Vicarage Road and Liverpool haven't given up on this. They load the box one more time as Georginio Wijnaldum takes on a shot, but it's cracked by Kaboul.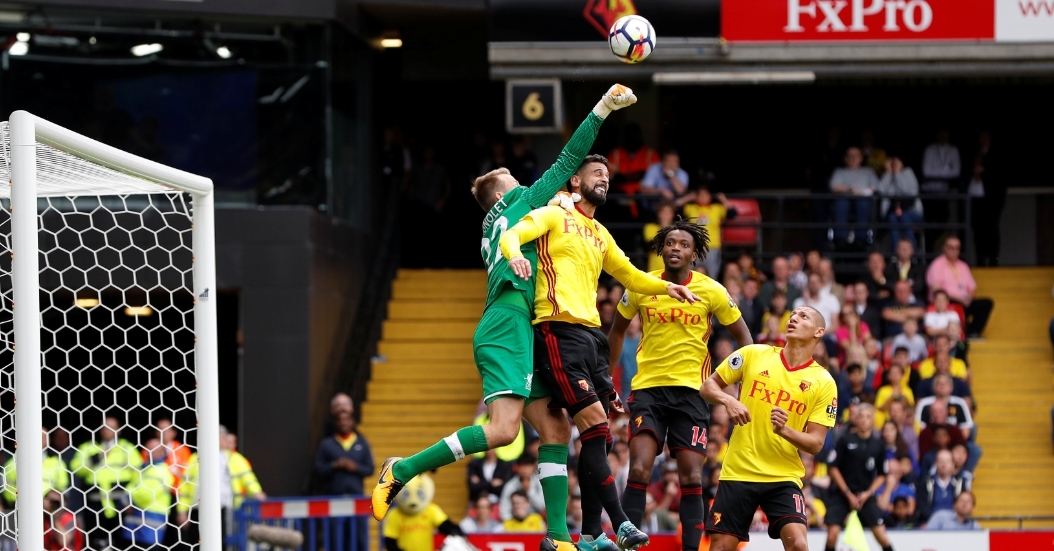 '90+4 | GOAL! | Watford - Liverpool 3-3. Britos! It's in for Watford! Unbelievable scenes at Vicarage Road. A corner kick can't be cleared by Mignolet as Richarlison hits the bar before Miguel Britos fumbles home from close range.
'90+2 | Watford have finally decides to throw the kitchen sink in. Everyone's in the box as Miguel Britos picks the ball up and unleashes a powerful shot that's saved by Simon Mignolet.
'86 | Georginio Wijnaldum could've finished the game off there! The ball bounces nicely for the Dutch midfielder, but he completely mishits his shot and sends it a long way off target.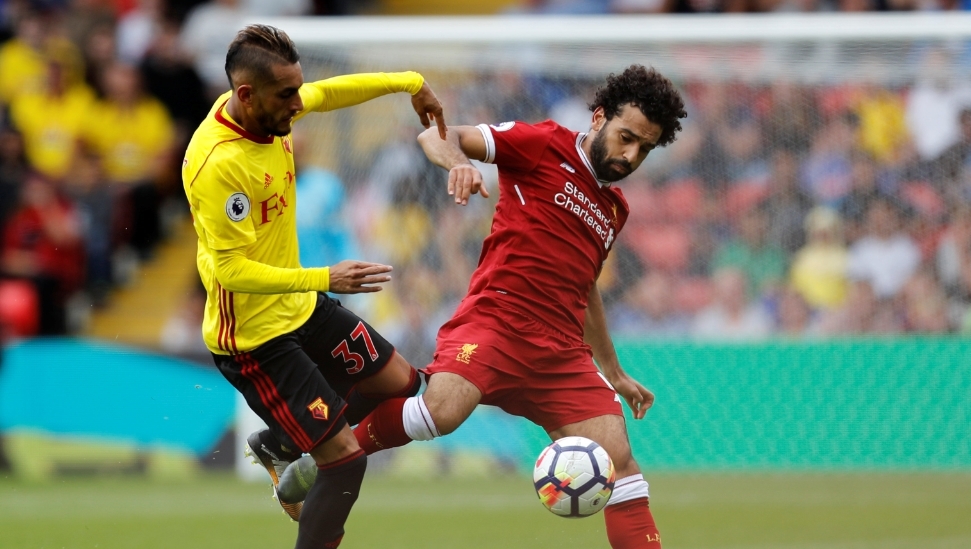 '82 | The final minutes of the game are running and Watford haven't really created any chances in this second half. The victory looks in the bag for Liverpool unless the Hornets can get themselves together one more time.
'78 | An awkward moment for Marco Silva. The Watford manager has already used all his substitutions as Younès Kaboul goes down, feeling his hamstring. The French defender seems able to carry on.
'75 | Liverpool are searching for the goal that would put the game to bed. Georginio Wijnaldum launches Mo Salah, who tries to beat Gomes at the near post but sends his shot into the side netting.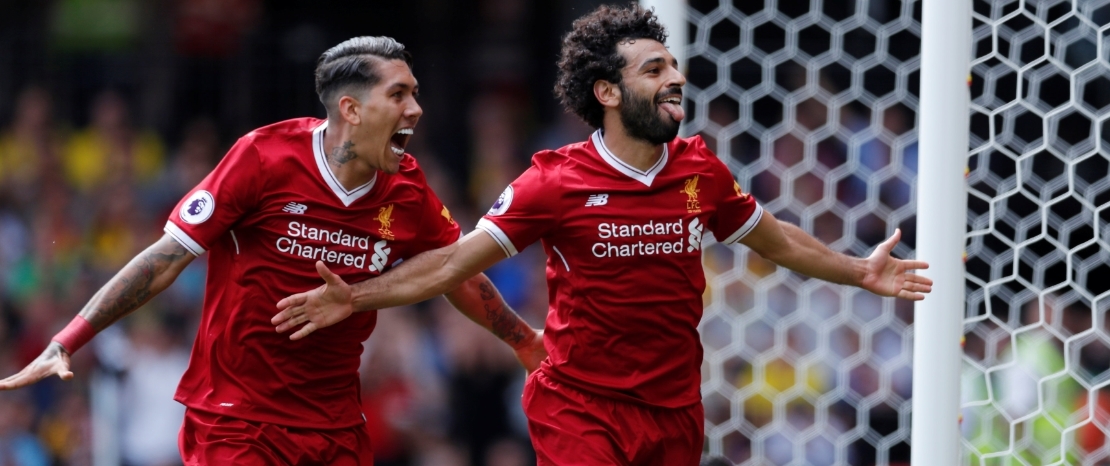 '69 | It's a miracle that Watford are still alive in this game! Dejan Lovren comes flying in to meet a corner kick. He produces a bullet header, but a miraclous save by Gomes denies the Liverpool defender.
'65 | CROSSBAR! | Things are finally clicking for Liverpool and a fourth goal looks beckening. It's another dangerous corner kick from the reds that's almost headed into his own net by Kaboul, but he's saved by the bar.
'64 | One more goal would make life more easy for Liverpool. Alberto Moreno subtly juggles the ball past Kiko and lashes in a vicious volley that's turned over the crossbar by Gomes.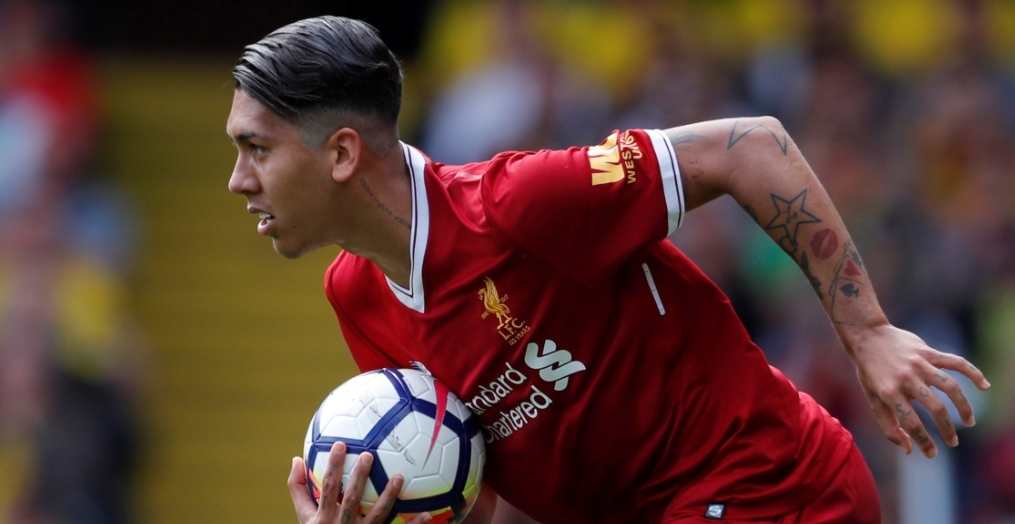 '60 | Liverpool look full of confidence after those two quick goals. Mo Salah seems to speed away from the Watford defense once again, but this time Younès Kaboul is able to defend.
'57 | GOAL! | Watford - Liverpool 2-3. Salah! And that's another one for Liverpool, who turn the game around completely! Roberto Firmino escapes the offside trap and tries to dink Gomes. His chip misses the power, but Mo Salah is still able to poke it home. 2-3.
'55 | GOAL! | Watford - Liverpool 2-2. Firmino! Cool as you like from Roberto Firmino! The new number nine sends Heurelho Gomes into the wrong end and calmly converts the penalty kick. 2-2.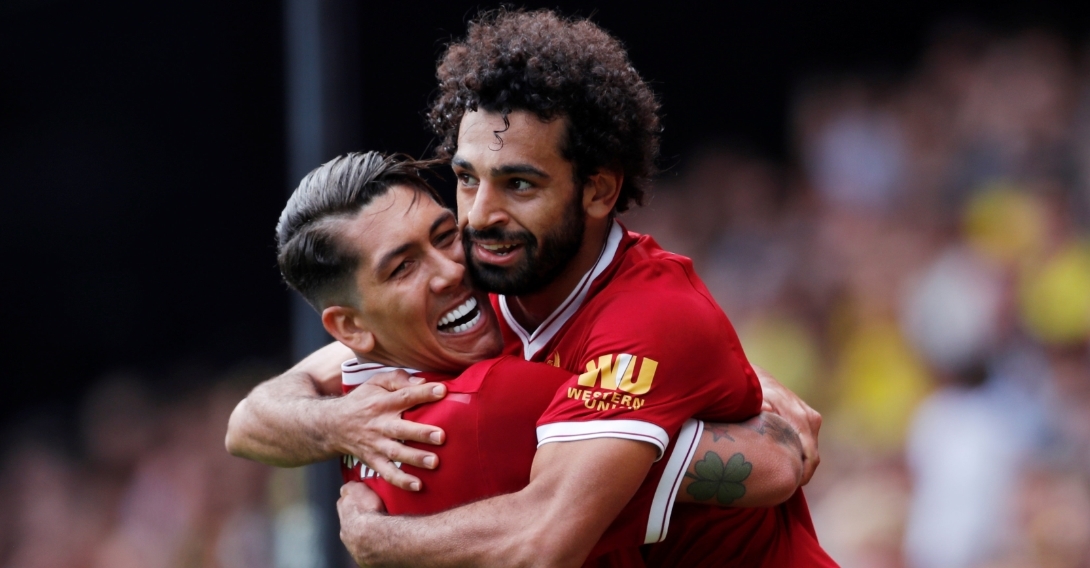 '54 | PENALTY! | Liverpool get a penalty! Mohamed Salah tries to round Heurelho Gomes and is then taken down by the Brazilian goalie as Anthony Taylor decides to put the ball down the spot.
'49 | Liverpool have to come up with something in this second half. Mohamed Salah collects the ball on the right-hand side of the box, cuts past José Holebas and curls a shot just wide.
'48 | More injury troubles for Watford. Roberto Pereyra is the next player who limps towards the sideline and can't carry on. The midfielder is replaced by another new guy, Brazilian prospect Richarlison.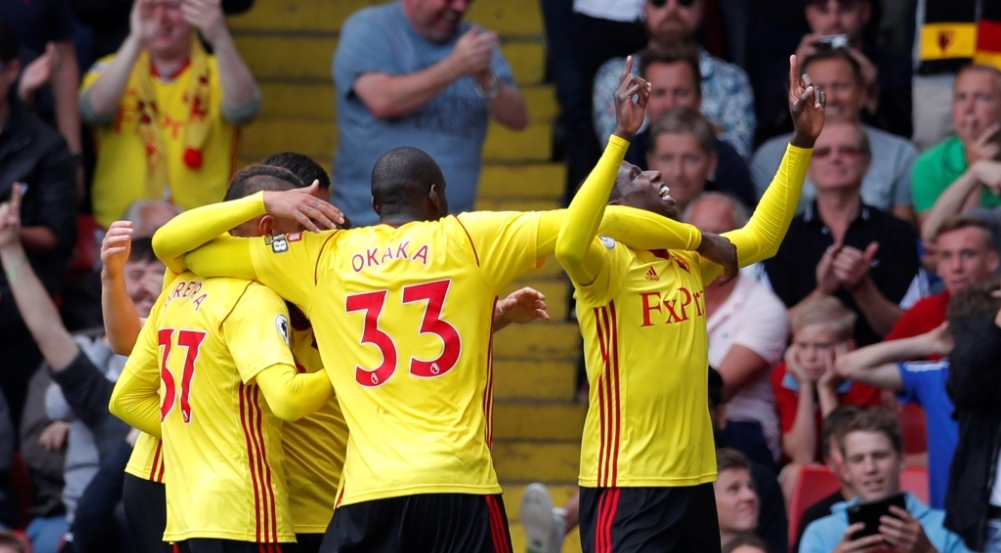 HT | It's half time at Vicarage Road and we've seen another thriller so far. Watford surprisingly put Liverpool under pressure and the Reds can't cope with it so far. They trail 2-1 at the break.
'45+2 | That was close! Jordan Henderson bends in a corner kick and picks out Sadio Mané, who gets ahead of Manuel Britos and produces a header that skims just past Watford's goal.
'43 | Half time is getting closer and Watford are trying to hang on to their 2-1 lead. Liverpool keep searching for a hole in the Hornets' defense, but they look determined to get their season off to a flyer.
'38 | Liverpool didn't get many opportunities in this first half, but that certainly was one! Mo Salah taps the ball off José Holebas feet and has some space to move onto Heurelho Gomes, sending his shot over the bar.
'33 | The Premier League has gone absolutely mad: yesterday we kicked off with seven goals in a thriller between Arsenal and Leicester and now we've seen three goals in the first thirty here at Vicarage Road. Imagine if we continue on this rate...
'31 | GOAL! | Watford - Liverpool 2-1. Doucouré! The perfect response from Watford! They've renewed their lead right away as a Tom Cleverley cross ricochets straight into the path of Doucouré, who prods home from close range.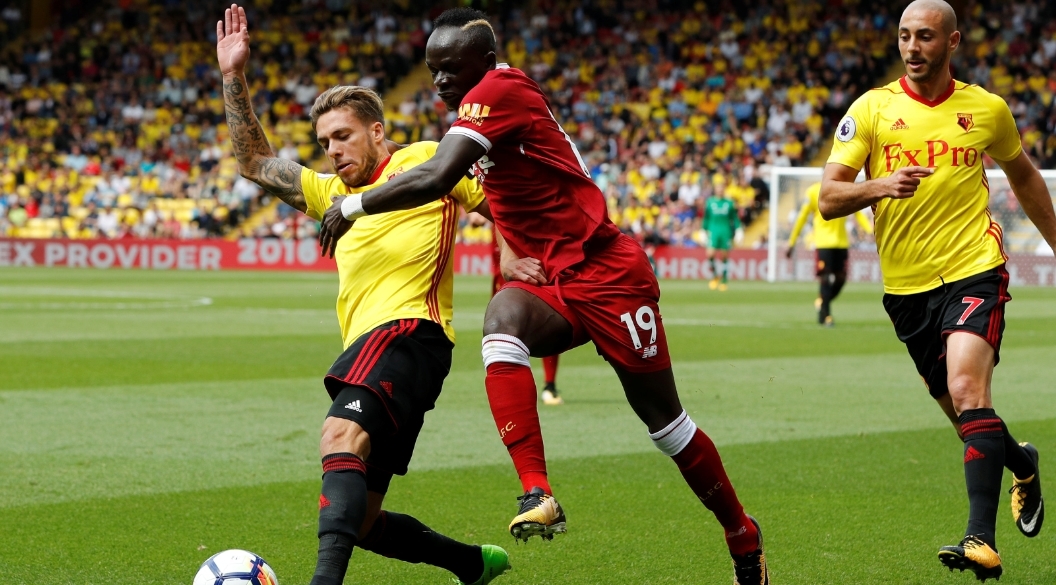 '29 | GOAL! | Watford - Liverpool 1-1. Mané! Liverpool have levelled things up with their first real chance! It's a superb attack as Emre Can flicks the ball through to Sadio Mané after a quick one-two as the striker drills the ball into the back of the net. 1-1.
'25 | Nordin Amrabat chips the ball over the Liverpool defense and almost reaches Stefano Okaka. The striker was offside by a mile, but the flag stayed down. Mignolet raced off his line quickly to intercept the ball.
'20 | Marco Silva out-masterminded Jürgen Klopp before: last season he stunned the Reds by beating them 2-0 with Hull City, but in the end the Portuguese manager couldn't keep the Tigers in the League.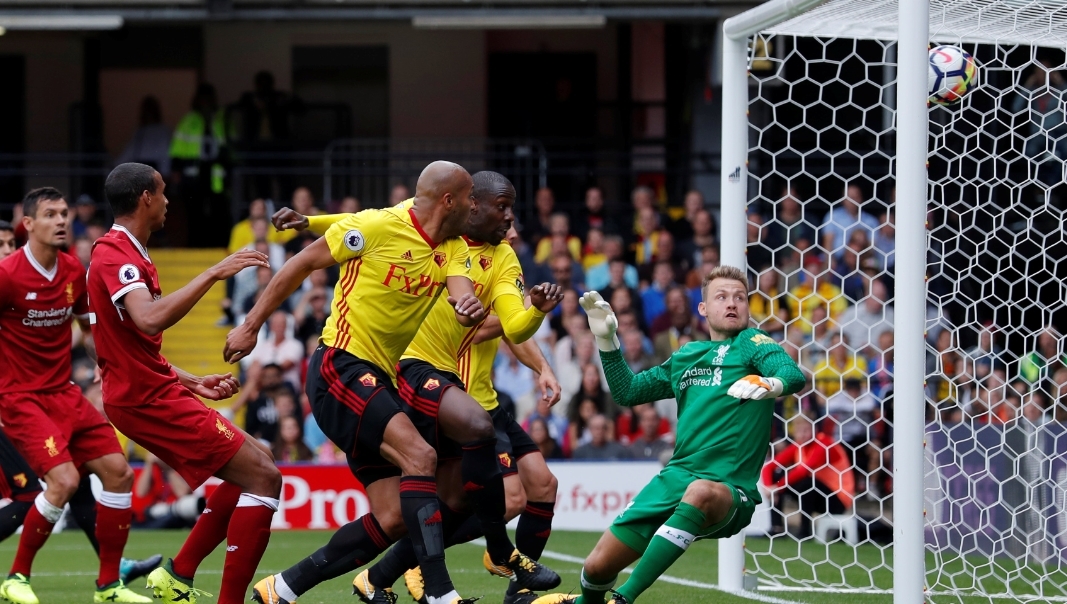 '15 | New Watford coach Marco Silva is forced into an early substitution. Daryl Janmaat has picked up a muscular injury and can't carry on. He's replaced by signing Kiko Femenía.
'12 | Watford's quick goal has slightly caught Liverpool off their stride. They're trying to get a hold on this game, but the hosts are looking for more. Nathaniel Chalobah tries to reach Okaka again, but he can't get away from Lovren.
'9 | GOAL! | Watford - Liverpool 1-0. Okaka! It's in for the Hornets! José Holebas swings in a perfect corner kick as Stefano Okaka trumps Roberto Firmino in the air and heads the ball past Simon Mignolet. 1-0!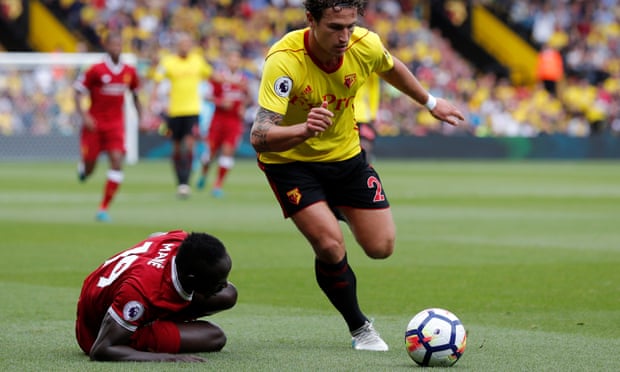 '7 | What a chance that was for Watford to take the lead! Stefano Okaka threads the ball through to Roberto Pereyra phenomenally, as the midfielder gets in a shot that's blocked out by Dejan Lovren.
'5 | Daryl Janmaat trips Sadio Mané, wins the ball and is allowed to play on. Stefano Okaka is waiting for the goal, but the Dutch defender's cross is headed out of the danger zone by Joël Matip.
'3 | Last season Liverpool beat Watford 0-1 at Vicarage Road, but above all it was the night of Emre Can, who produced the Premier League goal of last season with an outstanding bicycle kick.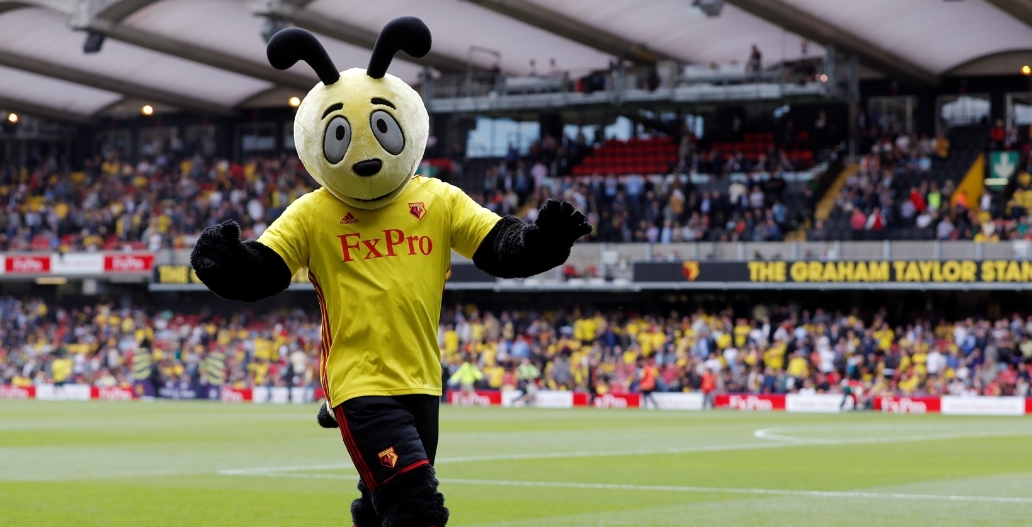 KICK-OFF | New season, new hopes. With a delicious front three, Liverpool fans think that this might be their year. Can they emphasize that with a victory in the first game of the season, away at Watford?
XI Watford | Gomes; Janmaat, Kaboul, Britos, Holebas; Chalobah, Doucouré; Amrabat, Cleverley, Pereyra; Okaka.
XI Liverpool | Mignolet; Alexander-Arnold, Lovren, Matip, Moreno; Henderson, Can, Wijnaldum; Salah, Mané, Firmino.