Keep up to date on the Champions League game between Tottenham and Dortmund in our live blog.
Champions League

TOT

Tottenham

3
1

DOR

Dortmund
Video Source: Streamable.com
FT | Spurs are Wembley winners! An explosive start to the match, with three goals in fifteen minutes. The disallowed goal of Aubameyang, who was clearly on side, seems crucial. One minute later, Kane scored the third and knocked Dortmund out. Die Borussen played very brave, high-pressure and with great positional play, but it meant that the Tottenham strikers had a lot of space. Kane proved why he is regarded as a high class striker.
'92 | Red Card! That's a sour note for Tottenham, because Vertonghen has been sent off! The Belgian defender lost the ball to Götze, but conquers it back. His arm flies right in the face of Götze, but it is impossible to see if it was intentional.
'90 | 'Oh when the Spurs, go marching in' sounds loudly at Wembley. Tottenham was lethal in front of goal in the first half, the 3-1 by Kane delivered the knockout.
'86 | Sahin shoots from long range, but Lloris sees it going wide.
'86 | Fernando Llorente makes his Spurs debut. Kane doesn't seem too happy to leave the pitch.
'83 | The crowd applaudes, because Son leaves the pitch. The Korean who scored the first goal makes place for Sissoko.
'81 | That's something new: Kane can also miss target. Eriksen, who plays a majestic match, finds Kane with a header. His shot is just on the wrong side of the post.
'80 | Dortmund seem to lose more control by the minute, so Peter Bosz intervenes. Zagadou replaces Toprak.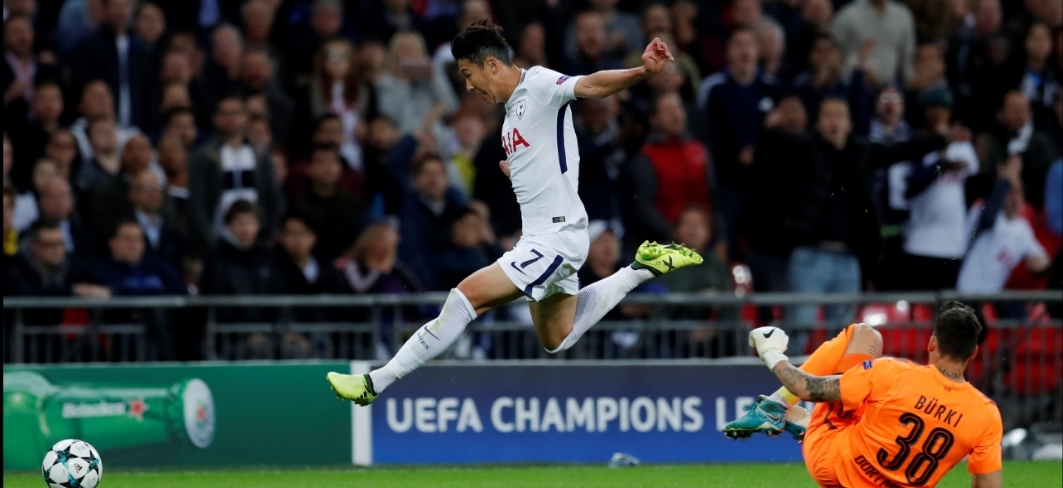 '76 | Harry Kane breaks clear on the right-hand side and pulls it back to Eriksen. His strike blazes over the bar.
'75 | Dortmund is pressing impressively, but it is also their achilles heel. When Spurs find away to pass the Dortmund pressure, they find acres of space.
'73 | A corner for Tottenham swings in and it is a free header for Alderweireld! The Belgian defender strikes it over the bar.

'71 | Massive save by Lloris! Götze takes a corner and finds Aubameyang at the far post. He strikes with his left feet, but the French goalkeeper parries the ball with his foot.
'67 | Ben Davies nearly makes it four, but that's a great save by the outstretched arms of Burki.
'66 | Peter Bosz sends in Götze and takes off Kagawa. He wants a body higher up the field.

'60 | GOAL! Tottenham - Dortmund 3-1. Kane! Harry Kane is a finisher of the highest degree. Another break by Tottenham, Davies passes to Kane, who is completely open. He drills in his second of the night.
'56 | Disallowed! Again a Dortmund goal is disallowed, but the flag is raised in error. Dahoud brings the ball in after a deflected corner, the ball reaches Aubameyang beautifully and the finish is even more icredible! A volley right in the top right corner. The Gabon striker was flagged offside wrongfully.
'51 | Again a super break from Tottenham! Eriksen superb touch and pass to Kane. Kane passes it wide to Son and he is one-on-one with Bürki, but the Korean attacker can't find the finish!
'49 | Beautiful Dortmund attack! They seem to continue where they have left. Yarmolenko with a lovely through ball to Aubameyang. Lloris' timing is absolutely spot on and he manages to get the clear.
'47 | Ouch! Sahin tries to clear the ball, but from a meter distance, he volleys the ball right in the face of Toprak. Commentary: 'It is like taking a punch by Mayweather.'
'46 | Dortmund have made the first kick of the second half. Can die Borussen turn the tide, or will Tottenham be as deadly in front of goal as in the first half?
HT | Tottenham are in the lead, but the hosts are really glad it is half time. Dortmund were becoming more dominant by the minute. The half time score doesn't reflect the distribution of power on the pitch.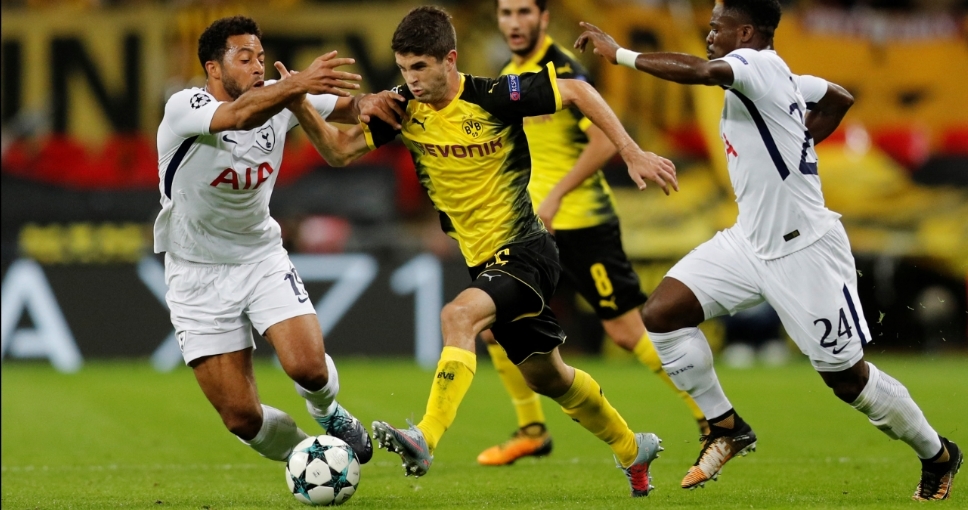 '44 | Dortmund scores, but the goal is disallowed. It is a questionable decision of the referee. Pulisic scores a scrimmage goal, but the refwhistles for offside for Aubameyang.
'37 | Dortmund getting very comfortable now. Aubemeyang breaks clear on the right-hand side, because of a loss of possession by Davinson Sanchez. It is his only mistake of the match yet, but it leads to danger. Aubamayang crosses low, but Pulisic misses the target.
'30 | Dortmund break through on the left flank, Pulisic has a good rund behind Aurier. The American winger plays a low ball in, Aubameyang is eyeing to score, but Vertonghen with a beautiful last-gasp sliding tackle.
'23 | The visitors get more and more dominant. Tottenham have had two touches in the Dortmund box and it has lead to two goals.
'19 | Dortmund have taken a blow, but they stick to their plan: pressing. Pulisic cuts inside and shoots, but Alderweireld can deflect his attempt.

'15 | GOAL! Tottenham - Dortmund 2-1. Kane! What a match! Every shot is a goal! This time, Tottenham counter again with Kane, who receives the ball at his own half. On pure willpower he walks past and through multiple bodies and sends a rocket to Bürki's goal. The Dortmund goalie has no chance, it hits the net. Dortmund complain to the referee, because there was a lot of physical contact between Kane and Sokratis, but the English goalscorer didn't make a foul in the ref's opinion.

'11 | GOAL! Tottenham - Dortmund 1-1. Yarmolenko! It didn't take long for Dortmund to strike back and they do it in an incredible fashion! They push Tottenham back into their own box. Lovely combination of Yarmolenka and Dahoud. The German midfielder plays it back to Yarmolenka and he curls it into the left bin. What a goal!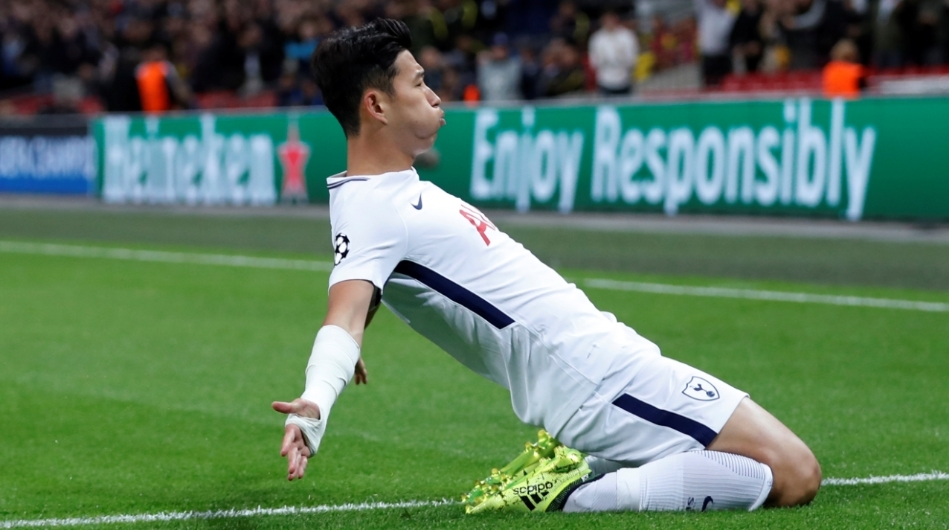 '4 | GOAL! Tottenham - Dortmund 1-0. Son! Tottenham are in the lead! Spurs counter with Harry Kane. He plays a through ball to Son. The Korean attacker has a lovely step-over and finishes impressively from a difficult angle! 
KICK-OFF | The Wembley Stadium is filled to the brim. Two offensive teams, this promisses to be a spectacular match!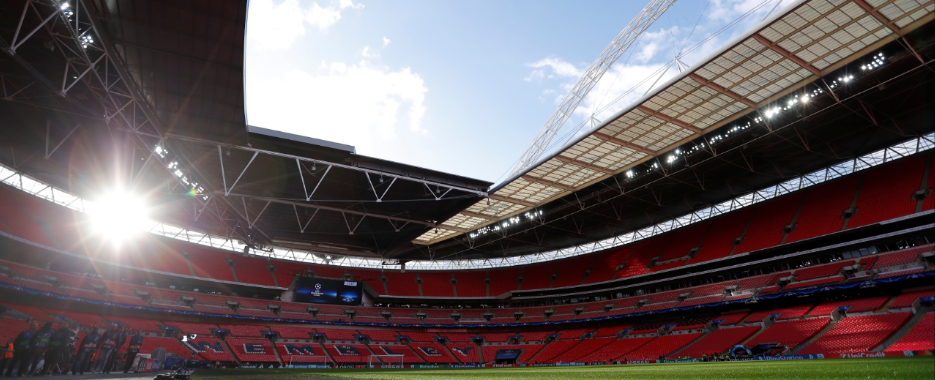 Preview | Tottenham are back in the Champions League after last year's group stage defeat, suffering from losses against Bayer Leverkusen and AS Monaco. Dele Alli misses the group stage match due to a suspension. This will be the dynamic midfielder's first of a three-game ban after his red card agianst Gent in last year's Europa League.
Dortmund have an impressive international record, reaching the quarter finals all of the last four Champions League seasons. This year, they are conscious about the strength of the group. Managing director Hans-Joachim Watzke: 'This is the hardest group, but also challenging, and in such groups, heroes are made'. 
XI Tottenham | Lloris; Alderweireld, Sanchez, Vertonghen; Aurier, Dier, Dembélé, Davies; Eriksen, Son; Kane.
XI Dortmund | Bürki; Piszczek, Sokratis, Toprak, Toljan; Sahin, Dahoud, Kagawa; Yarmolenko, Pulisic, Aubameyang.