Keep up to date on the international friendly between England and Brazil in our live blog.
International friendly

ENG

England

0
0

BRA

Brazil
FT | It's all over. Brazil created most of the chances, but England's defence proved unbeatable tonight. The 'Three Lions' have claimed goalless draws against two of the best countries in the world during this international break. Pretty good! Thank you for joining us.
'90 | The referee indicates three minutes of injury time. Neymar attempts a desperate effort that sails just wide after a good counter attack after Dier loses the ball for a third time in a row.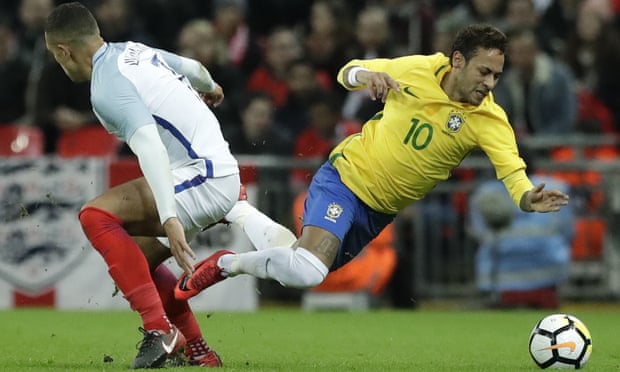 '89 | Young delivers to Solanke, but the Liverpool forward can't get past Alisson, who scrambled at full speed off his line. What a triumph that would have been for the youngster.
'85 | HART! Smart save from Joe Hart to dauntlessly save Paulinho's effort using only his chest. Rather fearsome. End to end football as both teams look to score the winning goal.
'81 | CHANCE! What a chance for Brazil! Neymar threads a brilliant pass through to Willian, but when all seemed lost, Ashley Young sprung to action and blocked the speeding Brazilian effort.
'79 | CHANCE! Dier curls a set piece attempt that sails just wide of the Brazil post. Solanke was the man creating the chance as he was dragged down on the edge of the box. Game remains 0-0.
'76 | OFF THE POST! Fernandinho lets loose a powerful long-range effort that pings off England's woodwork. Abraham and Solanke make their way into the pitch to subb exhausted Rashford and Vardy. Jesus also leaves for Firmino's entrance.
'74 | Paulinho goes down on the edge of the England box, but the referee is not interested in the Canarinha claims. Vardy sprints down the other end, but Alves chases him down and eventually recovers the ball.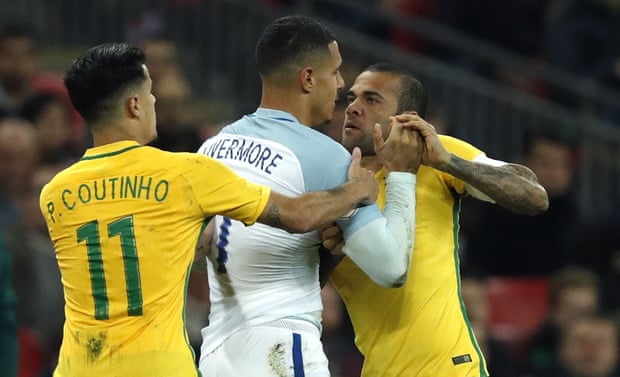 '72 | The game has opened up as the 'Three Lions' commit more players to the final third. Lingard has been very active in the last minutes, but seems a bit lonely up there. Still no movement from Southgate.
'68 | DOUBLE SUB! Coutinho and Renato Augusto are subbed for Willian and Fernandinho. Gabriel Jesus seems perfectly fine, a true miracle considering the 'ordeal' he went through a couple minutes ago.
'65 | Brilliant cross from Neymar into England's box, but Hart clears the danger before Jesus collides with him in an aerial challenge. Have you ever wondered what will happen if Thor's hammer clashes into Captain America's shield? The same result as with Brazil's offense versus England's defence.
'60 | Nice little flick from Gabriel Jesus in England's box, but Gomez sends him sprawling for his effort. He stays down after the kick on the knee, but finally manages to get back on its feet.
'58 | Rashford shows excellent tekkers in a very tight area before attempting a strike, but Casemiro manages to deflect the attempt with a good challenge. Brazil race down the other side of the pitch, but Hart gets ahold of Coutinho's cross.
'56 | Alves is booked after a hard fould on Bertrand. Before that it was Livermore that got his name on the referee's notebook. England is trying to get out of their own half, but it seems so difficult right now.
'52 | Jesus sends Coutinho sprinting after the ball, but the Liverpool player loses control of the ball. Brazil is struggling to regain possession of the ball.
'48 | Livermore and Alves face off each other after the West Bromwich player gets a strange headlock on the Brazilian player. Definitely bizarre!
'46 | SAVE! Neymar threads the ball to Gabriel Jesus. The Man City forward can't get ahold of it and the ball falls to Coutinho, but his low shot is turned away brilliantly by Hart. Much better from Brazil.
HT | That has been quite a lukewarm first half. England have defended well, but have been unable to create real chances to take the lead at Wembley. The Brazilian squad have been in possession of the ball during most of the match and had seven chances, although only one on target.
'45 | Neymar thumps a low cross that is well gathered by Hart as Brazil attemps to take the lead one more time. There will be two added minutes to the first half.
'40 | There has only been two shots on target so far, a clear indication of the type of match we're seeing tonight. This game could really do with a goal to open the game.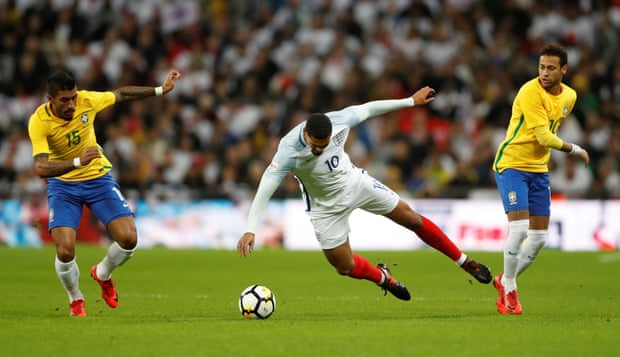 '35 | ENGLAND SUB! Loftus-Cheek is replaced by Lingard, and the Manchester United striker shows some skills right away by bursting past Augusto before winning a free kick.
'32 | Gabriel Jesus breakes into the England box but the offside flag shoots up to deny him the chance. England is holding on, but without many seniors, it might be a matter of time before Brazil draws first blood.
'29 | Another good chance for Neymar with a long-range effort, but the ball sails over the crossbar. England's defence has kept the Brazilian bombers from a safe distance.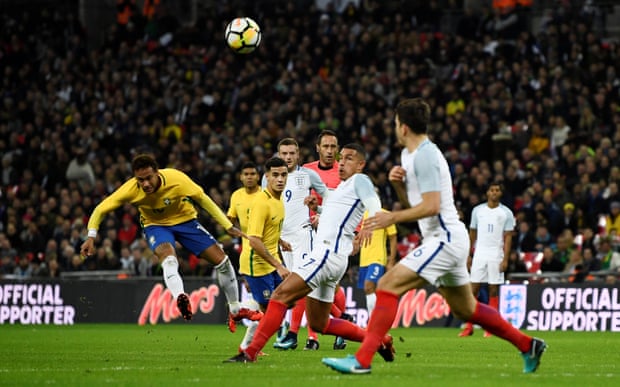 '26 | Brazil continues threatening as Neymar feeds the ball to Coutinho, but the dangerous cross is well defended by England's defence. Stones seems in trouble after an awkward landing.
'23 | Neymar continues finding space in England's final third, but the 'Three Lions' are defending brilliantly. Paulinho attempted a wild effort that sailed wide off the post.
'18 | Brazil have total command of the ball, while England players chase the Brazilians around. Rashford manages to get the ball long enough to thoomp a long range effort that is easily collected by Alison.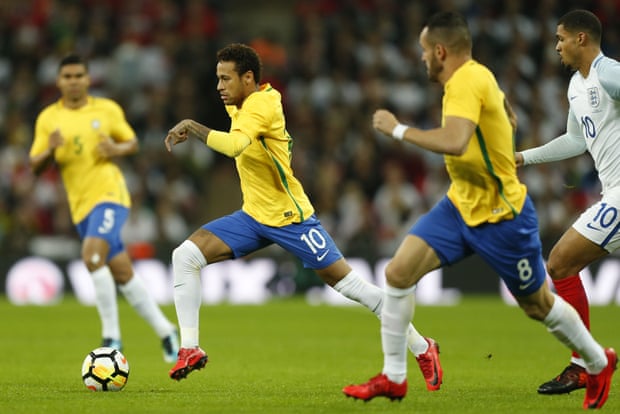 '13 | SAVE! Hart manages to keep out a close-range header from Man City striker Gabriel Jesus. Brazil has had most of the ball and generated more danger, but England is ready to pounce.
'8 | Brazilian players continue to pass the ball around as the race back and forth down the Wembley grass. England seems ready to counterattack at any time, but first they need to get ahold of the ball.
'4 | Vardy races down the pitch and attempts to feed Rashford, but Alison is on target to claim the ball. Both teams are committing players to the opposite final third of the field.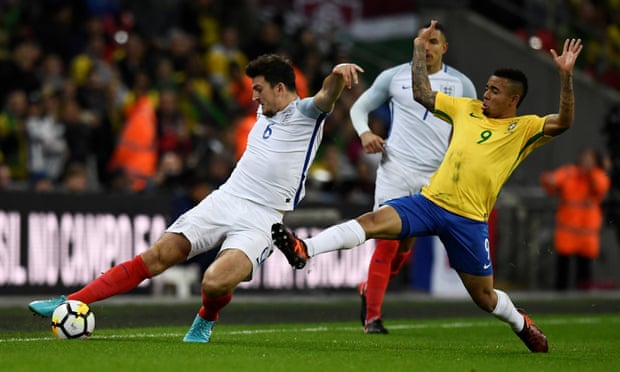 '2 | There's a brilliant atmosphere in the stadium tonight. Even though it is an international friendly, Brazil is in town and fans won't miss the chance to cheer their squad. Rashford sprints down the left and lets loose a shot that sails wide.
KICK-OFF! 
National anthems have been sung and we are ready to see some action in this wonderful stadium. Will England be able to defeat this brilliant Brazilian squad?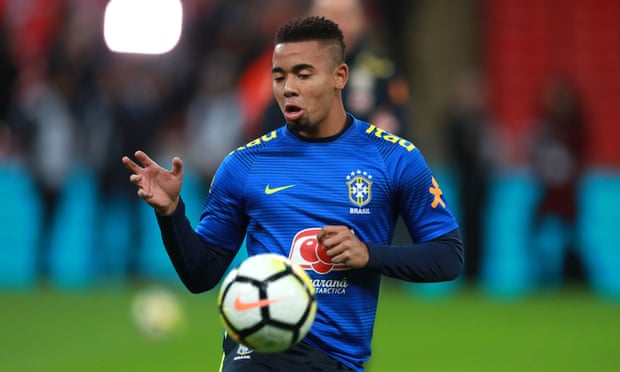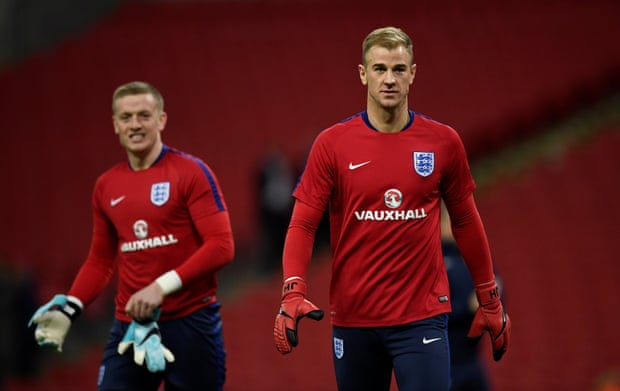 The 'Three Lions' have made three changes from the side that drew with Germany. As for Brazil, it's just best not to look. Coutinho, Gabriel Jesus and Neymar have a fearsome arsenal in their boots.
Hello and welcome to another international friendly prior to Russia 2018 WC. It's more than four yearse before England beat Brazil at mythical Wembley.
England XI | Hart; Gomez, Stones, Maguire, Walker, Dier, Livermore, Bertrand; Loftus-Cheek; Vardy, Rashford.
Brazil XI | Allison; Alves, Marquinhos, Miranda, Marcelo; Casemiro, Paulinho, Renato Augusto; Coutinho, Gabriel Jesus, Neymar.