Keep up to date on the Champions League game between Real Madrid and Borussia Dortmund in our live blog.
Champions League

REA

Real Madrid

3
2

DOR

Dortmund
Video's: Streamable.com
FT | Game over at the Bernabéu. It's been a pretty enjoyable affair between Real Madrid and Borussia Dortmund. The visitors end up losing once again, but they can be proud of their performance. It finishes 3-2.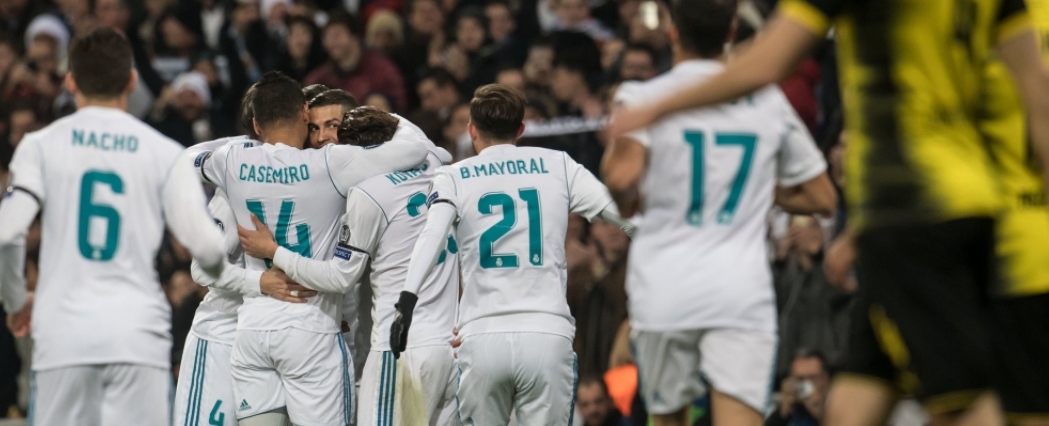 '90 | Marcos Llorente has done pretty well since coming on and he almost joins in on the scoring party as he pulls the trigger from the edge of the box, but Schmelzer blocks the ball with his hip.
'88 | That was the golden opportunity for Borussia Dortmund to win a late point! Shinji Kagawa takes the ball past Casemiro to create a lot of space for a shot, but he's unable to keep it down.
'85 | Cristiano Ronaldo has broken another record by scoring six groups games in a row, but he's still hungry for more goals. He let's loose after a long run, but Bürki is able to get his body behind the ball.

'81 | GOAL! | Real Madrid - Dortmund 3-2. Vázquez! Real Madrid are back into the lead! Roman Bürki palms the ball out of the box, but he can't get it away far enough as Cristiano Ronaldo heads it off to Lucas Vázquez, who finds the bottom corner with an outside of the boot-strike.
'79 | DISALLOWED! | Now Real Madrid do score a third goal, but Czech referee Pavel Kralovec has ruled it out for offside. Cristiano Ronaldo seemed onside while prodding the ball into the net from a corner kick.
'78 | Neven Subotic almost hands Real Madrid the lead all by himself. He completely mishits a cross from Lucas Vázquez and almost turns it into his own net, but the defender is let off the hook.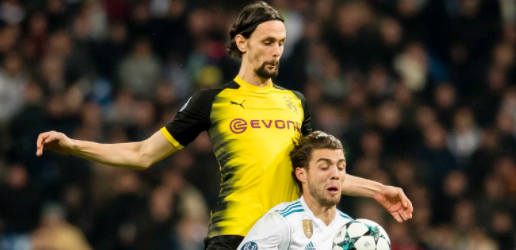 '77 | Real Madrid mean business in the closing stages of this game. The box is loaded once again as Cristiano Ronaldo climbs way higher than Neven Subotic, but his header is collected by Bürki.
'76 | Hectic scens in front of the BVB goal! Theo Hernández bends in a threatening cross. Ronaldo claims he's pulled down but the ball still breaks nicely for Borja Mayoral, but he's unable to fumble it home.
'74 | Borussia Dortmund had a strong spell after half time, but Real Madrid look more serious in their quest for a winner. Lucas Vázquez flashes inside from the left, but fires the ball straight into Bürki's hands.

'70 | Marco Asensio loves a good stunner now and then and for the first time tonight he has space to let fly from distance, but his effort is gathered nicely by Roman Bürki, who was paying attention well there.
'68 | A draw at the Santiago Bernabéu would keep Peter Bosz' job save for the moment, but it would mean this weekend's Bundesliga clash, at home to Weder Bremen, is a must-win game for them.
'64 | Real Madrid try a short corner kick-routine. The ball ends up with substitute Dani Ceballos, who cuts inside from the left-hand side before striking a shot just wide of the near post.

'62 | This game is still far from over. The run of play keeps floating from the one end of the pitch to the other and we might still see a goal or two in the remaining thirty minutes in Madrid.
'58 | Borussia Dortmund are absolutely dominating this game at the moment. They get in another quick passing move as Christian Pulisic has several options in front of goal, but he manages to play it straight into Nacho's feet.
'55 | Swoooosh! Pierre-Emerick Aubameyang speeds past Nacho as if he isn't there. In a quick counter-attack the striker seems to be in for his third goal, but Nacho gets back him with a neat last-ditch slide tackle.

'52 | Cristiano Ronaldo should've brought Real Madrid back in front there! Dahoud plays the ball straight into Isco's feet as the midfielder goes through on goal. He squares it to Ronaldo, who somehow manages to poke it wide.
'51 | Real Madrid thought they were high and dry, but all of a sudden they've got to work for a victory here. Sergio Ramos reaches highest and heads in from a corner kick, but it's straight into Bürki's hands.
'49 | GOAL! | Real Madrid - Borussia Dortmund 2-2. Aubameyang! Dortmund are back level hanks to a brilliant goal! Shinji Kagawa backheels the ball through to Pierre-Emerick Aubameyang. His initial effort is stopped by Navas, but on the rebound he chips home.

'47 | Borussia Dortmund don't deserve to be trailing here and they've started this second half brightly as well. Raphaël Guerreiro is teed up by Nuri Sahin, but Pierre-Emerick Aubameyang can't shake off Sergio Ramos and reach out to the incoming cross.
HT | That's the end of the first half at the Bernabéu. Real Madrid overwhelmed Borussia Dortmund and raced into a two-goal lead, but after that the visitors got a lot of chances from which they've taken only one: 2-1 at the break.
'43 | GOAL! | Real Madrid - Borussia Dortmund 2-1. Aubameyang! Finally Dortmund have taken one of their opportunities! Pierre-Emerick Aubameyang gets the goal as he heads home from a well-measured Marcel Schmelzer cross.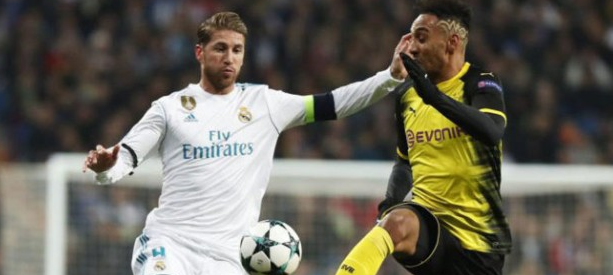 '42 | That's a matter of centimetres! Real Madrid almostget their third goal as Borja Mayoral curls in a low shot. Roman Bürki was rooted, but the ball skims just past the wrong end of the goal post.
'38 | A precautionary substitution for Real Madrid, it seems. Raphaël Varane missed a long spell due to injury and he's feeling something again. Zidane doesn't take any risks and brings on Asensio instead.
'35 | Dortmund could've been 2-3 up by this point! Once again Real Madrid's defence looks very disorganised as Pierre-Emerick Aubameyang goes through on goal, but he rolls the ball just wide.
'33 | Real Madrid took a few minutes off after their second goal, but they seem to have the engine running again. Cristiano Ronaldo doesn't need much space to turn and shoot, but Bürki parries.
'30 | Borussia Dortmund have clearly improved, but they're sloppy in the final third. Pierre-Emerick Aubameyang makes a dangerous run into the box, but Pulisic' cross in his direction is cut out by Navas.
'27 | BVB could've been back in the game once again! Nuri Sahin wrongfoots the Real Madrid defence with a wonderful through ball towards Shinji Kagawa, but the Japanese is stopped in his tracks by Keylor Navas.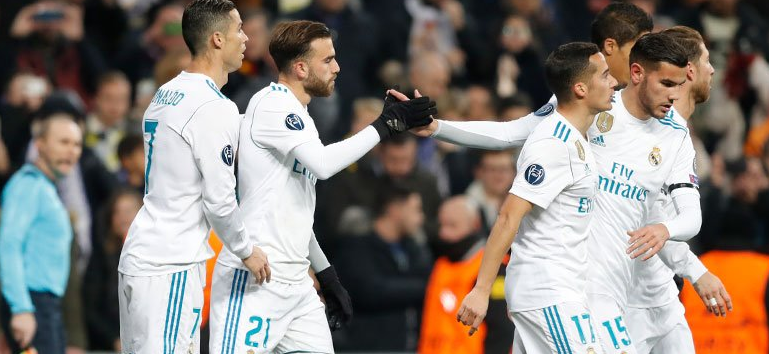 '25 | Dortmund really should've done more with that! Raphaël Guerreiro reaches an appealing shooting position, but instead he plays an overhit pass towards Aubameyang. Pulisic is able to recover and drill in a sharp cross, but Varane intercepts.
'21 | Peter Bosz' job has been one of the major talking points in the Germann press and the talks will only grow after this game. Real Madrid can do whatever they like as Theo Hernández covers the entire pitch before sending a low shot wide.
'17 | There's nothing left to play for for Real Madrid, but they look hungry for more goals. Casemiro uses all his pace to keep the ball in play as he gets in a low shot from a difficult angle, but Bürki saves with the legs.

'15 | It's been a very frustrating night for Borussia Dortmund so far. Their defence hasn't been there for two times and after quarter of an hour, they're looking at quite a mission impossible now.
'12 | GOAL! | Real Madrid - Borussia Dortmund 2-0. Ronaldo! Golazooooooo! Cristiano Ronaldo has scored for the sixth Champions League game in a row as he curls in an absolutely magnificent finish from the edge of the box. That's delightful!
'8 | GOAL! | Real Madrid - Borussia Dortmund 1-0. Mayoral! First chance, first goal for Real Madrid! Cristiano Ronaldo squares the ball into the box as Isco flicks the ball through to Borja Mayoral, who dinks it over Bürki to make it 1-0.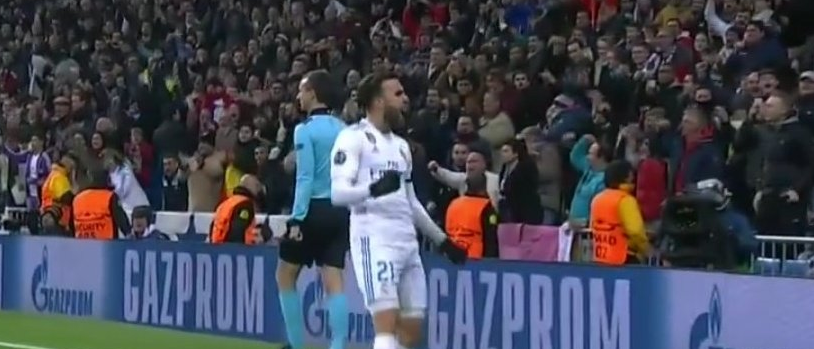 '6 | There's not much to play for for Real Madrid. They've qualified for the round of 16, but the top spot in the group is out of their reach. Dortmund could still lose the Europa League ticket they have in hand now, according to APOEL's result away at Tottenham.
'3 | Cristiano Ronaldo can't buy a goal in La Liga, but he's been scoring them for fun in the Champions League. He takes on a first shot tonight from the edge of the Dortmund box, but Bürki is able to save.
KICK-OFF | We're underway at the Estadio Santiago Bernabéu! Borussia Dortmund are stuck in a severe crisis and they're starving for a win, but tonight they've got a real test on their hands as they take on Champions League holders Real Madrid.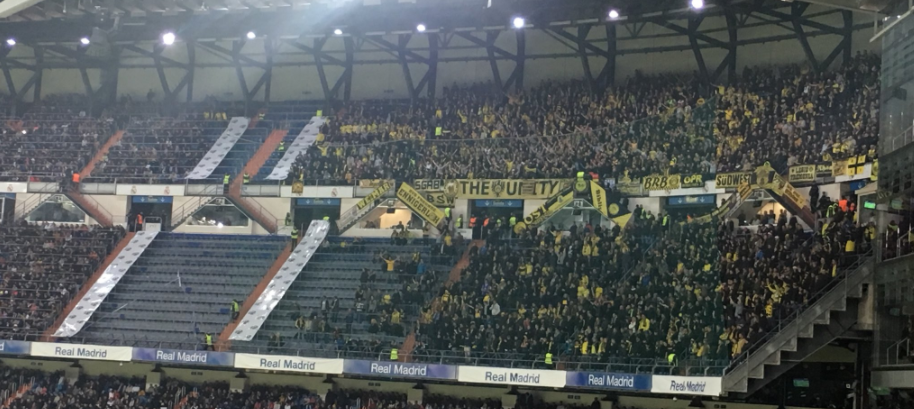 XI Real Madrid | Navas; Nacho, Varane, Ramos, Theo; Kovacic, Casemiro, Isco; Lucas, Mayoral, Ronaldo.
XI Dortmund | Bürki; Subotic, Bartra, Sokratis, Schmelzer; Sahin, Dahoud; Pulisic, Kawaga, Guerreiro; Aubameyang.