Keep up to date on the Copa del Rey game between Barcelona and Celta de Vigo in our live blog.
Copa del Rey

BAR

Barcelona

5
0

CDV

Celta de Vigo

FT | That's it! Celta de Vigo didn't have an answer to Barcelona's first half magic and are elimintated from the Copa del Rey. The Blaugrana advance to the quarterfinals.
'87 | GOAL! Barcelona - Celta de Vigo 5.0. Rakitic! Inexcusably bad man marking from Celta! Dembélé's corner finds Rakitic at the penalty spot and there is absolutely nobody around him. The Croation midfielder heads it to goal and hits the bullseye. 
'84 | Cilessen would have like to prove himself tonight, but the Barcelona cup goalkeeper didn't have a save to talk about yet.

'80 | Just wide! Suarez sees that Alvarez is far from his goal line and he tries his luck from the halfway line. The Uruguayan centre-forward loses his balance while shooting, but his attempt wasn't too bad.
'76 | Barcelona pass the ball around on Celta's half, but they haven't been as lethal as in the opening half. Still, Dembélé and Arnaiz are trying to convince Valverde that they belong in the starting lineup.
'72 | Busquets finds Arnaiz behind the defence with his eagle vision and the youngster blazes it at goal, only for it to hit the side-netting. 

'70 | Dembélé is so quick and so tricky. He troubles Mallo in every way possible, the left-back can't get a hold of him.
'68 | Suarez' positioning has been unbelievable tonight. El Pistolero gets a few changes to score a brace tonight, but he mishit a volley and a shot from long rang was collected easily by Alvarez.
'66 | The pace has dropped after all the changes. All the jokers are now on the table for both sides, but with a 5-1 on aggerate, it seems set in stone that Barça will advance to the quarterfinals of the Copa del Rey.

'63 | Great chance for Celta to bag their goal of honour. A burst of speed by Gomez troubles the Barcelona defence. The replacement takes out Vermaelen with a lovely faint, but then Semedo denies him with a great last-gasp tackle.
'62 | El Capitan also departs! Iniesta will make way for another big talent from La Masia, Arnaiz.
'60 | Celta make their last substitution. Mendez enters the pitch and Sisto is taken to the side.

'58 | After an outstanding first-half, Messi will be replaced Barça's biggest prospect Dembélé.
'56 | An incredible, Messi-like, looping pass from Rakitic finds Suarez deep in Celta's box, but as he tries to fire it home, the flag goes up again. It certainly hasn't been the first time tonight that he's offside.
'52 | Barça haven't found their rhythm of the first half yet. Alba, who has been absolutely magnificent so far, tries to find his teammate in the box with a backheel, but Mallo can get a leg in the line of his pass.

'48 | Celta are looking for a goal of honour. Emre Mor cuts inside from the right-hand side, but he blasts his shot into orbit.
'46 | We're off again! Vermaelen gives Pique a bit of breather and replaces him. Celta make two changes: Gomez and Radoja, Wass and Aspas come off.
HT | Celta have been nothing like the first leg match, as they have been crushed by a very high-pressing Barcelona. You'll never get enough of a Messi performance like in the opening half.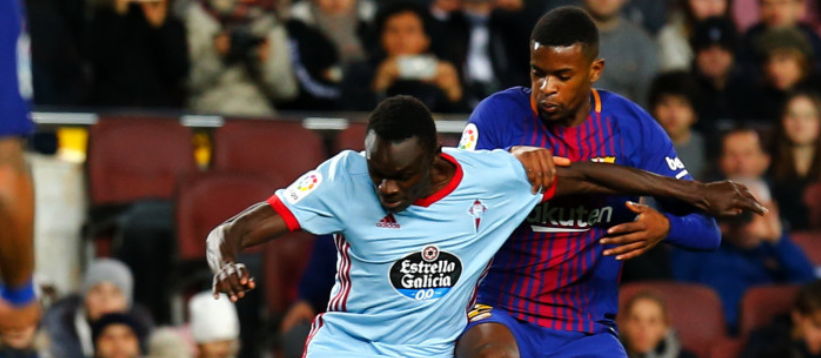 '45 | Suarez razor sharp from the finish, but not quite from the run. Gomes feeds him in the box and the former Liverpool man does well to finish it, but he was definitely offside.
'42 | Almost Aspas! That's one of the few times that we have seen Celta on Barcelona's half. Mallo crosses from the right and finds Wass at the back post, who heads it back to Aspas in the centre. The striker has a spectacular bicycle kick in mind, but doesn't connect well.
'39 | Celta will be glad to have shut down the Barca attack for eight minutes now. They have had absolutely no say in this match and have had no chance to escape from the pressure from the hosts.

'35 | Mascherano finds Suarez behind the defence with a great looping pass. The number nine hits the post from a difficult angle, but the linesman had already put his flag up.
'31 | GOAL! Barcelona - Celta de Vigo 4-0. Suarez! That's a horrible back pass from Sisto, who is rushed down by multiple Barça players. The Danish winger breaks under the pressure, passing it back straight into to path of Suarez, who hits the back of the net.
'28 | GOAL! Barcelona - Celta de Vigo 3-0. Alba! It's Jordi Alba's world. Messi's magical ball dips and curls behind the Celta defence and finds the one who provided the first two assist. Alba volleys it home beautifully. Pure magic.

'26 | Suarez sneaks it around the defender with an athletic attempt, but he just hits it wide. The Uruguayan centre-forward looks very fit tonight and has been the most active we seen him this season.
'22 | Masterclass by Messi. A backheel of the Argentine magician continues Iniesta's run, but the captain couldn't get his chip under the crossbar.
'18 | That was a good opportunity for Suarez, who pokes a loose ball at goal, only for the referee to spot a foul on Sisto just before.

'14 | GOAL! Barcelona - Celta de Vigo 2-0. Messi! Again Alba-Messi! Messi frees himself from his opponent with a beautiful touch and then starts the give-and-go with Alba. The left-wingback pulls it back and Messi finishes clinically. Celta can't cope with Barcelona's high pressure.
'12 | GOAL! Barcelona - Celta de Vigo 1-0. Messi! Alba crosses from the left after he was launched by Iniesta. His cross could have been cleared, but no Celta defender attacks the ball. From the edge of the box, Messi slaps it home from the fingertips of Sergio.
'11 | Busquets wins the ball and then a promising counter chance appears. The midfielder slides it to Messi, who drives forward, but his pass wide to Gomes is intercepted.

'7 | Celta are pressed back into their own box immediately. Messi starts a promising run to the box and finds Suarez on the left. The Uruguayan striker wants to play it back to Messi at the penalty spot, but Celta can get a clear.
'3 | André Gomes gets his chance to prove himself, as Ousmane Dembélé started off from the bench. Barcelona have started on the front foot. A sharp cross from the right is only missed by Gomes by an inch, showing off a strong physical appearance. 
KICK-OFF | This round of 16 action in the Copa del Rey promises to be a thriller, as Celta de Vigo managed to keep Barcelona at a draw last week (1-1) and surprised against Real Madrid last Sunday (2-2). Philippe Coutinho will view this game from the stands, as he is not able to play just yet.
XI Barcelona | Cillessen; Semedo, Pique, Mascherano, Alba; Busquets, Rakitic, Iniesta, André Gomes; Messi, Suarez.
XI Celta de Vigo | Álvarez; Castro, Fontás, Gómez, Mallo; Sisto, Lobotka, Sánchez, Wass; Emre Mor, Iago Aspas.