Keep up to date on the Champions League clash between FC Basel and Man City in our live blog.
Champions League

BAS

FC Basel

0
4

MCI

Man City
FT | All over at the St. Jakob's Park. Manchester City have paved their way to the quarter finals as they clinch a big victory over FC Basel in this first leg. It finishes 0-4.
'86 | Sergio Agüero scored four on the week-end and he only managed to net one today, but he's thanked by Guardiola for another brilliant performance. Danilo has come on to replace the Argentine.
'83 | Another hectic situation in front of the Basel goal. The ball is played back to Vaclík and it's a bit short as the ball ends up in the loose. Agüero tries to get to it, but Vaclík manages to arrive earlier.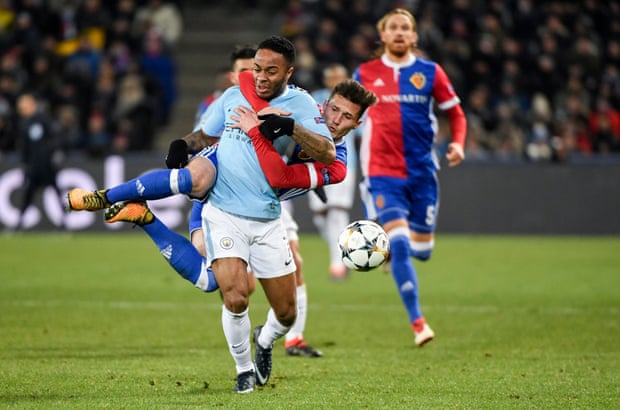 '79 | Referee Jonas Eriksson might as well blow the final whistle already. Man City have stopped caring and Basel are unable to produce something, which gets us stuck in some kind of status quo.
'74 | That simply had to be five for City! Sergio Agüero breaks free from Lacroix before chipping the ball across the face of goal. It ends up in front of Bernardo Silva's feet, but his low volley is parried by Vaclík.
'73 | Seventeen minutes left in Switzerland and Man City have done just what they needed to do. They can absolutely coast home in the reverse fixture and Guardiola might as well rest a few of his stars.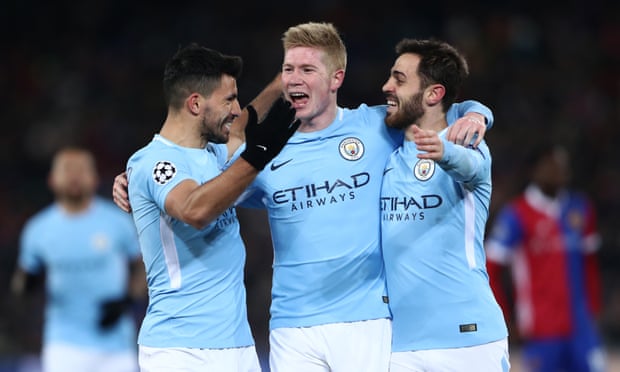 '69 | That's even better from the Swiss champs. Dimitri Oberlin has been unlucky in front of goal, but with an audacious attempt from distance he almost catches Ederson unaware, but yet there's no beating him.
'68 | You can't blame FC Basel for a lack of trying. Mohamed Elyounoussi gets a hold of the ball inside the area as he tries to surprise Ederson with a shot from a tough angle, but he's denied by the City stopper.
'66 | City are still looking to add a goal or two. Leroy Sané makes a threatening run before pulling the ball back towardss David Silva. The substitute has a go from outside the box, but he skies it.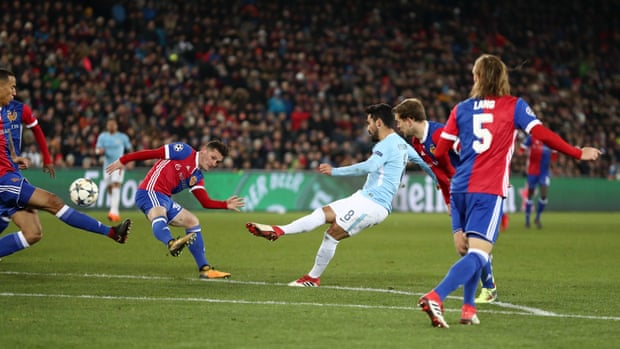 '62 | That's more what we like to see from Fernandinho. He's living up to his job as the midfield sweeper as he marches forward and let's loose from distance, sending the effort into the stands.
'59 | That's just stupid from Fernandinho. Basel seem to break on the counter-attack and the Brazilian pulls the emergency break, at the expense of a completely unnecessary yellow card.
'57 | Basel are already down and out, but they're still trying to force something. Dimtri Oberlin bursts in behind the Man City defence and sends a shot across the face of goal. It seems as if Ederson did get a slight touch to it.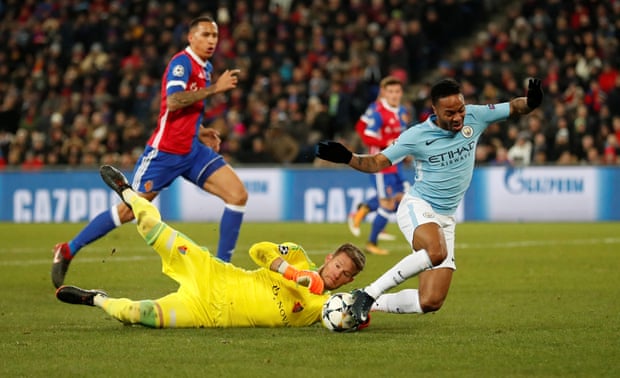 '53 | GOAL! | FC Basel - Man City 0-4. Gündogan! Man City have picked up where they left off in the second half and this is surely the best golazo of the lot. Ilkay Gündogan curls in an absolutely autrocious strike from the edge of the box and it's 0-4.
'49 | So far it's been a quiet night for Ederson, but now he needs to get into action for the first time. Mohamed Elyounoussi unleashes an oddly swerving strike, but it's dealt with neatly by the glovesman.
'47 | That's the first treacherous moment in the second half. Kevin de Bruyne takes aim at Vaclík from just outside the box, but his swing from 25 metres out is gathered with ease by the Czech goalkeeper.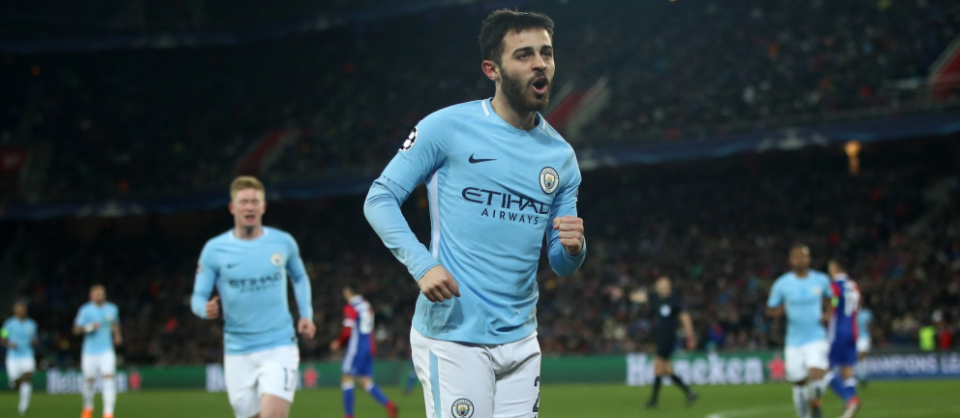 HT | And that's that. Manchester City have been in charge of their round of 16 game against FC Basel as they only needed 23 minutes to cruise into a 0-3 lead. Goals scored by Agüero, Bernardo SIlva and Gündogan.
'42 | With half time in sight Man CIty seem to cut Basel a little slack. They've stopped their constant stream of attacking, but there's one thing they haven't stop doing: they are still dominating possession.
'37 | Time for City to come up with some gallery play. Ilkay Gündogan pulls the ball back towards the edge of the box where Kevin de Bruyne tries a bold volley that sneaks just over the crossbar.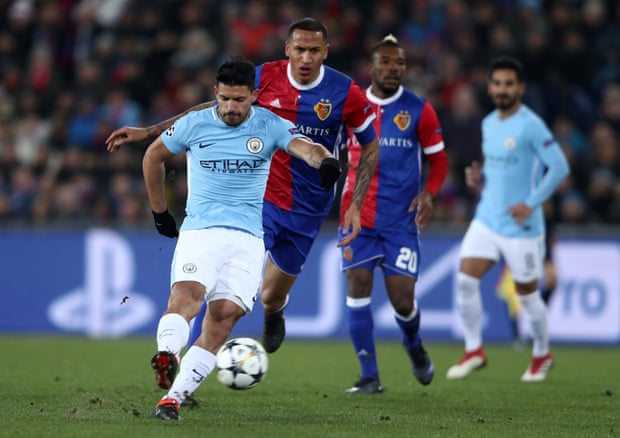 '34 | Another threatening moment in front of goal. Raheem Sterling goes clear of the Basel defence as he tries to round Vaclík, but the goalkeeper is watching the ball well as he taps it off the winger's feet.
'32 | If only that would've happened... Manchester City move the ball around on the edge of the box as Gündogan tries to put Sterling through on goal with a filthy pass, but just in time Suchý is able to intercept.
'28 | We suggested City to take things a bit easier from now on, but the blue machine seems to have other plans. City are absolutely tearing Basel apart and this could turn into an awkward night for the Swiss champs.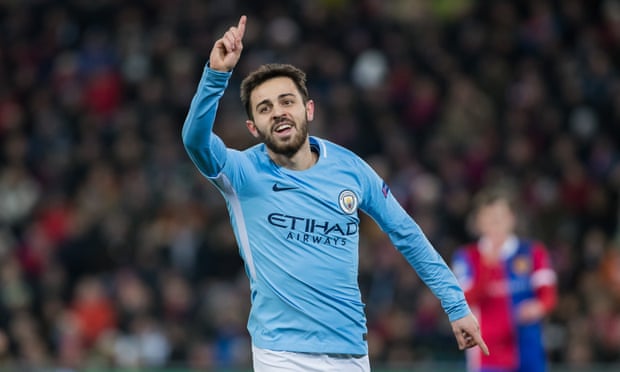 '23 | GOAL! | FC Basel - Man City 0-3. Agüero! This is madness! Every shot is turning into gold for Man City. Sergio Agüero gets a little space to pull the trigger from the edge of the box as his shot nestles into the bottom corner. 0-3!
'21 | Early on it seemed like a tricky night for Man City, but in a matter of four minutes they've taken care of proceedings. They might even take their foot off the gas now, considering their busy schedule.
'18 | GOAL! | FC Basel - Man City 0-2. Bernardo! That's absolutely lethal stuff from the Premier League leaders! A Raheem Sterling cross richochets off Lacroix and drops straight into Bernardo Silva's path. His volley finds the back of the net after it deflects slightly off Rivero's back.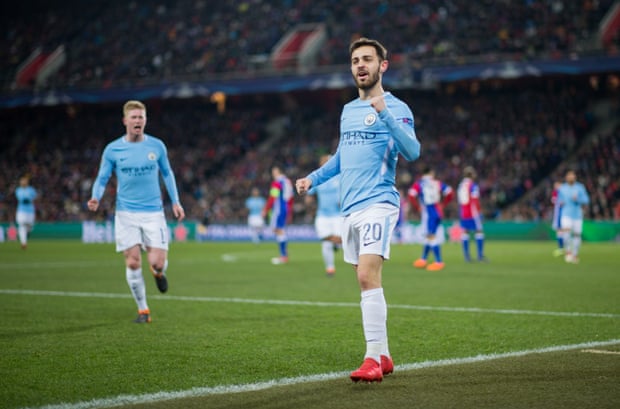 '14 | GOAL! | FC Basel - Man City 0-1. De Bruyne! Basel have had most of the danger so far, but City have found the net first! Of course it's Kevin de Bruyne who assists, putting a corner kick right on Ilkay Gündogan's head. A textbook goal: 0-1.
'12 | That's a huge let-off for Man City! Oberlin gains possession inside the box and he tries to go past Nicolas Otamendi, but he's pushed down by the defender. It seemed a clear spot kick, but it's not given by referee Eriksson.
'10 | Basel are inviting Manchester City to move the ball around on their half and they're opting for quick breakaways. They've already shown they're capable of it, something which should alarm the visitors.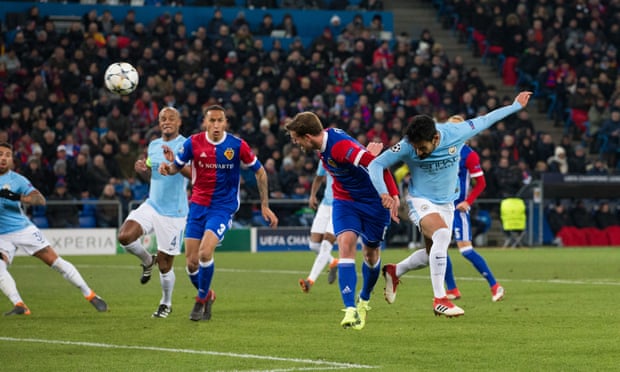 '6 | What a chance for Basel to get the sneaky shock lead they are hoping for! Dimitri Oberlin escapes from the offside trap and he seems to be through on goal, but Ederson comes off his line quickly and forces the striker to make a rapid decision, which leads to a big mishap.
'2 | Man City are not taking any prisoners in the opening minutes as they go on the attack right away. Gündogan reaches Bernardo Silva into the overlap before positioning himself inside the box. He receives the ball back and produces a header, but it's tapped over the bar by goalie Vaclík.
KICK-OFF | Manchester City are bossing the Premier League and they're heading straight for the title, but Pep's men have got bigger goals in mind. They want to reach far in the Champions League and their knock-out adventure starts with an away game against FC Basel.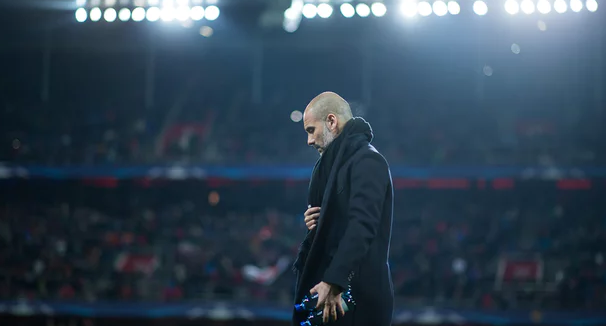 XI Basel | Vaclík; Lang, Lacroix, Xhaka, Suchý, Riveros; Frei, Dié, Elyounoussi, Stocker; Oberlin.
XI Man City | Ederson; Walker, Kompany, Otamendi, Delph; Fernandinho, De Bruyne, Gündogan; Bernardo, Agüero, Sterling.