Keep up to date on the Champions League game between Manchester United and Sevilla in our live blog.
Champions League

MUN

Man United

1
2

SEV

Sevilla
FULL TIME | Sevilla cause a shock at Old Trafford tonight! Super sub Ben Yedder decided the game just 87 seconds after coming onto the pitch. Once again, Manchester United don't manage to get through the round of sixteen!
'90+1 | Ben Yedder is completely through on goal. One on one. The defending is worse than abysmal but De Gea saves United from a total demoltion.
'87 | United are on all out attack. Rashford gets a lot of power on a header but is too far from goal to challenge the goalkeeper. It's nice of Man Utd to turn up for the final 10 minutes.
'83 | GOAL! Man United - Sevilla 1-2. Lukaku!  Or is it all over?! Lukaku smashes in from a corner. United fans busy leaving the ground turn back to watch on. What a finish we'll have now!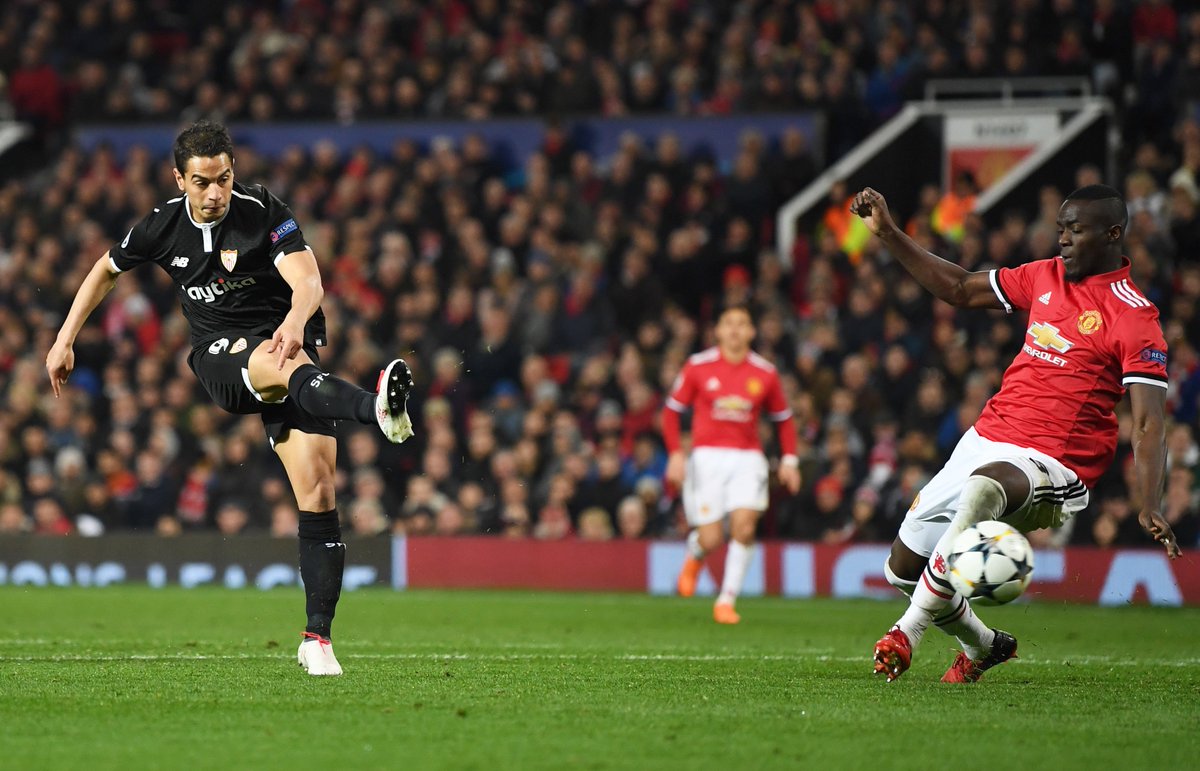 '78 | GOAL! Man United - Sevilla 0-2. Own goal De Gea! Sevilla have a second! Ben Yedder is at it again and heads the ball towards United's goal, which crosses the line via De Gea.
'74 | GOAL! | Man United - Sevilla 0-1. Ben Yedder! He's made an instant impact! Man Utd aren't awake to the danger, one well-taken touch to set himself up and Ben Yedder has fired Sevilla into the lead! United need two goals now! 
'73 | Rashford quickly cuts inside from the left flank and takes on Sarabia, who barges into the young winger and concedes a free-kick in a dangerous position.
'70 | A lofted pass from Sanchez bounces into the Sevilla box and picks out Lukaku, who quickly shoots but, once again, can't get the better of Lenglet and has to settle for a corner that's comfortably cleared by N'Zonzi.
'62 | A clever pass from Young penetrates the Sevilla penalty area and finds Lukaku, who holds off Lenglet and manages to shoot. His strike lacks the power needed to beat Rico, however, and it's comfortably saved.
'57 | Excellent chance for Lingard! Lukaku momentarily loses possession, but he does well to win it back and charge down the right flank. He then fires a low cross into the box and towards Lingard, who controls the ball, spins and forces Rico into making a great diving save.
'52 | N'Zonzi clatters into Sanchez with a slightly mistimed sliding challenge, resulting in a free-kick for United in a promising position. It's chipped towards the far post, but nobody in a red shirt can get near the ball and Sevilla easily hold on.
'48 | What a tackle by Bailly! Correa is left all alone, allowing him to break into the penalty area and latch onto a clever pass from Sarabia. He then tries to shoot, but he's dispossessed by a wonderful piece of defending from Bailly before he's able to do so.
HT | A few groans of discontent can be heard as the two teams make their way off the pitch, and it's no wonder why. United have been far from their best this evening, and they've struggled to cause too many problems for a Sevilla back lie that have barely been tested. They're certainly going to have to do much more after the break if they're to ever find a way in front.
'44 | Lingard and Rashford link up well over on the right flank as they easily get the better of three Sevilla players. Lingard then fires a low cross into the box and towards Fellaini, but Lenglet is there to knock the ball behind for a corner that's easily cleared.
'40 | Rashford embarks on a brilliant run as he skips down the left flank and into the visitors' penalty area. He then tries to pick out Fellaini in front of goal, but the referee eventually awards a throw-in to Sevilla before United can make the attacking move count.
'36 | A decent Lingard cross flies over to the right-hand side of the Sevilla penalty area and picks out Fellaini. The midfielder rises high and nods the ball down towards Lukaku, but Lenglet is there to beat the striker to it.
'32 | Muriel goes close! Sloppy play by United gifts Sevilla with a great opportunity to counter-attack. Muriel breaks into the box and unleashes a shot, and it's one that bounces a couple of yards wide of the far post.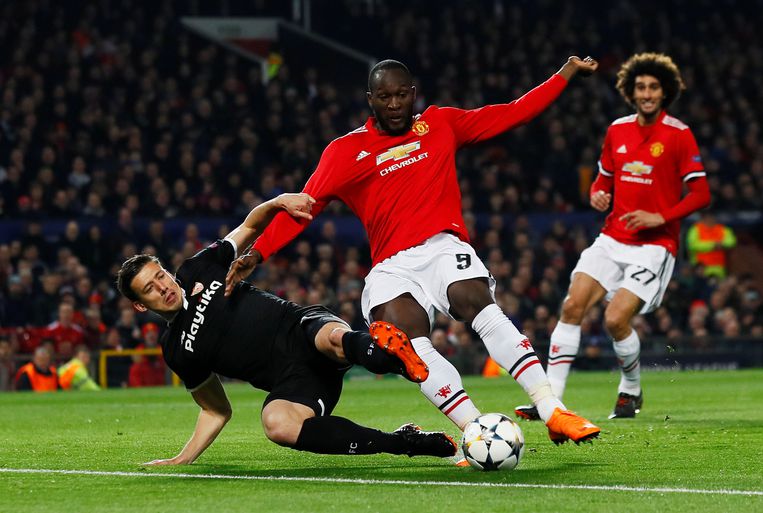 '28 | Lingard makes a quick run into the Sevilla penalty area and tries to latch onto a through-ball from Sanchez, but Kjaer is comfortably able to read the danger and deal with it.
'24 | Sevilla are presented with another good chance to break forward after United lose possession, but Muriel is unable to control the ball with his back to goal and easily loses out to Smalling.
'20 | Banega is left in far too much space deep inside the United half of the pitch, allowing him to spin and work the ball over to Vazquez. The Italy international quickly shoots, but there's too much power behind the strike and it fails to trouble De Gea.
'16 | Almost a costly mistake by Bailly! A terrible pass from the defender can only find a black shirt, allowing Sevilla to quickly counter-attack. Correa picks out Muriel and sets up the striker to shoot from 20 yards out, but the effort is a poor one and sails high over the crossbar.
'12 | Correa goes close! Vazquez breaks down the left flank and swings a deflected cross behind for a corner. It's whipped in by Banega and picks out Correa, who gets a head on the ball and sends it just a yard or two over the crossbar.
'8 | Good play in the middle of the pitch looks as if it's set up Lingard to burst down the left flank after getting the better of Kjaer, but the centre-back just about does enough to guide the ball out for a throw-in.
'4 | Early chance for United! Lukaku easily bullies Kjaer away from the ball as he spins round the defender and plays a one-two with Lingard. The big Belgian then unleashes a thumping shot from the edge of the box, but it ends up sailing wide of the far post.
KICK OFF | And we're off!
XI Man United | De Gea; Valencia, Smalling, Bailly, Young; Matic, Fellaini; Lingard, Alexis, Rashford; Lukaku.
XI Sevilla | Sergio Rico; Mercado, Kjaer, Lenglet, Escudero; N'Zonzi, Banega; Correa, Vázquez, Sarabia; Muriel.