Miss no moment of the Premier League game between Newcastle and Arsenal in our live blog.
Premier League

NEW

Newcastle United

2
1

ARS

Arsenal
FT | And that's the fifth away defeat on the spin for Arsenal. They lose 2-1 at Newcastle, who have secured their spot in the Premier League for next season thanks to this surprising win.
'85 | That's quite a big chance for Arsenal to equalize. Goalie Dubrávka tries to collect a loose ball but he misses it as Alexandre Lacazette is able to get in a low shot, but he ends up hitting the side-netting.
'82 | Not long left now. Arsenal are on the verge of losing five Premier League away games in a row and if that would happen, they would even risk their sixth place as Burnley are closing in on them.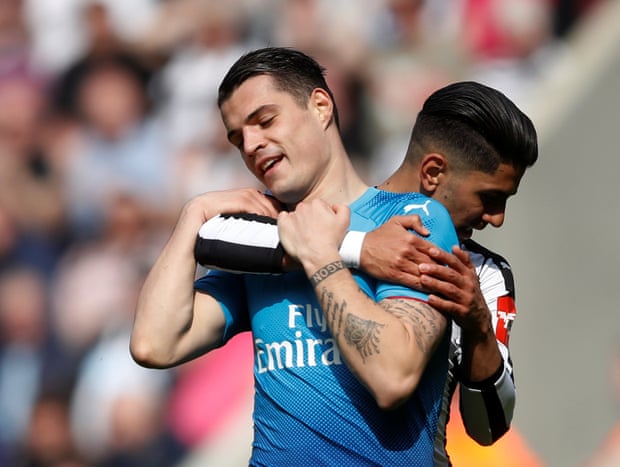 '77 | Newcastle are feeling confident and they're exploiting the spaces that are opening up for them. Ayoze Pérez enters the box and has a first shot blocked by Chambers before drilling a second into the side-netting.
'75 | CROSSBAR! | Arsenal escape from conceding another goal. After a cute ball through the heart of the Arsenal defence Kenedy goes one on one with Cech, but after a deflection off Mustafi the ball ends on top of the bar.
'73 | Arsenal put the pressure on in the hunt for a result here. Nacho Monreal overlaps Alex Iwobi before swining the ball into the box, but Lascelles clears before it could be met by Alexandre Lacazette.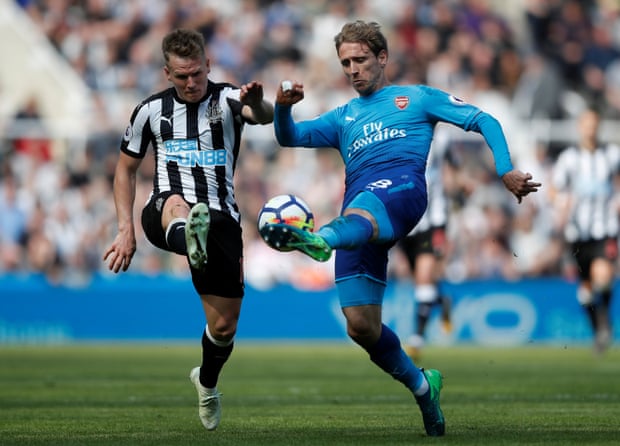 '69 | GOAL! | Newcastle - Arsenal 2-1. Ritchie! Newcastle have taken the lead with their first shot on goal in the second half! Ayoze Pérez backheels the ball onto Matt Ritchie, who beats Petr Cech with a strong finish. 2-1!
'67 | We're into the final quarter of the match and Arsenal are looking for a way forward. Alex Iwobi has an initial shot blocked as he's able to strike again, but on his second try he fires just wide.
'65 | Newcastle only need one more point to be absolutely sure of staying in the Premier League. A free kick is knocked down and volleyed back in by Matt Ritchie, but he can't keep his shot down.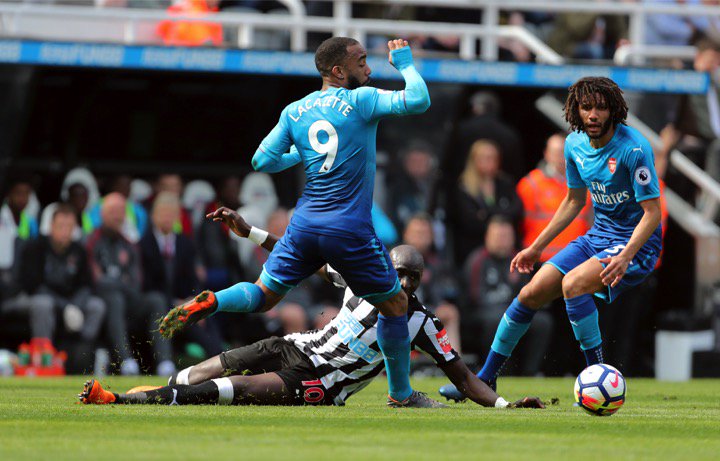 '63 | The first substitution of the game. Dwight Gayle has covered an unbelievable distance up front, but now he's taken off by Rafael Benítez. Leicester loanee Islam Slimani is brought onto the pitch.
'60 | Half an hour left to play at St. James' Park. There are no signs for another defeat for Arsenal, but they've not looked like winning after the interval. Which way is this match going to go in the time that's left?
'56 | The second half hasn't provided any excitement so far. Callum Chambers crosses the ball into the box from the right wing as Aubameyang tries to head it off to Lacazette, but Florian Lejeune defends.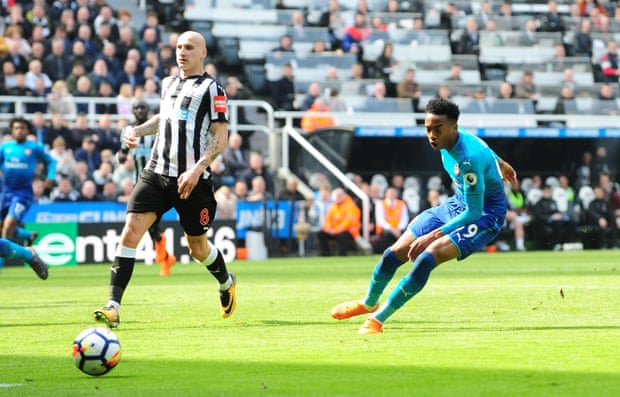 '51 | Sloppy loss of possession from Callum Chambers. There's space for Ayoze Pérez to go forward, but as soon as the Spanish striker enters the box Shkodran Mustafi is able to get a foot onto the ball.
'49 | It's been a pretty quiet start to the second half. Both Newcastle and Arsenal have enjoyed some possession, but instead of searching for a way forward they've been keeping it in midfield.
HT | Anthony Taylor makes an end to an action-packed first half between Newcastle and Arsenal. The Gunners have been the better team, but they've been unable to express it in the scoreline: 1-1.
'43 | A third huge opportunity for Arsenal in only four minutes. Mo Diamé slips away and Lacazette has a free path onto goal. The striker squares the ball towards Joe Willock, but he completley mishits his shot.
'41 | Arsenal are getting chances to gain an advantage before the half-time whistle blows. Granit Xhaka pings in a corner kick that's met by an unmarked Chambers, but he can't give the right direction to his header.
'39 | A big chance for Arsenal to renew their lead. An Aubameyang free kick is cracked by the ball as Xhaka hoofs the ball back into the box. It's headed across goal by Shkodran Mustafi, but in front of goal Chambers can't hit it properly.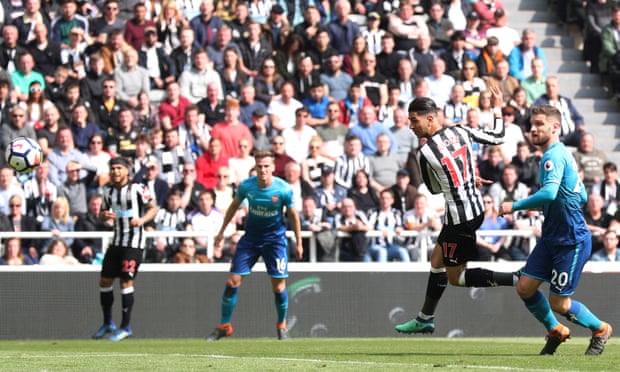 '37 | Newcastle United have performed well in their first season back in the top-flight. They've troubled the big sides and after beating Man United 1-0 here, they're now chasing another big scalp.
'33 | The equalizer has given Newcastle the spirit to go on. Ayoze Pérez bamboozles Callum Chambers before pulling the ball back, but he's unable to get it to one of his teammates and Mustafi clears.
'29 | GOAL! | Newcastle - Arsenal 1-1. Ayoze! Despite all the quality up front, Arsenal's defence is still pretty leaky. They've conceded as Ayoze Pérez sneaks in front of Rob Holding to sidefoot home from a well-measured DeAndre Yedlin cross. 1-1.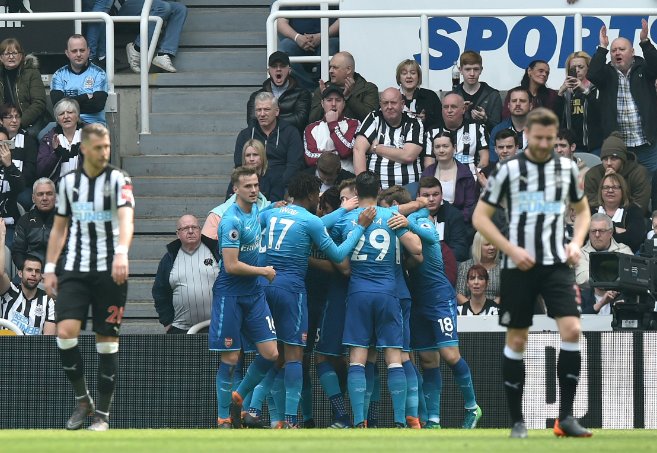 '27 | More danger from the Gunners. Callum Chambers has gone forward over the right channel as he bends in an inviting cross for the likes of Willock and Lacazette, but Lascelles makes a vital interception.
'24 | For the first time since signing for Arsenal, Arsène Wenger has decided to start both Lacazette and Aubameyang. They've shown shades of a deadly striking duo and it with the class they've got it could be fun for the Gunners next season.
'21 | It's been a lively start to this game and the visitors are trying to get more goals. Aubameyang controls a long ball with a great first touch as he plays it through to Iwobi. The Nigerian finds space for a shot, but it's an easy catch for Dubrávka.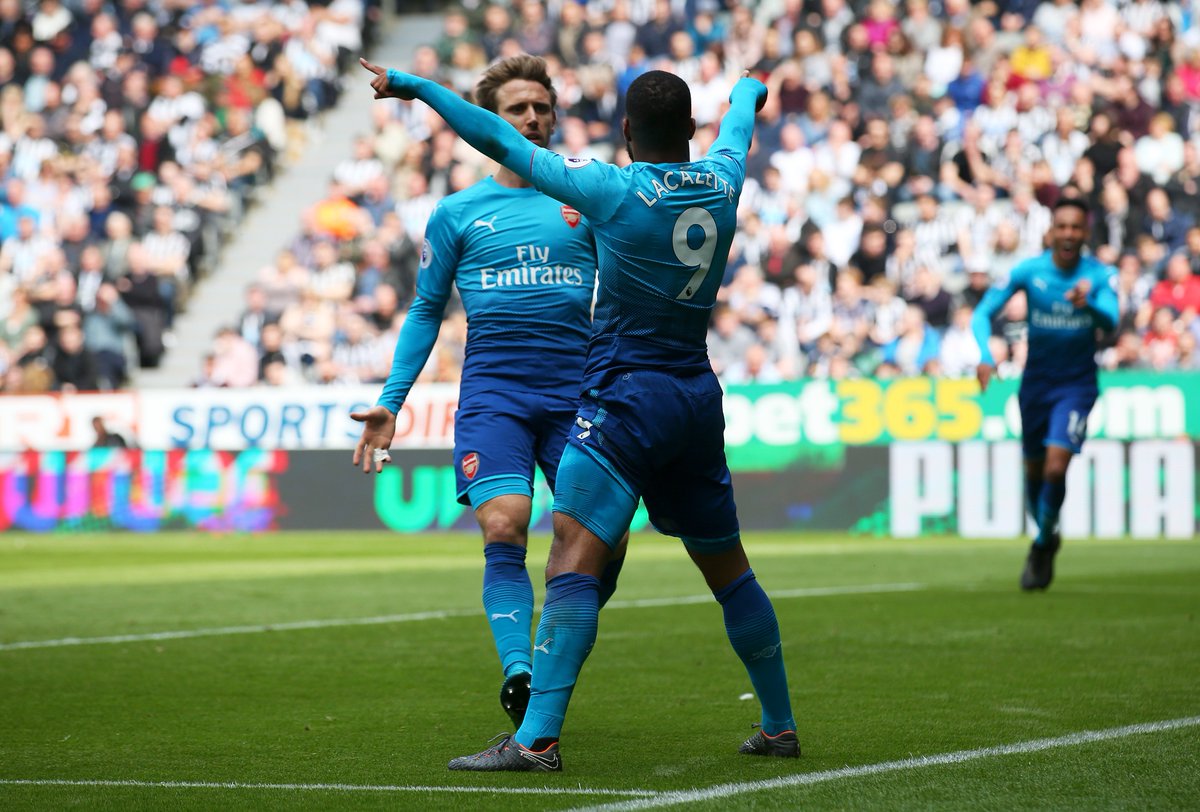 '17 | Arsenal are in full swing after opening the scoring. After a long kick from Petr Cech it's Alex Iwobi who squares the ball towards Aubameyang. The striker cuts inside and shoots, but Lascelles blocks.
'14 | GOAL! | Newcastle - Arsenal 0-1. Lacazette! Arsenal take the lead with their first shot and it's a fabulous attack from the Gunners. Shkodran Mustafi plays a deep ball towards Aubameyang, who squares it towards Lacazette. He's able to find the top corner with a fine volley to make it 0-1.
'12 | Arsenal will feel confident after winning 6 of their last 7 games in all competitions, but the Gunners have lost their last four away games on the bounce. They've never lost five in a row and it's up to them to prevent that from happening.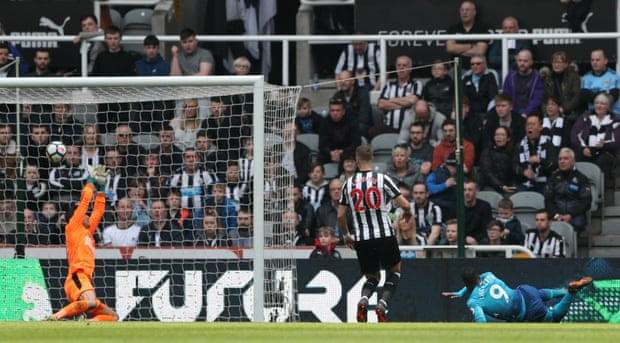 '9 | That's the first shot on goal in this game. Chelsea loanee Kenedy has some space to give it a try from distance, but his attempt from 25 metres out isn't the most difficult thing to digest for Petr Cech.
'4 | In the Premier League games that remain there's some space for Arsène Wenger to give a few youngsters a chance to prove themselves. For today he's picked an 18-year-old, midfielder Joe Willock, to make his full Premier League debut.
KICK-OFF | We're underway at St. James' Park. Arsenal have put their focus on the Europa League, while Newcastle are caught in no man's land: they can't relegate, but there are no realistic chances of getting a Europa League spot. Let's hope for some goals in this disguised friendly.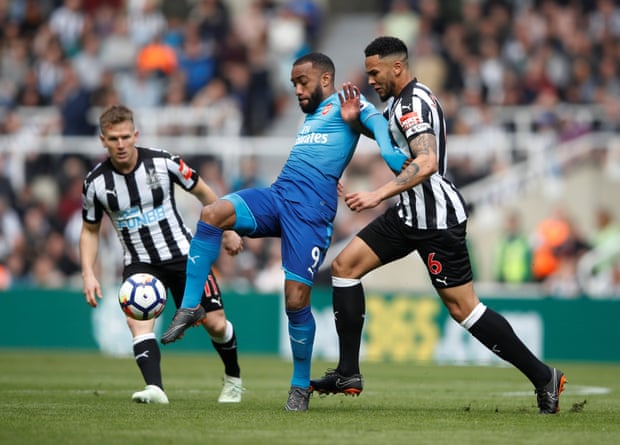 XI Newcastle | Dubrávka; Yedlin, Lascelles, Lejeune, Dummett; Ritchie, Diamé, Shelvey, Kenedy; Ayoze, Gayle.
XI Arsenal | Cech; Chambers, Mustafi, Holding, Monreal; Elneny, Xhaka, Iwobi, Willock, Aubameyang; Lacazette.