Keep up to date with all the action from the La Liga match between Levante and Barcelona on our live blog.
La Liga

LEV

Levante

5
4

BAR

Barcelona
Video source: Streamable.com
FT | Barcelona's dreams of winning the title without losing a single game have been shattered! They've been beaten in style in probably the best game of the entire season as they lost 5-4 away at Levante.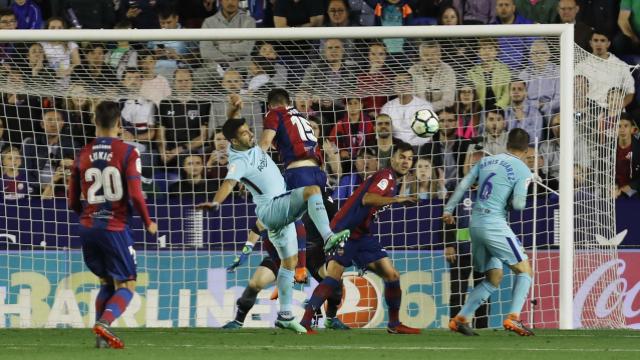 '89 | Oh my word! How on earth have Levante not made it six there!? Sergio Busquets plays a ball back to Ter Stegen, but it's too short. The goalie comes off his line as quick as he can and does enough to keep Rubén Rochina from punishing there.
'86 | Barcelona pulled of a narrow escape with two injury time goals against Sevilla, but back then they had Leo Messi. They've come a long way without the big star, but one more goal is what's asked from them.
'82 | Sergio Busquets is begging referee Mario Melero for another penalty there. He gets his foot onto a Rakitic corner kick and Lerma did handle the ball, but it wasn't deliberately and the ref lets it go.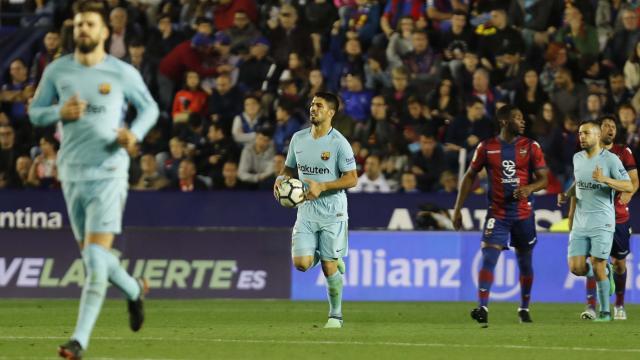 '80 | Ten minutes left for Barcelona to rescue an unbeaten streak that looked gone not so long ago. Barcelona have lost the dominance they had when they fought back from 5-1 to 5-4 and Morales almost gets the job done for Los Granotas, but Ter Stegen saves.
'76 | The chances keep coming for the Blaugranas. Luios Suárez taps the ball through to Philippe Coutinho, who cuts past Coke and crosses the ball towards Luis Suárez, but his shot is blocked out by Sergio Postigo.
'74 | That should have been 5-5! Ivan Rakitic bends a free kick into the box and Luis Suárez sneaks away from Lerma's back to create the opportunity to get in an umarked header, but he puts it just over the bar.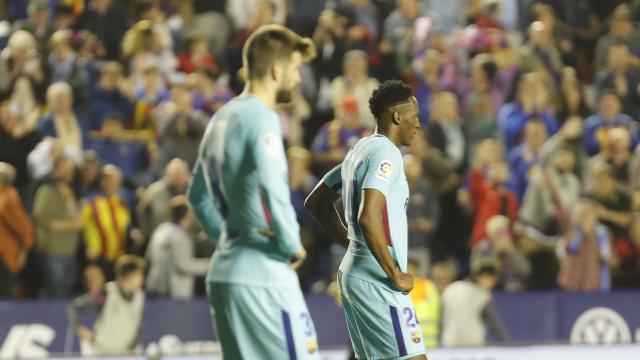 '71 | GOAL! | Levante - Barcelona 5-4. Suárez! This is far from over. Barcelona were 5-1 down only twenty minutes ago, but all of a sudden it's 5-4 in Valencia! Luis Suárez converts the penalty with aplomb and the remontada is on.
'70 | PENALTY! | Barcelona get the chance to close the margin to only one goal with twenty minutes left on the clock. Sergio Busquets goes down inside the box after a clash with Boateng and Mario Melero points to the spot.
'68 | Quarter of this game left to play and if Barcelona would pull this off, they really deserve to be called Invincibles at the end of the season. Luis Suárez tries to curl a cross in towards the backpost, but there's no-one at the end of it.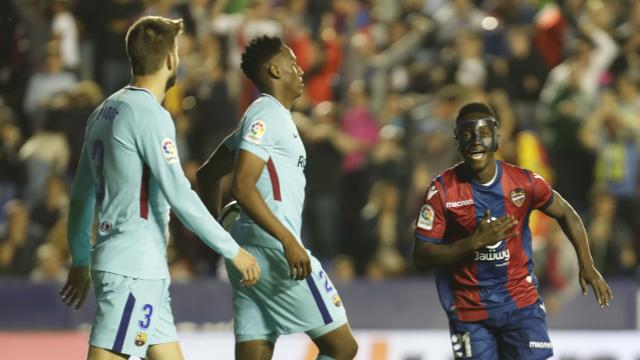 '65 | GOAL! | Levante - Barcelona 5-3. Coutinho! Gooooool! That's a hat-trick for Philippe Coutinho and Barcelona are not giving up on this one! The Brazilian has closed the gap to two goals with another strike from distance. It looked as if the ball took a slight knick off Suárez' hand to leave Oier no chance of stopping it, but the goal stands.
'62 | Paco Alcácer has been subbed on by Ernesto Valverde and the striker is trying hard to make an impact. He reaches a bright crossing position, but his delivery towards Suárez is intercepted by Rober Pier.
'59 | GOAL! | Levante - Barcelona 5-2. Coutinho! And that's four goals in fourteen minutes. Barcelona pull a goal back and start what would be one of the greatest comebacks in Spanish football. Philippe Coutinho scores his second of the night as he reacts first agfter Rober blocked a Dembélé shot.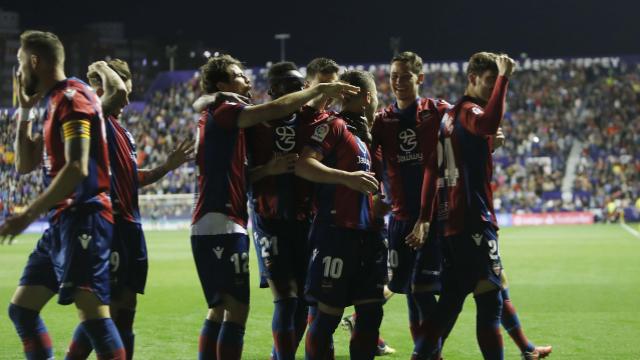 '56 | GOAL! | Levante - Barcelona 5-1. Bardhi! Manita! This is absolutely unbelievable. Barcelona are demolished by Levante, who are absolutely flying. Enis Bardhi picks up his second goal with a wonderful finish asfter being put through on goal by Roger Martí. Five. 
'54 | 4-1 is quite the scoreline, but Levante want more, more and more. José Luis Morales walks into the box from the right-hand side and tries a bold attempt from a tough angle, but he blasts it into the side-netting.
'50 | GOAL! | Levante - Barcelona 4-1. Boateng! What on earth is going on here!? Everything Levante touch is turning into gold. Emmanuel Boateng has got his hat-trick as Gómez puts him through on goal. It's another neat finish from the striker and it's 4-1.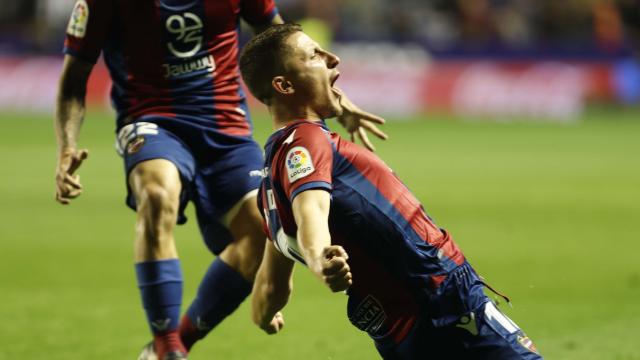 '47 | GOAL! | Levante - Barcelona 3-1. Bardhi! It's starting to look like this is going to be the night were Barcelona lose their unbeaten streak! It's another magnificent goal from Levante. Enis Bardhi puts them 3-1 up with a stunning curler from outside the box.
HT | Half time at Estadio Ciudad de Valencia. Barcelona have been pretty poor in this first half and they are putting their unbeaten season at stake, but Coutinho's goal might have given them the confidence to bounce back.
'44 | Another penalty appeal from Barcelona. Nélson Semedo overlaps Ousmane Dembélé and gets the ball. He tries to go past Antonio Luna but claims he's tripped inside the area, but Melero refuses to award a penalty.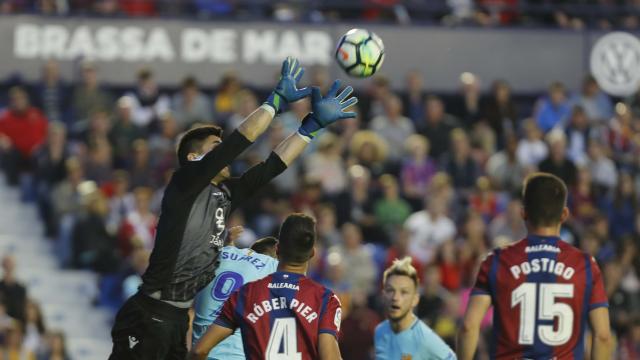 '42 | The goal has given Barcelona some of their swagger back and they're trying to get another one before the interval. Nélson Semedo takes a swing with a shot from far out, but it's saved by Oier.
'39 | GOAL! | Levante - Barcelona 2-1. Coutinho! Boooom! Philippe Coutinho has offered Barcelona a lifeline before the end of the first half. The Brazilian cuts inside and unleashes a fierce strike that finds the back of the net. It looked like it flew straight at Oier, but the goalie didn't have an answer to it.
'37 | Levante escape from a red card there. The scorer of both goals, Emmanuel Boateng, gets caught in a fight with Yerry Mina as he plants his hand into the Colombian's face. Referee Mario Melero has missed the strange incident.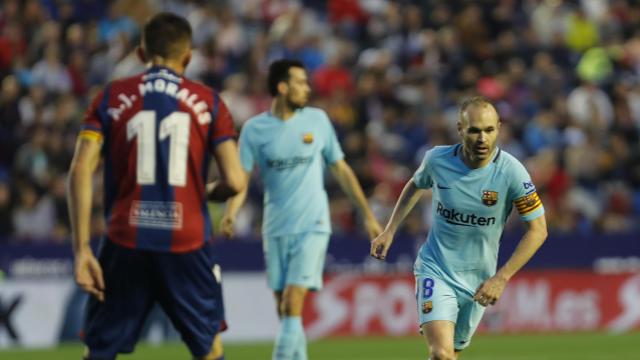 '35 | Barcelona will have to come up with an answer really quickly if they want keep their hopes of becoming the new Invincibles alive. Ousmane Dembélé gets the better of Antonio Luna, but his cross is put to square at goalie Oier.
'31 | GOAL! | Levante - Barcelona 2-0. Boateng! Another one for Levante! Sasa Lukic dribbles past four Barcelona players before poking the ball through towards Emmanuel Boateng, who luckily takes the ball past Ter Stegen before poking it into an empty net. 2-0.
'28 | Injury troubles for Barcelona. It's a familiar sight: Thomas Vermaelen has gone down feeling his hamstring and he's asked Valverde to be taken off. Gerard Piqué, who was rested for tonight, comes on.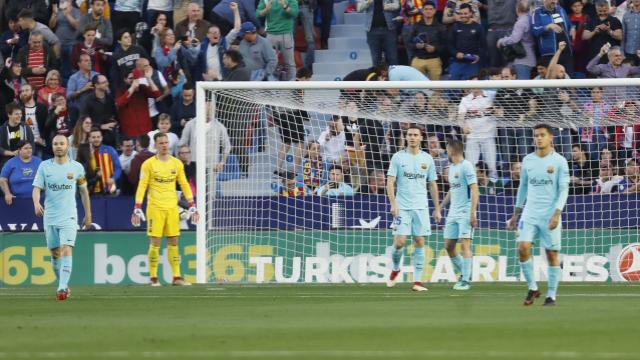 '25 | Barcelona are starting to make amends. Luis Suárez threads the ball through towards Ousmane Dembélé, who shakes off Luna and finds space for a shot, but Sergio Postigo is able to get a foot in the way of it.
'23 | If you haven't got Messi on the pitch, he can't help you, that's for sure. The players that are playing will have to do it all by themselves and Dembélé tries to set up Rakitic with a cheeky through ball, but Rober has read it.
'20 | It's safe to say that there are some problems for Barcelona. They don't look like the lethal team they've been throughout this season and without Messi it could be a hell of a job to turn this around and keep the unbeaten streak alive.
'16 | José Luis Morales has been tormenting the Barcelona defence tonight. The winger, nickamed Il Commandante, flashes past Jordi Alba and enters the box again, but this time Thomas Vermaelen deals with his delivery.
'11 | POST! | Barcelona are all over the place at the moment! A sharp cross from Roger Martí is missed by Emmanuel Boateng, but it breaks nicely for Enis Bardhi, who fires a powerful shot onto the inside of the post. Barça are let off the hook.
'9 | GOAL! | Levante - Barcelona 1-0. Boateng! Barcelona will have to dig very deep to maintain their unbeaten streak tonight it seems. José Luis Morales speeds past Yerry Mina and drills in a low cross that's turned behind Ter Stegen by Emmanuel Boateng.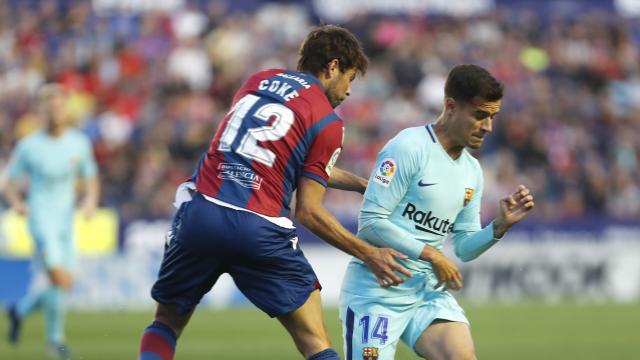 '7 | Levante have been in a brilliant form recently. Los Granotas were odds-on relegation favourites at one point, but with seven (!) wins in their last nine games they have managed to avoid the drop.
'4 | Lionel Messi hasn't travelled to Valencia for this penultimate game of the season. The striker has been rested for tonight's game as he wants to be fully fit for the World Cup, that starts in exactly one month tomorrow.
KICK-OFF | Barcelona have already claimed the La Liga title, but there are still two important games ahead for them. If they avoid defeat they'll crown themselves invincibles, starting with an away fixture against Levante.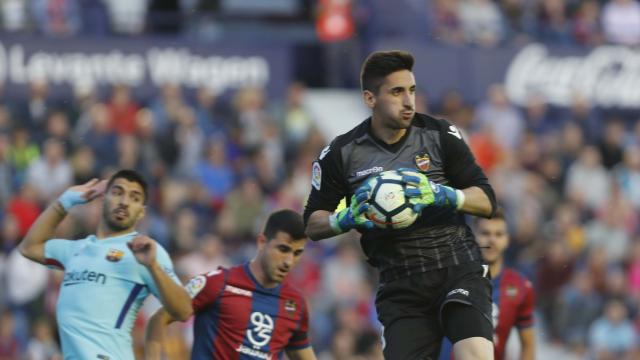 XI Levante | Oier; Coke, Rober, Postigo, Luna; Morales, Lukic, Gómez, Bardhi; Martí, Boateng.
XI Barcelona | Ter Stegen; Semedo, Mina, Vermaelen, Alba; Coutinho, Rakitic, Busquets, Iniesta; Dembélé, Suárez.