Keep up to date on the Europa League final between Marseille and Atlético in our live blog.
Europa League

LOM

Marseille

0
3

ATL

Atlético
FT | Atlético have won the Europa League! Simeone's men lift their third trophy in the last eight years in a final that was a bit of a mismatch. Antoine Griezmann's brace and Gabi's goal make it 0-3 in Lyon.
'90+1 | That's a great gesture from Atlético. With two minutes of time to be added on, Diego Simeone (or Mono Burgos) has decided to sub on the departing Fernando Torres, who replaces the big star of the night, Antoine Griezmann.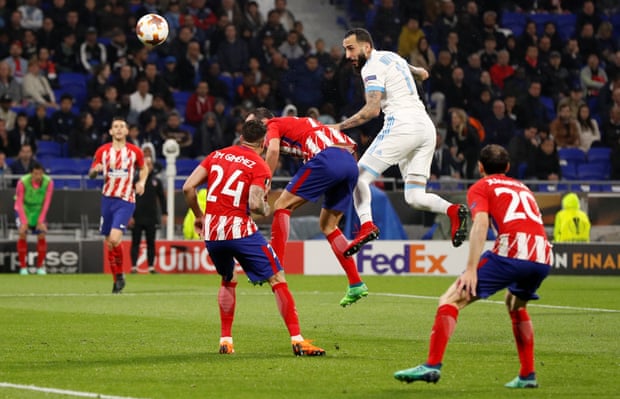 '89 | GOAL! | Marseille - Atlético 0-3. Gabi! The captain has sealed the victory for Atlético! Los Rojiblancos break away on the counter-attack as Koke squares the ball to Gabi, who finds the bottom corner with a classy finish. 0-3!
'86 | Adil Rami has not been the most secure defender tonight. He allows Antoine Griezmann to steal the ball off his feet and set up Diego Costa, but his effort is blocked out by Luiz Gustavo.
'83 | Marseille are giving it their all in an attempt to pull a goal back in the closing stages. Clinton N'Jie reaches the backline and provides a cutback for Jordan Amavi, but his powerful effort is gathered by Oblak.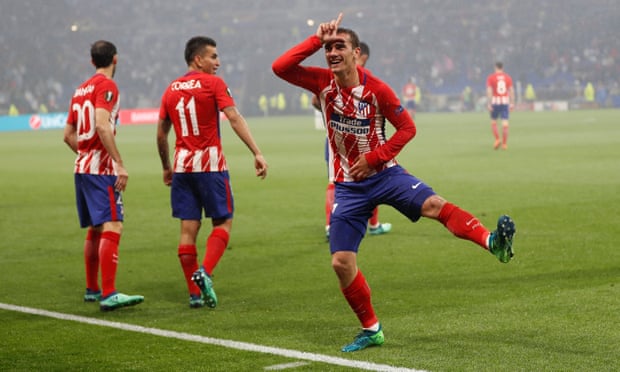 '81 | POST! | Oh my word! Marseille simply won't get any closer than this. Morgan Sanson curls a cross into the box and Mitroglou times better than Godín. Finally l'OM get the better of Oblak, but the ball ricochets off the inside of the post.
'79 | There's not much time left in Lyon and slowly Marseille start to realize that this just isn't their night. They've been nowhere near Atlético's level and they'll have to settle for the second place by the looks of it.
'74 | The third and final substitution for Marseille. Striker Valère Germain couldn't make an impact on this game and with sixteen minutes left on the clock he's replaced by Greek target man Konstantinos Mitroglou.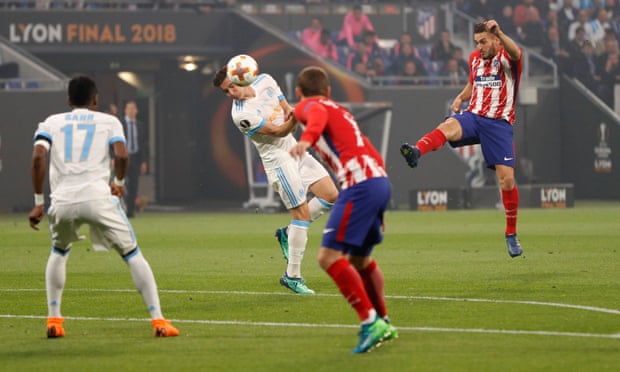 '70 | Steve Mandanda has kept Marseille alive there! Koke is looking for Diego Costa with a sharp cross that almost curls in immediately, but with a neat fingertip save Mandanda turns it over the target.
'69 | Shouldn't that have been a penalty for Atlético? Antoine Griezmann curls in a cross from the right-hand side and Saúl Ñíguez is able to connect with it with his head, but the ball is blocked out with the hand by Gustavo. Kuipers refuses to point to the spot.
'66 | That could have been the lifeline Marseille are looking for. Maxi López bends the ball into the box and Valere Germain is able to head it back towards Morgan Sanson, but his shot flies over the bar.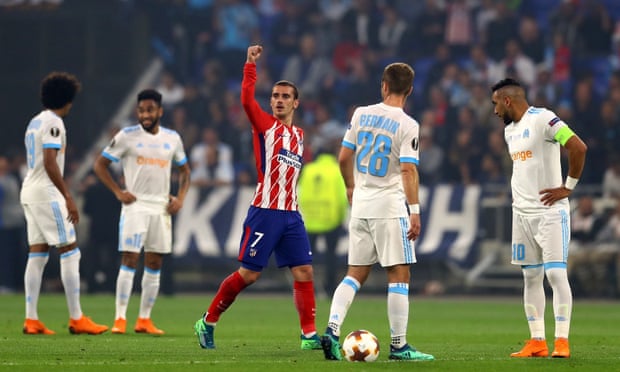 '64 | Atlético are not giving anything away at the moment and slowly Marseille need to start realizing that they've got nothing to lose. They need to take more risks and maybe throw an extra striker on in Mitroglou.
'59 | It's still eleven v eleven at the Groupama Stadium, but it feels as if Atlético have two or three more players on the pitch. The Spanish giants are in full control and they're cruising towards their third Europa League victory.
'55 | A second substitution for Olympique Marseille, who'll have to try something to get back into this game. Lucas Ocampos, one of the better players tonight, is taken off and replaced by fellow winger Clinton N'Jie.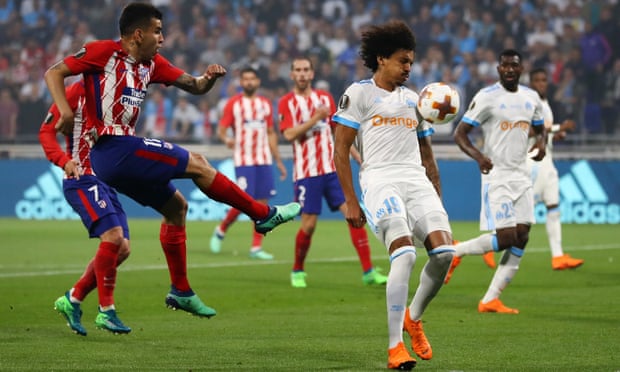 '52 | It's been a brilliant start to this second half for Atlético. Antoine Griezmann is on a hat-trick and he would love to get it. He cuts inside from the right wing and unleashes a shot, but it flies wide off Luiz Gustavo's knee.
'51 | Atlético really look like they want to get the job done. Diego Costa has been very quiet tonight, but that probably makes him even more dangerous. He almost collects the ball inside the box, but Rami taps the ball off his feet and just wide of Mandanda's goal.
'49 | GOAL! | Marseille - Atlético 0-2. Griezmann! Atlético have been absolutely lethal! They've doubled their lead and it's a familiar scorer. Griezmann works out a one-two with Koke and catches Amavi on the inside before dinking the ball past Mandanda. 0-2.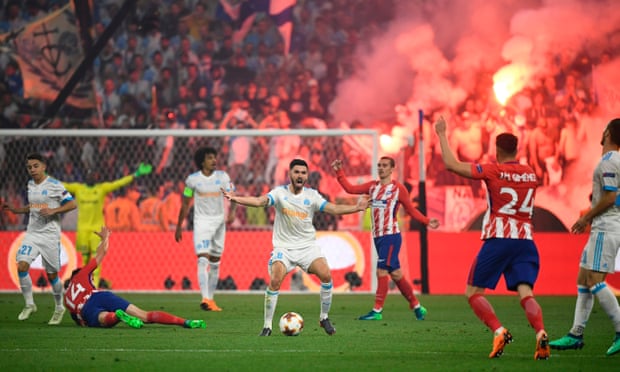 '48 | Atlético won't leave their defensive mode from here, but a second goal would be welcome nonetheless. Ángel Correa spins away from Adil Rami, but before he can shoot he's tackled off the ball by Zambo Anguissa.
'46 | Diego Simeone is still serving a suspension in the stands, but his main assistant Mono Burgos has made one substitution at the interval. Booked Sime Vrsaljko has come off, Juanfran has been subbed on.
HT | Half time! Marseille had a bright start to this Europa League final, but after an awful mistake from Zambo Anguissa it was Griezmann who put Atlético in a 0-1 lead they've been defending since.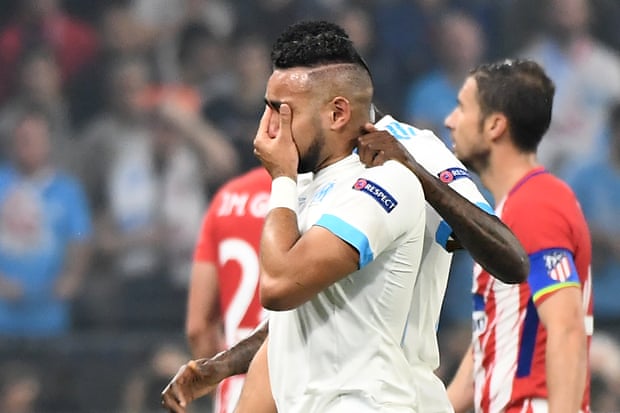 '45 | Half time is closing in in the south of France and Marseille give it another try. Jordan Amavi curls in a sharp inviting cross towards Valère Germain, but the lone striker loses his aerial battle with Saúl Ñíguez.
'42 | Atlético allow Marseille to have the ball and cover some space, but as soon as they threaten to reach the final third, Atlético have two banks of four in front of their own area where they can't find a way through.
'38 | It's getting foggy in Lyon. The Marseille fans are still having a party despite the score as they are litting quite a few flares and candles, which is slowly covering the stadium in a thick turbid haze.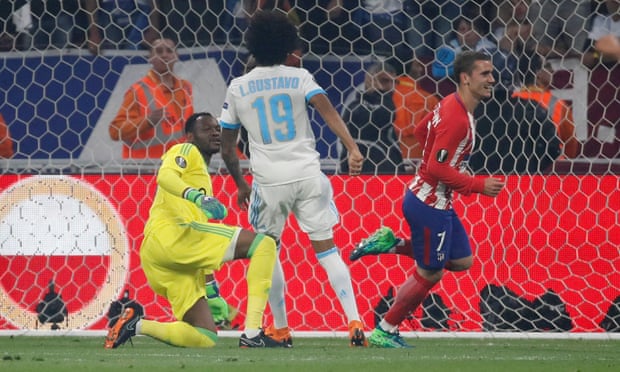 '36 | The little hold in play when Payet got subbed off, has been exactly what Atlético needed. They're slowly killing this game and controlling it, exactly the way they have been doing it for years now.
'32 | It's turning into a very disappointing night for Marseille. Dimitri Payet is down to tears and he can't carry on. It's heart-breaking to see the midfielder walk off the pitch, while Maxi Lopez comes on to replace him.
'29 | It's been an intense final so far and both sets of fans have been in fantastic voice. Especially the Marseille fans have been wonderful, but that's not the biggest surprise given that they only had to travel for three hours to get in Lyon.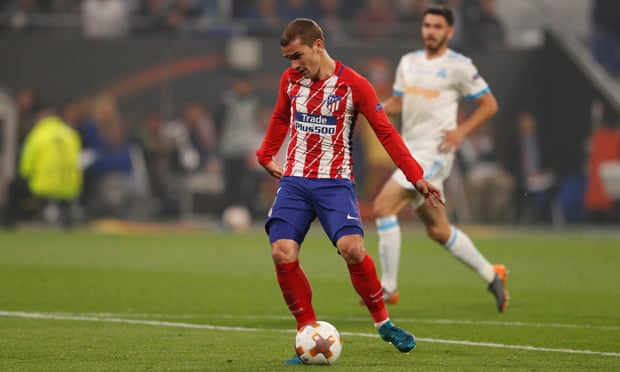 '24 | Marseille have been the better team so far, but they have to bounce back after conceding. Dimitri Payet pings a free kick into the area and Atlético fail to clear as Lucas Ocampos puts a looping header on top of the goal.
'21 | GOAL! | Marseille - Atlético 0-1. Griezmann! That's a horrible mistake from Marseille! Mandanda passes the ball towards Zambo Anguissa, who can't get his first tocuh right and hands position to Gabi. The captain puts Griezmann in with a wonderful direct pass and the striker just won't miss chances like that: 0-1.
'19 | Dimitri Payet has undoubtly been one of the MVP of this season's Europa League, but he's hoping to have an impact on this final as well. He takes aim with a shot from distance, but it's too weak to worry Jan Oblak.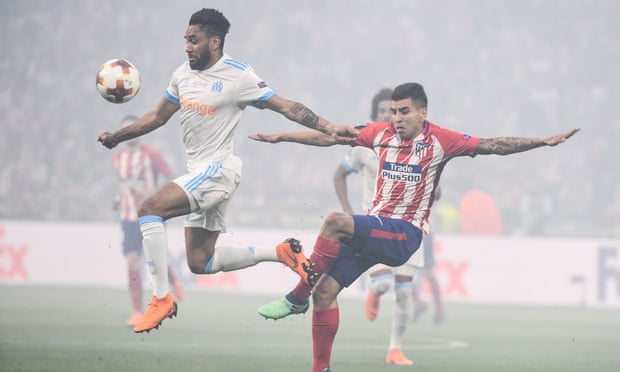 '15 | Fifteen minutes gone in Lyon and it's been a good watch so far. A loose ball drops nicely for Koke on the edge of the box and the midfielder tries a volley, but he's unable to get his effort on target.
'12 | Marseille have dominated possession in the opening stages and for the third time they threaten Atlético's goal. Zambo Anguissa lays the ball off to Bouna Sarr, who slightly mishits a shot from distance and puts it wide.
'9 | Diego Costa has played a lot of these big games and he'll always find a way to get under the defenders' skin. He cheekily pushes Adil Rami aside, but referee Björn Kuipers spots it and blows his whistle.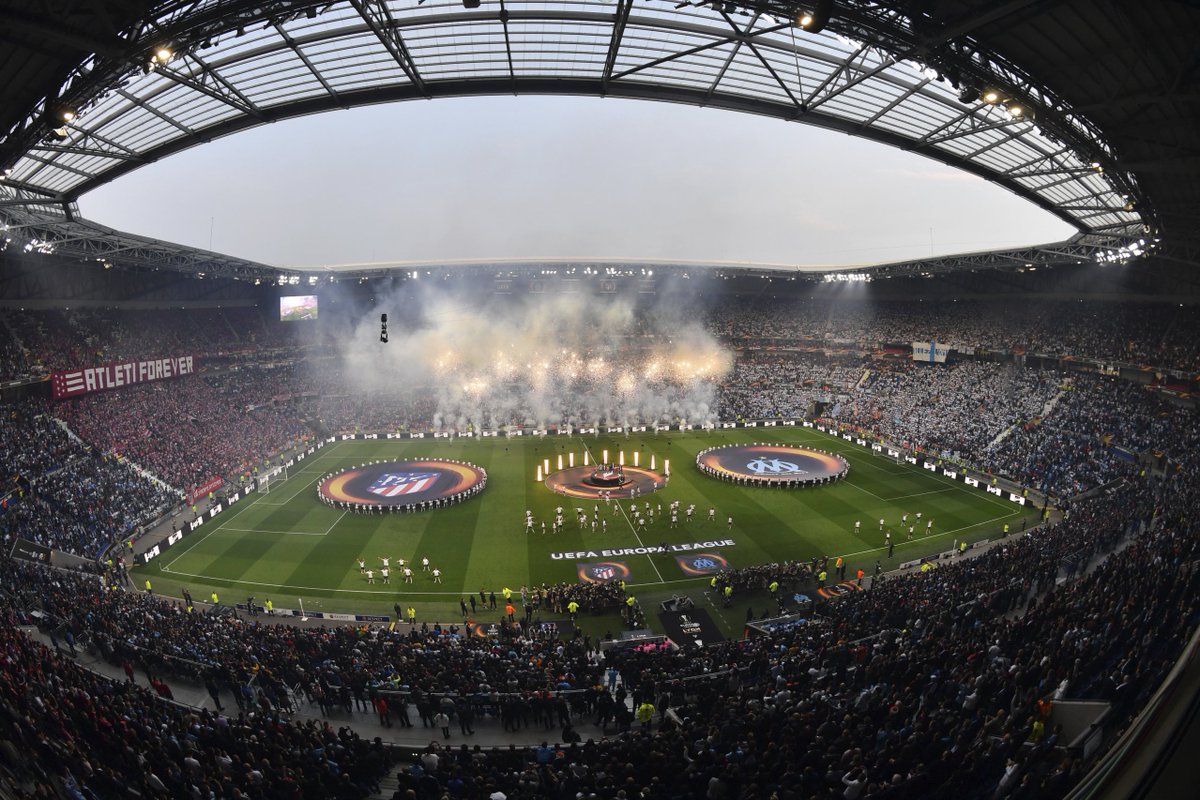 '6 | Atlético were odds-on favourites coming into this game, but the first two chances have been for Marseille. A corner kick is cleared, fired back in by Morgan Sanson, blocked by Gabi and picked up by Adil Rami, who turns around and puts a shot over the bar from the edge of the area.
'4 | Marseille should have opened the scoring there! Dimitri Payet seemed to have a lot of space to shoot, but instead he puts Valère Germain one on one with Oblak with a wonderful pass. The striker skies the gilt-edged opportunity.
KICK-OFF | The 2017/18 Europa League final is underway! Atlético are hoping to make it their third victory in eigth years, but Olympique Marseille are chasing the first French victory ever in Lyon. Let's hope for a frantic final.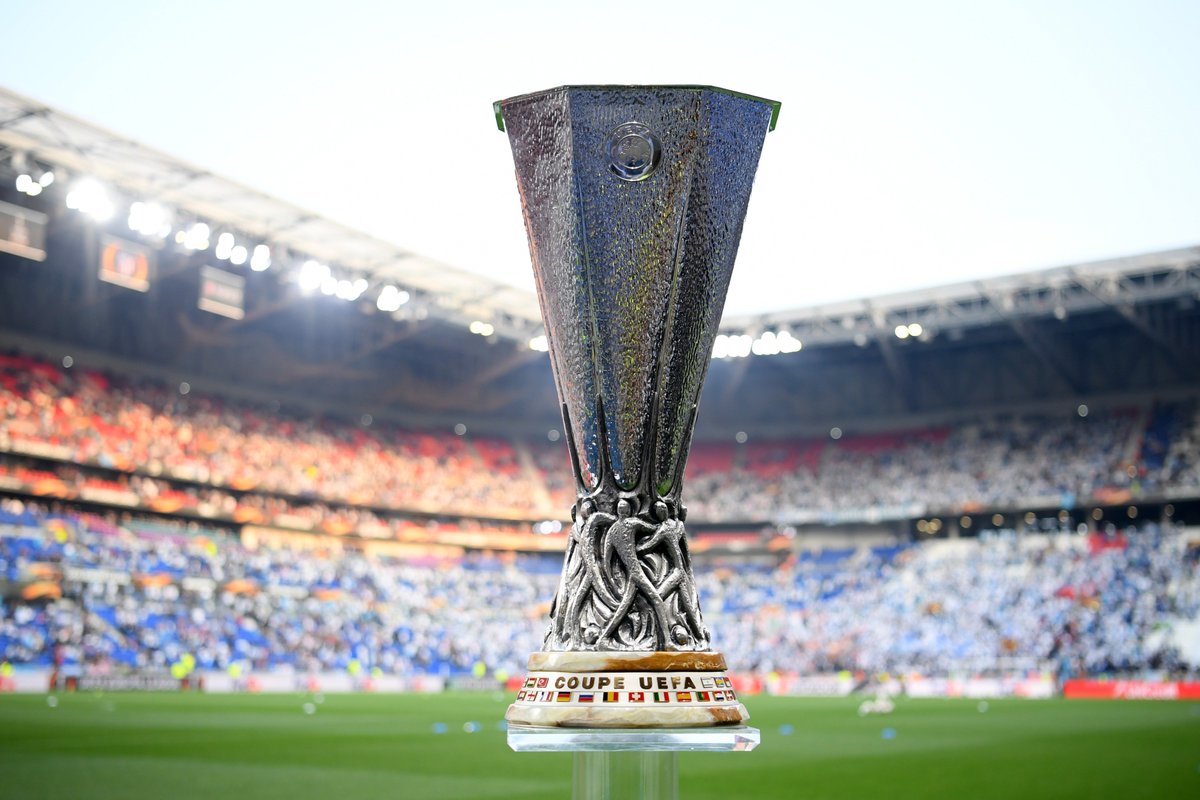 XI Marseille | Mandanda; Sarr, Rami, Gustavo, Amavi; Zambo Anguissa, Sanson; Thauvin, Payet, Ocampos; Germain.
XI Atlético | Oblak; Vrsaljko, Gimenez, Godín, Lucas; Correa, Saúl, Gabi, Koke; Griezmann, Costa.