Keep up to date on the 2018 World Cup opening game between Russia and Saudi Arabia on our live blog.
2018 World Cup

RUS

Russia

5
0

SAU

Saudi Arabia
Video source: Streamable.com
FT | Game over at the Luzhniki Stadium. The World Cup has started with a bang as hosts Russia absolutely batter a poor Saudi Arabia. They win 5-0 and they've made a first step towards reaching the round of 16.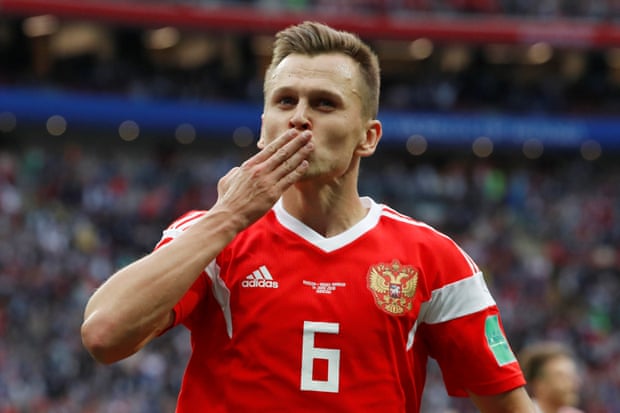 '90+4 | GOAL! | Russia - Saudi Arabia 5-0. Golovin! No-one expected anything from Russia at this World Cup, but they have just registered the biggest ever win in the opening game. Aleksandr Golovin scores from a free kick and now has a goal and two free kicks. 5-0!
'90+1 | GOAL! | Russia - Saudi Arabia 4-0. Cheryshev! Wow! What a way to end this game. Denis Chertshev's first goal was one of pure class, but this one is even better. Dzyuba knocks the ball down for the winger, who finds the top corner with a stunning trivela strike. 4-0.
'86 | Former Chelsea player Yuri Zhirkov is known for his fabulous kicking technique and he shows that with a dangerous free kick. He almost finds Denis Cheryshev at the backpost, but the ball is intercepted by Al Shahrani.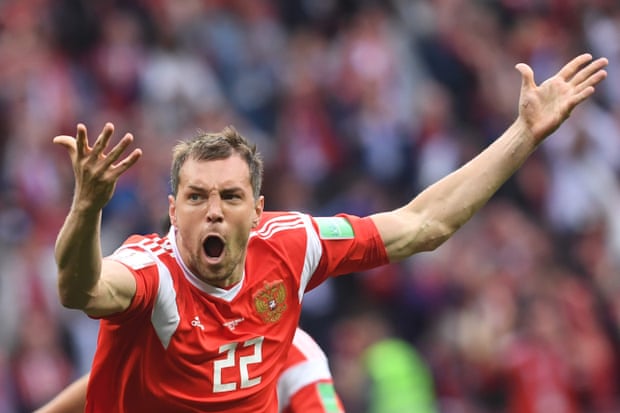 '84 | Russia know that they've won this game and they're not trying too hard to add more goals. Daler Kuzyaev picks up the ball and has an ambitious go from distance, but his ball has probably landed in the Wolga river.
'80 | Ten minutes to go and it's safe to say that Saudi Arabia are not the strongest outfit at this World Cup. They'll have some troubles in their next games, when they have to defend Luis Suárez and Mohamed Salah.
'76 | Russia have got fifteen minutes left to make this the highest-scoring opening game ever at a World Cup. They'd need one more goal to equal Brazil's record-winning 4-0 victory over Mexico back in 1958.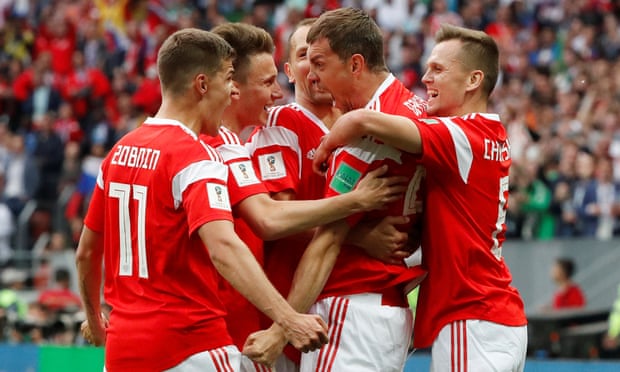 '72 | GOAL! | Russia - Saudi Arabia 3-0. Dzyuba! How about that!? Artem Dzyuba only needs two minutes to make his mark since coming on. Aleksandr Golovin collects another assist with a fabulous cross that's headed home by the attacker. 3-0.
'70 | With twenty minutes left on the clock coach Stanislav Chercheshov decides to use his final substitution. Fedor Smolov couldn't find his goal today and now it's up to Artem Dzyuba to seal the victory as Russia's lone striker.
'68 | That's close for Russia, who get their first shot on target in the second half. Roman Zobnin finds some space for a shot and Al Maiouf flaps at it, but Al Burayk is able to clear the ball before Smolov turns home the rebound.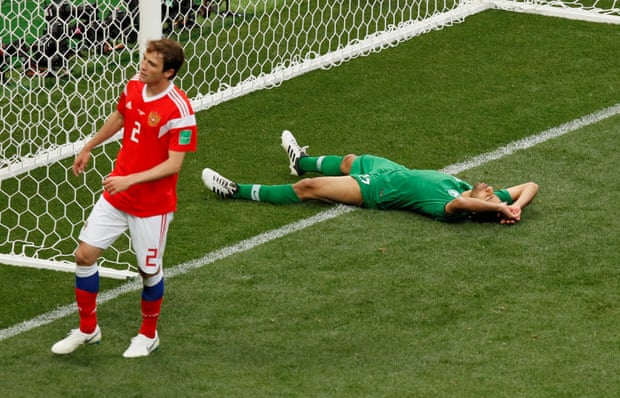 '64 | The first substituion of the game for Saudi Arabia and coach Juan Antonio Pizzi is trying to change some things up front. Fahad Al Muwallad replaced Abdullah Otayf, while Aleksandr Samedov is taken off and replaced by Daler Kuzyaev.
'60 | Thirty minutes left in this World Cup opener and the second half has been pretty stale. Russia allow Saudi Arabia to play the ball around, but as soon as it gets dangerous they lose the ball right away.
'56 | That's the biggest chance Saudi Arabia have created in this game. Al Faraj curls in a threatening cross and both Al Jassim and Al Sahlawi try to reach out to the ball, but they can't get connection with the ball.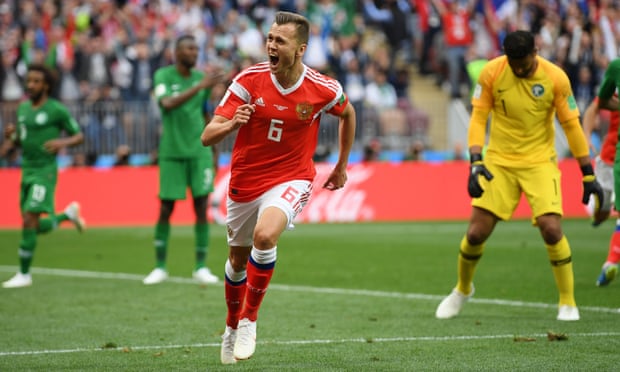 '52 | A third goal for Russia would help them to secure the victory in this game. Denis Cheryshev picks out Aleksandr Samedov in a lot of space, but the Russian winger is unable to keep his shot down.
'49 | We've kicked off the second half and things haven't changed a lot. Russia keep attacking and they're looking for more goals. Fedor Smolov looks lively up front again, but Hawsawi keeps him from getting dangerous.
HT | The first 45 minutes of the World Cup have been played and looks like Russia are going to kick off their own party in style. They lead Saudi Arabia 2-0 thanks to goals from Yuri Gazinskiy and Denis Cheryshev.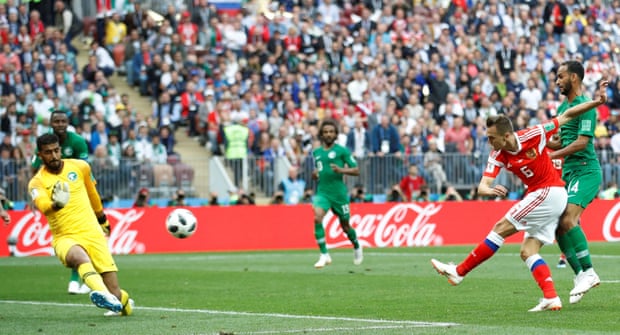 '43 | GOAL! | Russia - Saudi Arabia 2-0. Cheryshev! Russia have doubled their lead and it's the substitute who has done it! Golovin spots Cheryshev in a lot of space and despite delivering a poor pass, the finish is absolutely beautiful. Denis Cheryshev sends two defenders back to Saudi Arabia with one move of the foot before blasting the ball into the back of the net. 2-0!
'41 | We're getting closer to half time in Moscow and so far everything is going to plan for Russia. They look motivated, but after scoring the opening goal they've dropped back and invited Saudi Arabia to get a foothold in this game.
'37 | That's the first time referee Nestor Pitana has used the Video Assistant Referee at this World Cup. Smolov goes down inside the box after alleged contact with Hawsawi, but the referee refuses to put the ball down the spot.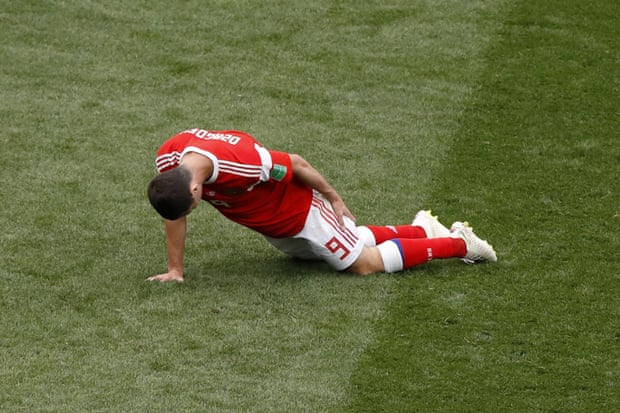 '34 | Fedor Smolov is one of the players that the Russians are expecting big things from. The striker makes a run into the box and tries to go past Osama Hawsawi with a cheeky elastico, but he ends up losing the ball.
'31 | Saudi Arabia get a free kick in an appealing position and it's up to Salman Al Faraj to curl the ball into the box. He's able to find left-back Yasser Al Shahrani, but he's unable to get his header on target.
'27 | Former Real Madrid prospect Denis Cheryshev needs to fill Alan Dzagoev's boots and he goes on a first adventure. He tries to square the ball towards Aleksandr Golovin, but he can't get it past Al Burayk.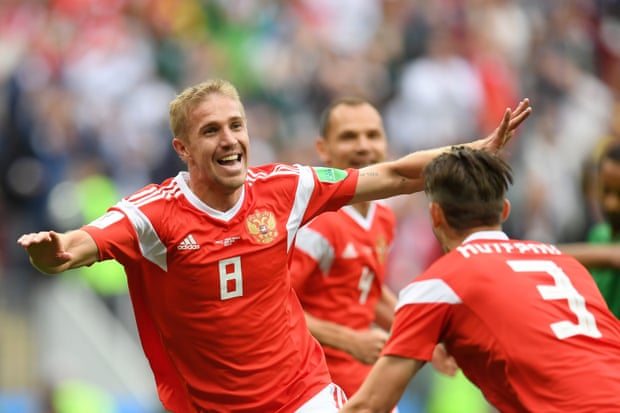 '23 | Alan Dzagoev's World Cup might well have lasted only 23 minutes. Russia break away on the counter-attack and the midfielder goes down with what looks like a hamstring tear. He limps off and is replaced by Denis Cheryshev.
'21 | That's more like it from Saudi Arabia! Salem Al Dawsari crosses the ball and almost reaches Mohammad Al Sahlawi in the centre of the box, but his shot is blocked out by Russian defender Igor Kutepov.
'19 | Saudi Arabia have looked a mess so far, but last week they've shown what they can do when they only lost 2-1 away at Germany. They need to shake off their nerves and start performing the way they can quickly if they want to get a result out of this opener.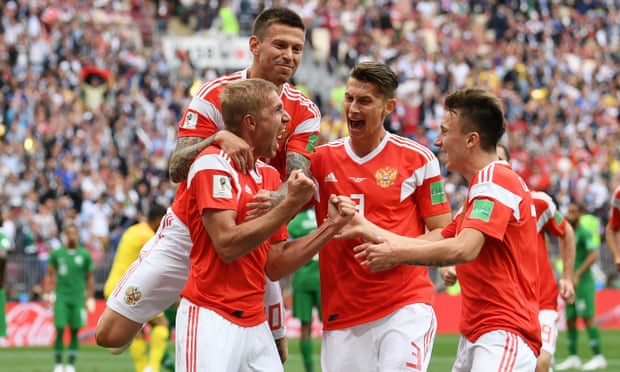 '16 | Russia are trying to get the job done as quickly as possible. Mário Fernandes seems to be offside but he's put through on goal. He cuts the ball back and Omar Hawsawi almost turns it into his own net, but Al Maiouf is able to get a hand onto the ball.
'12 | GOAL! | Russia - Saudi Arabia 1-0. Gazinskiy! We've got ourselves the first goal of the 2018 World Cup! It has only taken Russia twelve minutes to get off the mark as midfielder Yuri Gazinskiy heads home from a tremendous Aleksandr Golovin cross. 1-0.
'10 | We've survived the first ten minutes of the 2018 World Cup and you can easily feel the tension inside this stadium. There's an awful lot of pressure on Russia, who are still trying to settle their nerves.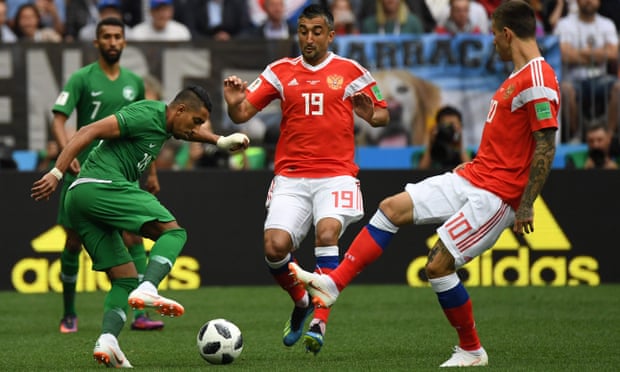 '6 | Saudi Arabia enjoy a long spell of possession as Yahya Al-Shehri plays the ball back towards his goalkeeper Abdullah Al Maiouf. It's a bit short and Fedor Smolov almost manages to intercept, but Saudi Arabia are let off the hook.
'2 | Russia are urged to go forward by the Luzhniki Stadium and they manage to enter the opposing box for the first time. Fedor Smolov tries to find space for a shot, but he's tackled off the ball in time by Osman Hawsawi.
KICK-OFF | 67 games. 32 nations. At least 5670 minutes of breath-taking football that are going to result in only one winner. We're underway at the biggest party in football: the World Cup! The opening game between Russia and Saudi Arabia is underway at the Luzhniki Stadium.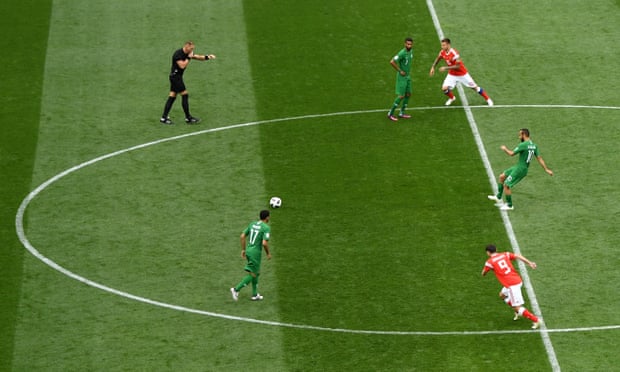 XI Russia | Akinfeev; Fernandes, Kutepov, Ignashevich, Zhirkov; Gazinskiy, Zobnin, Samedov, Golovin, Dzagoev; Smolov.
XI Saudi Arabia | Al Maiouf; Alburayk, Hawsawi, Hawsawi, Al Shahrani; Otayf, Al Dawsari, Al Faraj, Al Jassam; Al Shehri, Al Sahlawi.