Keep up to date on the 2018 World Cup quarter final between Russia and Croatia in our live blog.
2018 World Cup

RUS

Russia

2
2

CRO

Croatia
Video source: Streamable.com
FT | CROATIA WIN 4-3 ON PENALTIES!
FIFTH PENALTY FOR CROATIA | Rakitic scores! 3-4.
FIFTH PENALTY FOR RUSSIA | Kuzyayev scores! 3-3.
FOURTH PENALTY FOR CROATIA | Vida scores! 2-3.
FOURTH PENALTY FOR RUSSIA | Ignashevich scores! 2-2.
THIRD PENALTY FOR CROATIA | Modric scores! 1-2.
THIRD PENALTY FOR RUSSIA | Fernandes misses! 1-1.
SECOND PENALTY FOR CROATIA | Kovacic misses! 1-1.
SECOND PENALTY FOR RUSSIA | Dzagoev scores! 1-1.
FIRST PENALTY FOR CROATIA | Brozovic scores! 0-1.
FIRST PENALTY FOR RUSSIA | Smolov misses! 0-0.
PENALTIES | The first 90 minutes were bland; what followed was far more entertaining. Domagoj Vida headed Croatia into a 2-1 lead early on, before Mario Fernandes responded with a header of his own five minutes from time. We will now go to penalties.
'118 | Roman Zobnin gets in a low shot that Danijel Subasic, carrying a knock remember, does well to keep out down to his right. There are just 120 seconds of extra time remaining - time for one more dramatic twist in Sochi.
'115 | GOAL! Russia - Croatia 2-2. Fernandes! Unbelievable! There is just not killing off Russia. From the free kick conceded by Pivaric, Brazil-born Mario Fernandes got his head to the ball and guided it out of Subasic's reach into the far corner. Superb scenes in Sochi!
'114 | Cherchesov is urging supporters to get out of their seats and make some noise. The Sochi crowd responds, and it nearly pays off as Daler Kuzyayev thumped the ball on target for a rare Subasic save. Russian throwing everything a Croatia now.
'111 | Gazinsky is cautioned for a foul, meaning that he will miss the semi-final against England if Russia recover in the next 10 minutes. A short stoppage in play now following a clash of heads.
'108 | Russia now simply have to go for it, throwing every player forward. They have been far too reserved tonight - a tactic that worked wonders against Spain, but has not had the same sort of outcome against Croatia.
'104 | Cherchesov now has no choice but to twist, so on comes Alan Dzagoev for Aleksandr Golovin. Russia have a little over 15 minutes to rescue themselves after that Vida goal. The centre-back has just been cautioned for a foul.
'101 | GOAL! Russia - Croatia 1-2. Vida! An unlikely source gives Croatia one of the biggest goals in their history. From a corner that should never have been conceded, Russia failed to pick up Domagoj Vida and the defender guided the ball goalwards. Corluka may have got a touch on its way through.
'98 | Not really sure what happened to cause this injury to Vrsaljko, but he is clearly in some pain. Dalic is reluctant to make the change for now as there are still concerns about the fitness of goalkeeper Danijel Subasic.
'95 | Danijel Subasic is back out for the start of extra time, by the way, with the diagnosis being that he was suffering from cramp, rather than pulling his hamstring. A potential disaster was averted and Dalic can now use his final sub wisely.
'90+3 | As has been the case pretty much throughout the match, Croatia are putting together passes galore without doing anything with the ball in the final third. Extra time and possibly penalties await in what has been far from a classic.
'90 | Croatia's players are deep in conversation, likely discussing who will see out this match between the sticks if Subasic is unable to recover. The physios are working on him in a desperate attempt to get the Monaco goalkeeper into a position whereby he can continue.
'87 | Russian having to really get stuck in as we approach the end of normal time as a couple more crosses come into the box. It is looking like we will play a further 30 minutes, unless one of these sides can find what seems an unlikely goal.
'84 | Golovin sends a good delivery into the mix from a free kick, but it is a Croatian head that gets to it first. Modric is being given more space to work with in midfield now, but it is not really making much different for the Vatreni.
'81 | A third change for the Russians; Artem Dzyuba is replaced by Yury Gazinsky, who scored the first goal of the finals. Dzyuba has put in a good shift up top and looks shattered as he makes way.
'78 | The Russian supporters can barely watch as the ball falls nicely to Modric. The midfielder's shot did not find the target, while Sime Vrsaljko's follow-up attempt was blocked behind for a corner, from which Mandzukic fluffed his lines.
'75 | I make this Russia's second serious attack of the second half. The ball eventually comes into the box from Fernandes, and substitute Aleksandr Erokhin was first to it, heading the ball over the crossbar - good chance.
'72 | Russia still unable to really get out of their own final third. This is a game crying out for Luka Modric to grab it by the scruff of its neck, but the Real Madrid maestro has been unable to truly do so over the opening 70 minutes.
'69 | Looking like just a matter of time before Croatia find a breakthrough at this rate. The 'visitors' are turning possession into opportunities in the final third, whereas Russia are having to rely on set-pieces at the moment.
'66 | Ivan Perisic has been replaced by Marcelo Brozovic, moments after wasting that big chance - Modric will push further forward. Before that, Artem Dzyuba leapt highest but had his header kept out by Danijel Subasic.
'63 | A glorious chance goes begging for Croatia. Russia fell apart at the back and a loose ball fell nicely for Ivan Perisic, who set himself and looked to pick out the bottom corner. The ball rolled through and hit the post - the finest of margins!
'60 | Russia's tactics are clear to see, sitting back and looking to make the most of any counter-attacking opportunities. One such opportunity has just come and gone; Cheryshev lacked the pace to get away from his man and could not poke the ball through for a teammate.
'57 | Russia are not giving their opponents any real opportunity to get the ball into the feet of Modric. Croatia are bossing possession but, much like Spain in the previous round, their play is not quite vertical enough at the moment.
'54 | Rebic does brilliantly to keep the ball in play and eventually get a cross into the box. The initial delivery is dealt with, but it comes back in from the other side and Kramaric's acrobatic attempt is into the hands of Akinfeev.
'51 | Cherchesov is barking out instructions to his players from the touchline - he never appears to be too happy, despite this magical run to the last eight. No change to the flow of the match; Croatia racking up the passes in defence and midfield.
'48 | A quiet start to the second half, much in the same was as the first. Croatia are being allowed to knock the ball around, but it is pretty much away from the final third of the field, where they are unable to hurt their opponents.
HT | The referee signals for half time at the Fisht Olympic Stadium. Denis Cheryshev put Russia in front with a goal of the tournament contender - yet another for the Villarreal ace - before Andrej Kramaric levelled up eight minutes later in Sochi.
'45 | The 45 minutes are up at the Fisht Olympic Stadium, with two more to be added on. Croatia have had seven shots to Russia's six in a first half that has improved as it has gone on, and there is still time for one of these sides to edge in front.
'42 | Credit to Mandzukic for the assist and Kramaric for converting, but that has to go down as poor defending from the Russians. After a poor opening quarter to the match, things have well and truly burst into life in Sochi.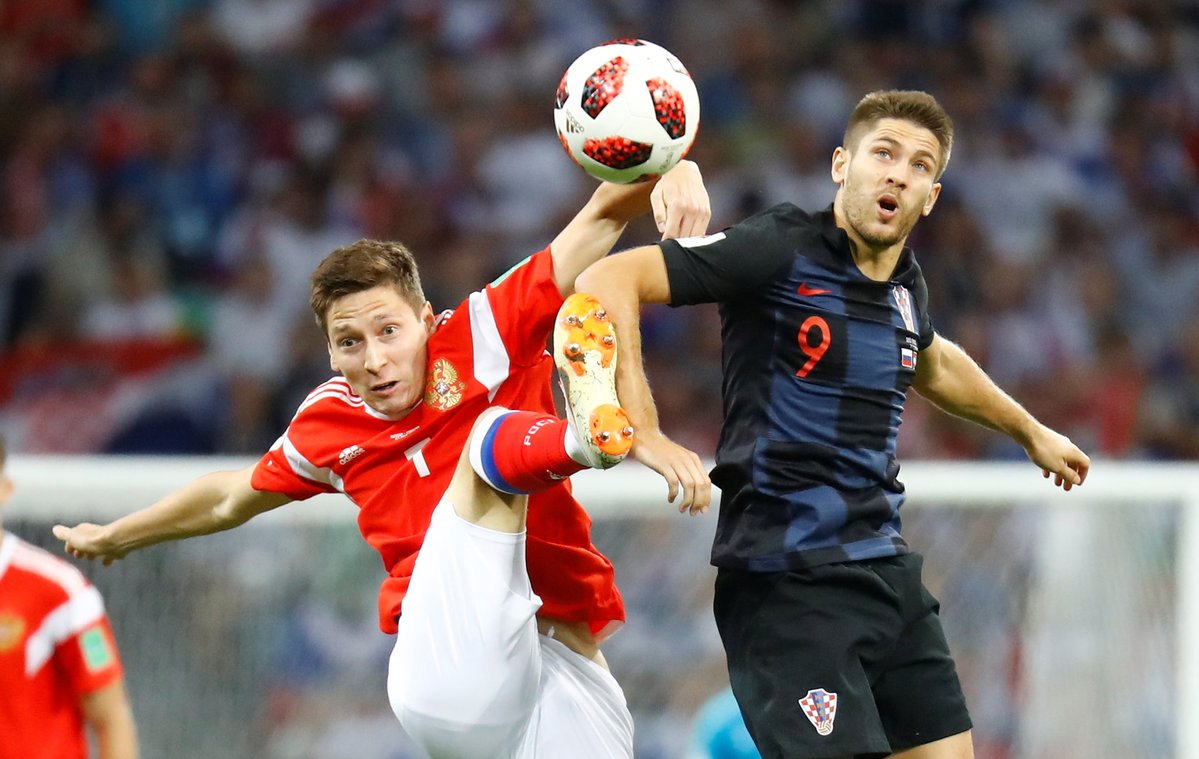 '39 | GOAL! Russia - Croatia 1-1. Kramaric! Great response from Croatia, as Andrej Kramaric has them back on level terms eight minutes after falling behind. Sergey Ignashevich failed to close down Mario Mandzukic, who chipped the ball into the middle for Kramaric to nod past Igor Akinfeev.
'37 | If Croatia were having the better of things at 0-0, it is Russia who have been the more threatening since that superb Cheryshev strike. Kramaric runs out of space down the left but still manages to get a cross into the box, which is cleared away.
'34 | Croatia are looking rattled following that Russian goal out of nowhere. Dejan Lovren is cautioned for bringing down his man, but he is one of the rare Vatreni players who is not walking a disciplinary tightrope.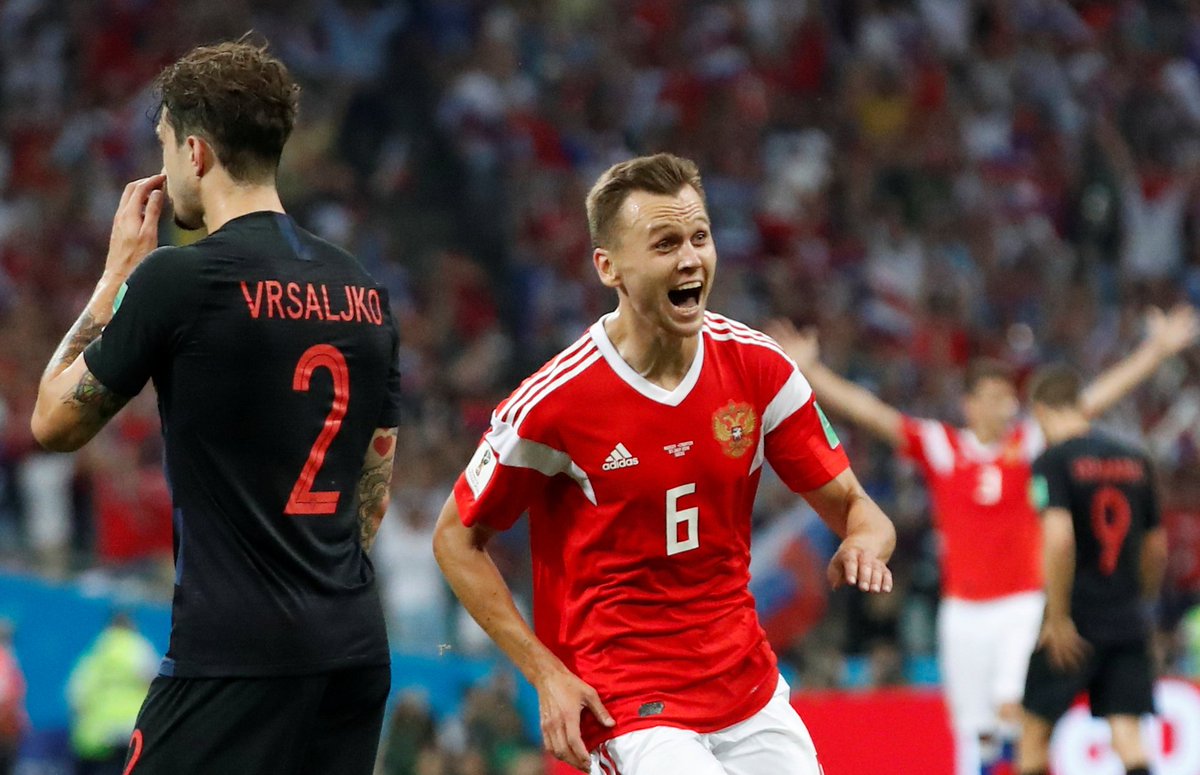 '31 | GOAL! Russia - Croatia 1-0. Cherishev! The Villarreal man wrapped his foot around the ball from 25 yards, sending it curling out of Danijel Subasic's reach - the keeper barely moved!
'30 | Ivan Perisic swoops down to get his head to a cross, sending it wide of the target. Cheryshev whips in a free kick up the other end a few moments later, which went right the way through for Subasic to gather with both hands.
'27 | Russia's turn to knock the ball around now. They could not string many passes together against Spain, but this game is not quite as one-sided just yet, even if Croatia have looked the better side. The game needs something to happen for it to spark into life.
'24 | Croatia have had 67% of the ball so far - not quite Spain territory, but they are getting there. The Vatreni are pretty direct, although at the same time they will not just lump the ball forward if they can find a better route to goal.
'21 | No shots on target from either side thus far in Sochi. Croatia have had the better of things, controlling possession and creating a couple of half-decent opportunities, neither of which they have been able to take.
'18 | Vrsaljko again with some positive running down the right, but he cannot pick out a teammate at the end of this latest move. From that, Russia quickly countered down the same flank, only for the attack to fizzle out before they could muster a shot. Ivan Rakitic takes on the free kick from an inviting position, but he can only lift it over the bar.
'15 | Another decent opportunity goes begging for Croatia. Vrsaljko created some space down the right and managed to pick out Mandzukic, who skied the ball from seven yards in front of goal. Russia living dangerously.
'12 | Croatia really starting to assert their authority on proceedings now, with another corner kick being won. It comes to little, but there is no real respite for the hosts as another attacking move is soon put together by the Vatreni.
'9 | Ante Rebic with some really good play, holding off his man and turning in the box before firing the ball across goal. Igor Akinfeev, who seems to have been around for an eternity despite being aged just 22, gets two hands to it to prevent a tap-in.
'6 | Golovin gets the ball into the box from the right and it is only half-cleared into the path of Dzyuba. The striker really put his foot through it, seeing his shot blocked aside for a corner. Croatia have been unable to really get out of their own half.
'3 | The home fans are out of their seats as Denis Cheryshev charges into the box, only for his shot to be blocked before it could reach Danijel Subasic. A bright start from the Russians, who are feeding off the noise from the stands.
KICK OFF | And we're off!
XI Russia | Akinfeev; Mario Fernandes, Ignashevich, Kutepov, Kudryashov; Zobnin, Kuzyaev; Samedov, Golovin, Cheryshev; Dzyuba.
XI Croatia | Subasic; Vrsaljko, Vida, Lovren, Strinic; Rakitic, Modric, Rebic, Kramaric; Perisic, Mandzukic.