Keep up to date on the 2018 World Cup quarter-final between Sweden and England in our live blog.
2018 World Cup

SWE

Sweden

0
2

ENG

England
Video source: Streamable.com
FT | Is football really coming home!? England have reached their first World Cup semi-final since 1990. They've never really been in trouble in this game against Sweden as Harry Maguire and Dele Alli goals put them through with a 0-2 win.
'90 | Harry Maguire fouls Andreas Granqvist on the edge of the box and the resulting free kick seems to be the final chance for Sweden to get back into this game. Ludwig Augustinsson tries his luck, but skyrockets the ball into the stands.
'88 | That could have been the third goal for England. Fabian Delph works his way into the box and seems to walk into a dangerous shooting position, but he leaves the ball for Raheem Sterling, who didn't anticipate.
'84 | Eric Dier sent England into this quarter-finals by converting the winning penalty in the nail-biting shoot-out last week and he's earned himself a few minutes in this match as well as he replaces captain Jordan Henderson.
'82 | Sweden need to take risks and they're allowing England a lot of space on the breakaway. Jesse Lingard has all time and space to settle the destination of this game, but his shot is blocked by Victor Lindelöf.
'79 | England look very professional in this second half and their lead has never been in doubt. They're on their way to the semis and they'll be favourites their either way, as their opponents will come out of the clash between Russia and Croatia later tonight.
'75 | That's quite some acting from Dele Alli. The board goes up showing the goal scorer's number, but he's pretending he hasn't seen it. In the end he does go off to be replaced by Man City's Fabian Delph.
'71 | Sweden have had some chances in this second half, but still you think they won't be able to recover from this. Pickford pulls off another remarkable reflex to deny Marcus Berg, who volleyed home from a John Guidetti cross.
'67 | Harry Maguire is already living a dream today, but it could have been even better there. Sweden fail to clear a corner kick as it ends up right in front of the big defender's feet, but he sends a left-footed strike into row Z.
'65 | Double substitution for Sweden. Ola Toivonen has worked his socks off in front of attack, but he's taken off along side Emil Forsberg, who are replaced by John Guidetti and Martin Olsson. Can they spark a turnaround?
'62 | Jordan Pickford simply won't allow Sweden to get a goal today! Toivonen crosses it low and after a neat stepover from Berg there's a huge chance for Claesson, but his low shot is kept out by the goalie. Claesson follows it up with another shot, but Henderson blocks.
'59 | GOAL! | Sweden - England 0-2. Alli! And that's another step closer for England to actually bringing it home! Dele Alli has doubled the Three Lions' margin with his first goal of the tournament as he heads home from an inviting Raheem Sterling cross. 0-2!
'57 | Kieran Trippier bends a corner kick into the penalty area and Jordan Henderson goes down. Björn Kuipers and the VAR don't do anything and in the end Lindelöf is able to get the ball away.
'54 | England's set-pieces are unbelievably dangrous and they almost help them to get a second goal. Maguire heads the ball off to Sterling, who mishits a spectacular bicycle kick. The ball falls back to Maguire, but this time his header is cleared by Lindelöf.
'52 | Sweden look way more positive in the second half and they're going to try and trouble England. Emil Forsberg cuts inside and unleashes a cross that turns into a shot, but it flies just over the bar.
'47 | It's up to Sweden to come up with an answer in the second half and they almost do that right away! Ludwig Augustinsson crosses the ball towards Marcus Berg, who beats Ashley Young in the air before getting denied by Pickford, who saves magnificently.
HT | And that's the end of the first half in Samara. Sweden didn't register a single shot on goal in the first half and despite being pretty poor as well, England lead at the interval thanks to Maguire's bullet header.
'45 | Oh goodness me, that should have been the second goal for England! Henderson puts Sterling through on goal with a wonderful long ball, but he's denied by Olsen. There's still a chance to follow it up, but with options in front of goal he has a second shot blocked by Granqvist.
'44 | We're getting closer to half time and for a moment the England fans will have thought that they squandered a glaring opportunity to get a second goal. Sterling goes through on goal and the flag stays down, but eventually after missing it does go up.
'41 | England are fancying their chances to get a second goal before half time. Raheem Sterling breaks in behind Augustinsson and crosses the ball low towards Jesse Lingard, but his flick is blocked by Granqvist.
'37 | They're ahead on the scoreboard, but England fans are outvoicing the Swedes in the stands as well. They're chanting unbelievably loudly, letting the world know that football is inevitably coming home.
'34 | Sweden have only been behind for two minutes this World Cup, when they conceded that late Toni Kroos goal against Germany. They're up to the same unfamiliar challenge now, but can they change into a more positive style of play?
'30 | GOAL! | Sweden - England 0-1. Maguire! England have managed to break down the Swedish wall! Harry Maguire climbs higher than Ola Toivonen to produce a towering powerful header from an Ashley Young corner kick. 0-1 to the Three Lions!
'29 | England's full-backs have been very important for them in this World Cup campaign, but the flanks have been quiet today. Ashley Young is able to drill in a low cross, but Andreas Granqvist is able to clear the ball away.
'26 | A questionable offside call there. Victor Lindelöf hoofs the ball forward and picks out Marcus Berg, who is quicker than Harry Maguire. The flag goes up, but replays show that it was anything but offside for the Sweden striker.
'23 | England need to shake off their nerves and it looks like they're starting to do so. Raheem Sterling tries to swing in a cross, but it's blocked with the hand by Emil Forsberg. Referee Kuipers has a short chat with the VAR, but it's not enough to award a penalty.
'19 | That's what we expect to see from England. Raheem Starling carries the ball forward and flashes past his marker before leaving the ball to Harry Kane, who drags a low shot narrowly wide of Olsen's goal.
'16 | You shouldn't give Sweden even a centimetre of space when they go on the attack. Ola Toivonen looks for the one-two with Victor Claesson, but the ball back from the midfielder is cut out by Harry Maguire.
'13 | Sweden have allowed England to have possession, but they're always looking for their chances. No-one's really picking up Victor Claesson who has a lot of space to shoot, sending the ball just over the bar.
'11 | It's been a nervy, cagey start in Samara. England get some players forward for the first time in this game as Kyle Walker reaches a decent crossing-position, but he swings it straight into goalie Robin Olsen's safe hands.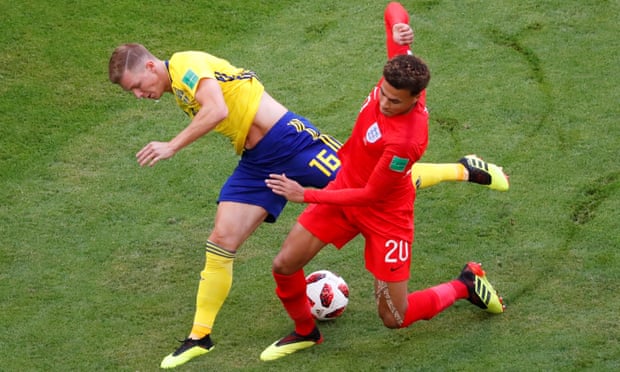 '7 | Emil Krafth, who has come into the Sweden team at right-back to replace the suspended Mikael Lustig, loses the ball to Dele Alli. There's some space and the midfielder tries to pick out his teammate Harry Kane, but Granqvist intercepts.
'4 | No surprises in the opening minutes. Sweden lean back on their tight defence and they allow England to have possession. The Three Lions are moving the ball around, but they've been unable to find an opening early doors.
KICK-OFF | We're underway at the Cosmos Arena in Samara! You've probably all heard that football is coming home and that has taken the tension off this game, but we're still wondering how England are going to beat Sweden. 
XI England | Pickford; Walker, Stones, Maguire; Henderson, Trippier, Alli, Lingard, Young; Sterling, Kane.
XI Sweden | Olsen; Krafth, Lindelöf, Granqvist, Augustinsson; Claesson, Larsson, Ekdal, Forsberg; Toivonen, Berg.